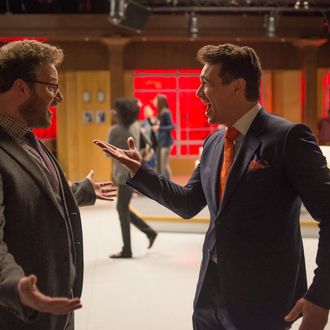 Seth Rogen and James Franco in The Interview.
Photo: Sony Pictures
The Hollywood Reporter sent one of its reporters to South Korea, near the DMZ, to see what the deal was with those ongoing Interview balloon drops. It's been four months since the film hit theaters and caused international drama (including some major hacking woes for Sony). Though The Interview has fallen out of Stateside conversation, it's still being used as an anti-propaganda tool overseas. Human-rights activists and North Korean defectors living in South Korea are reportedly trying to smuggle subtitled, 12-minute versions of The Interview into the Hermit Kingdom to encourage more defections, as well as a revolt against the Supreme Leader, Kim Jong-un.
While CNN reported that unmanned balloons dropped 80,000 copies of The Interview earlier this year, the man who sent them tells THR it was more like 200. A rival balloonist (yeah, real thing) is also refuting that number because he says his competition doesn't bother tracking wind currents. Another defector used a "secret method" to smuggle in 500 bootleg copies of the full-length film upon its release last December. It's unclear exactly how many copies of The Interview are floating around North Korea, but the balloonists feel there aren't enough.
South Korean government officials, however, are urging media smugglers to stop sending material north because the nation has deemed such shenanigans a "de facto declaration of war." South Korean police actually twice prevented one of the balloonists THR was following from launching DVDs and USBs. THR's sources say there are definitely people in North Korea who have watched some or all of the film illegally, and the reactions have been "explosive." Some are reportedly "thirsting for more" of The Interview. A government official said, "Common sense dictates this movie is a problem, and rightly so." No kidding — look at this technique that North Korea allegedly uses for confiscating outside media:
Authorities shut down power before searching residences in order to disable the eject button on DVD players. Those caught with illicit movies or TV shows are shipped to concentration camps for several years. In 2013, 80 people were executed publicly during a single day, many for watching illegal media as benign as South Korean soap operas.
During the next few days, another one of the media-smuggling groups THR was following will attempt to send more than 14 more balloons, with GPS trackers. This way they can actually see where these things are going and if they're effectively reaching North Koreans. The balloons will reportedly include The Interview, as well as clips from Team America: World Police. Oh, and last but not least: One defector is also trying to send this video to North Koreans. It's the true definition of a must-watch, no matter what nation you live in: