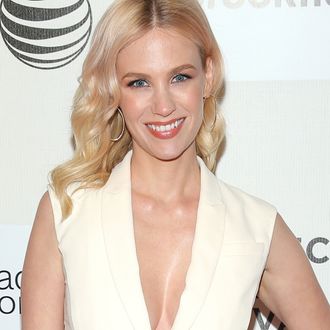 January Jones at the premiere of Good Kill.
Photo: Jemal Countess/Getty Images
January Jones has kept busy post–wrapping Mad Men with credits in Fox's The Last Man on Earth and the forthcoming film Good Kill, which premiered last night at the Tribeca Film Festival. But with three episodes to go before Mad Men's series finale, we still have Betty Francis on our minds. We caught Jones at the Good Kill premiere to discuss Betty's venture back to school and what she wants most for Betty.
Do you think Betty will make a good psychologist?
No.
Why do you say that?
Because she doesn't have a degree in psychology.
But she has plans to.
Yeah. I think it's interesting thing that she would want to do that. I don't know. Maybe. She has a lot to draw on, I guess.
Is there anything you're rooting for for Betty?
Well, the thing that I've always been rooting for for her is just for her to be happy and find something that makes her feel at peace. I think that she's always been searching for that, but I don't know that she's found it. Maybe she'll find it going back to school. I've always admired her willingness to go do something different, where she wasn't able to do that when she was married to Don. Henry is super supportive of her. I think maybe she will. I don't know. As an actor, I don't ever wish for her or for any character to find too much peace because it's not that much fun to play. But we'll see.
Do you think she thinks of her marriage with Henry as happy?
Yeah, I do. I think that he loves her and accepts her for who she is and gives her everything that she's always wanted and all the things that she didn't get from Don. I don't think that we've ever seen her happier.
I love that she's considering going back to school, too.
Yeah, I think it's super empowering. I mean, Betty was the only character that we saw read anything on feminism. I think we saw her read The Feminine Mystique at one point. Of all the female characters, we would expect Betty to be the least modern in that way. For her to be going to school and educating herself is an awesome step in the right direction.