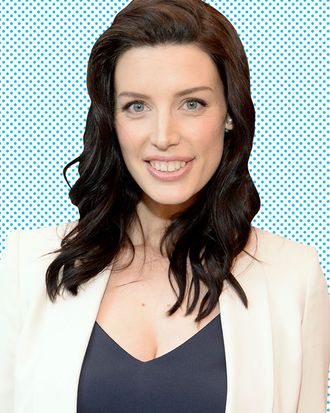 It was a big week for Jessica Paré's Megan Draper on Mad Men. She discovered her mother (Julia Ormond) was having an affair with Roger Sterling (John Slattery), rejected the clumsy advances of Harry Crane (Rich Sommer), and walked out of a meeting with soon-to-be-ex-husband Don (Jon Hamm) with a million-dollar check in her pocket. Montreal native Paré took a few minutes away from her newborn son Blues to discuss all her character's developments, and her feelings about Mad Men's final hours.
Congratulations! You're not only a first-time mother, but now Megan's a millionaire after last night's episode.
Thanks! I wish both those things were true in real life.
What was it like for you and Jon to shoot the scene with the check?
It was cathartic. Every scene in this final chunk of episodes consistently felt like we were saying good-bye. Megan said something people had been hoping she would say, or see, anyway, for a while. She called Don on a lot of his bullshit. It's good that she was seeing things in a different light, but it's also sad because she'd always given him the benefit of the doubt. They had a relationship that might've been ill-starred from the beginning, but the feelings they had for each other were real and positive. She was a good influence on him. Any person who's ever gone through a breakup knows that the way things happen afterwards really colors your feelings about that person — for better, but mostly for worse.
Why did Megan take the check knowing her mother had cleaned out Don's apartment? Is it just impossible for anyone to turn down a million-dollar check, or did she think she deserved it?
When her mother cleaned out the apartment, she walked out of there not being able to deal with that. And the situation with Roger just knocked her out. I don't know if she thought she deserved it. I'm not sure she knew.
Your look in that scene is so '70s. Did it have any specific inspiration?
She dressed for these meetings. She wasn't going into these important meetings with Don and Harry without every single strand of her hair. She'd done some careful planning. She's a person who thinks about her appearance.
Megan seemed surprised Harry hit on her. Didn't she see that coming?
It's no surprise to any woman — and definitely not a surprise to any actress — that men like that are out there. When you're asking for a favor from a guy like this, you want to be kind and charming without opening the door. That's what Megan was going for. She knew he's a sleazebag, but she wanted his help. But she didn't expect him to say, "I have a room upstairs — let's go up there." And then flip it on her and say, "The reason that you aren't more successful is because you don't respond well to situations like this."
You did quite a bit of your dialogue in French. Is it easier for you than English?
At this point, I'm more comfortable in English, but it's fun to be able to go back and forth between French and English. Kim [Bubbs, who plays Megan's sister] is also from Québec, and for us, at a certain point, we forgot what language we were speaking because the thoughts are all in the same language. It was nice to be able to go back to that place, because it's not a feeling I get very often living in Los Angeles.
Did you try to keep your distance from Julia Ormond off-camera, since Megan had such a charged relationship with her mother?
God, no! I soaked up every moment I could around Julia. I did not leave her side on set. She has great stories and incredible insight. It served the relationship, because Megan loves and is devoted to her mother, despite the fact that she's a total psycho.
You finished shooting the series quite a while ago. Does it feel like Mad Men's done yet, or will it not sink in until the finale's over?
It won't feel that way until everything has aired. I'm a bit maudlin about Mad Men at this point because it was such a great experience. It's tough for me to let go of it. I'm indulging in every moment of emotion I can around it. When the finale has come and gone, it's going to be even heavier.
Was the experience especially sweet for you knowing you weren't meant to be a main character when you first appeared on the show in 2010?
Even more so, in the sense that I was ready to pack it in and go home and get a retail job to make some money and get a roof over my head. It changed so much for me in my life. I own a home, and I have a baby. That's not the way things were going to pan out before I got this job. Not to mention the fact that I got to work with all these amazing people. You can see how I would be especially dramatic about it.
Which changed your life more: Mad Men or motherhood?
[Laughs.] God, I'd better say motherhood, hadn't I? It's a little early for me to say on the motherhood front, but I'm guessing having this person in my life for the rest of my life is going to have a bigger impact.
Is it going to be hard to top Mad Men, at least in terms of acting?
Absolutely. But I have high hopes. The dream is to find something I believe in as much as we believed in Mad Men, but it's out there.
Did you take any mementos from the set?
No, I'm too Canadian! I've been reading where everybody took something. I must have a few things. I have a lot of pictures. And I have my memories.