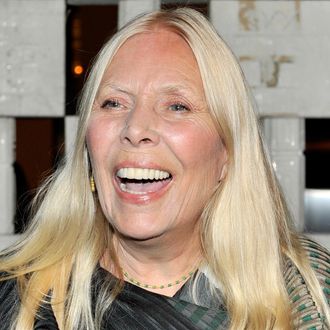 Joni Mitchell.
Photo: Donato Sardella/Getty
TMZ is reporting that Joni Mitchell is in an unresponsive coma with "no immediate prospects for getting better." Her close friend Leslie Morris is said to have filed legal documents to obtain a conservatorship over the ailing singer. TMZ says those documents refer to Mitchell as being "so impaired as to be incapable of being assessed." Mitchell, 71, has been in the hospital since late March after reportedly being found unconscious at her Bel Air home.
Update: Hours after TMZ published its news about Morris's court documents, one of Mitchell's reps issued a statement and updated the singer's official website to say that she's actually alert and expected to make a full recovery. Here's the statement in full:
Contrary to rumors circulating on the Internet today, Joni is not in a coma. Joni is still in the hospital — but she comprehends, she's alert, and she has her full senses. A full recovery is expected. The document obtained by a certain media outlet simply gives her longtime friend Leslie Morris the authority — in the absence of 24-hour doctor care — to make care decisions for Joni once she leaves the hospital. As we all know, Joni is a strong-willed woman and is nowhere near giving up the fight. Please continue to keep Joni in your thoughts. You may add your well wishes for her at the website WeLoveYouJoni.com.