Oh, Kalinda, we'll miss you. On last night's The Good Wife, all this Lemond Bishop mess finally caught up with Kalinda (played by Archie Panjabi, whose contract is up at the end of this season). Well, actually, she pretty perfectly planned handing over the evidence to Geneva Pine so she wouldn't get caught, but Cary messed it up for her in the end (or, you know, fate did). (Read our recap for all the info.) So Kalinda decides to leave town rather than be killed. She leaves Grace, and everyone watching at home, with a very direct good-bye: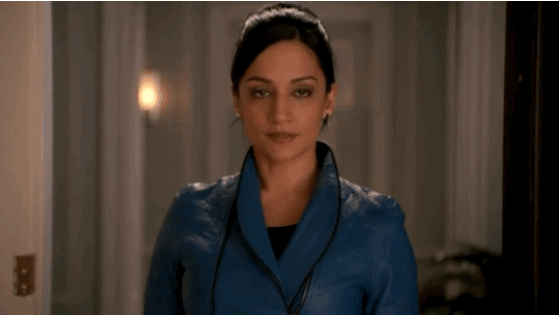 A marginally more emotional moment came earlier in the episode, when Kalinda stops by at her old friend Alicia's place but Alicia isn't home. This beautiful friendship, which was once so integral to the show, is given a sentimental flashback sequence, which the two likely did not film together.
Hey, maybe Robyn will come back now.