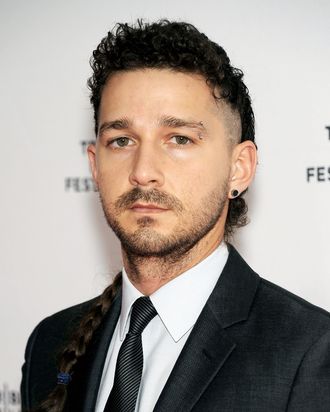 Earlier this week, the 14th annual Tribeca Film Festival welcomed none other than noted performance artist and rat-tail enthusiast Shia LaBeouf, executive producer for Alma Har'el's new documentary Love True. LaBeouf previously worked with Ha'rel on Sigur Rós's video for the song "Fjögur Pianó," for which he was completely nude. More recently, he appeared as a mostly naked cage-fighting character in Sia's video for "Elastic Heart" — a performance that garnered a hefty amount of controversy. At a Q&A for Love True, LaBeouf talked about the differences between his work with Sia and Ha'rel:
I think the Sia one is more about aesthetics. It's performance gymnastics, the big crying scene, dance moves. It's cool, but it's like Scarface, Al Pacino acting. Nothing against him, but there's a big difference between something that's presentational and representational. I think even Pacino would agree that his work is representational, whereas somebody like Joaquin Phoenix is presentational. And in those two videos, one is representational with dance moves. Here you cry, here you get angry, here you make faces. We [Ha'rel] had far less structure when we went to work, and it was really heavy and really honest. They're great for different reasons.
The rat tail has spoken.