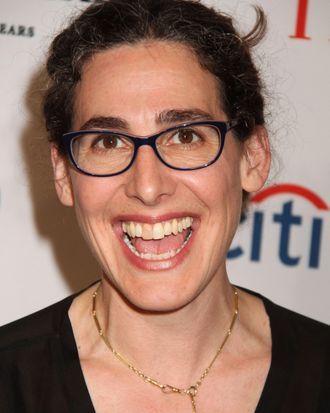 Photo: Nancy Kaszerman/Corbis
It's nearly impossible not to have a fangirl moment in a room filled with such celebrities as Bradley Cooper, Kim Kardashian, Kanye West, and Karlie Kloss. For Sarah Koenig of "Serial," it wasn't Kloss but the thought of meeting another blonde at this year's Time 100 Gala that made her giddy. Vulture caught up with Koenig and fellow Peabody-winning podcast partner Julie Snyder at Lincoln Center's Rose Hall, and found out that Koenig's reasons for wanting to meet co-honoree Reese Witherspoon went beyond just her Oscar-worthy films.
"I have a real, special, internal relationship with Reese Witherspoon," Koenig said. "I watch Legally Blonde and Legally Blonde 2 when I'm on an airplane, because I'm terrified of airplanes … Those are my 'I'm safe now' movies." "My 'I am wildly drunk, strung out on Xanax, watching Legally Blonde' moments," Snyder added. Koenig claims she knows every word. Sadly, there was no sign of Reese (or Bruiser) all night.