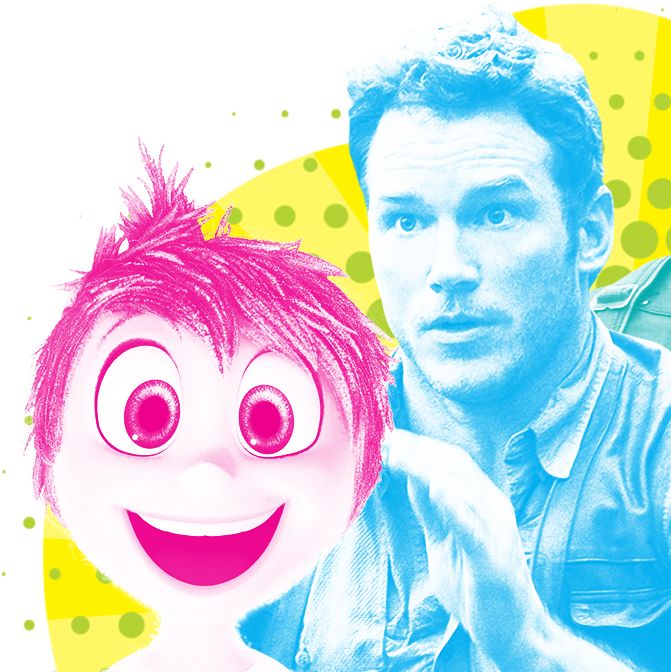 Photo: Maya Robinson and Photos by Pixar, Universal Pictures, Marvel Studios and Universal Pictures
These days, it's starting to seem like more of the biggest megablockbusters are released outside the summer movie season rather than inside it: Last year, our two biggest hits were winter entries American Sniper and The Hunger Games: Mockingjay — Part 1, and this year, far more non-summer movies are guaranteed a gross north of $300 million, including Furious 7, Mockingjay — Part 2, and Star Wars: The Force Awakens. Still, the 2015 summer movie season is no slouch, and it may even boast the year's highest grosser when all is said and done. We've picked the five summer blockbusters we expect to gross the most domestically (and mulled several more wannabe hits, for good measure); post your own top-five bet in the comments, and let's see how this all shakes out!
1. Avengers: Age of Ultron
The first Avengers film was released a scant three years ago, and it became one of the highest-grossing movies of all time, finishing its domestic run with $623 million in the till. Each individual Marvel property to come out since then has hit a series high — in fact, Iron Man 3, Captain America: The Winter Soldier, and Thor: The Dark World all improved upon their predecessors immensely — and the studio's most recent film was the 2014 summer smash Guardians of the Galaxy. With that kind of Marvel momentum, Age of Ultron should handily outgross the first Avengers movie, right? All signs point to yes … and yet, I'm not convinced. The key ingredient to the success of the first Avengers film (and even Guardians, for that matter) was its sense of giddy fun; Ultron, by contrast, is a grimmer affair, and much of the marketing has reflected that. I expect Ultron to approach the stratospheric ballpark of the original movie and break plenty of opening-weekend records on the way there, but a more downbeat dénouement could keep its final total in check.
Prediction: $610 million

2. Minions
I feel confident predicting that the Despicable Me spinoff Minions will be the summer's second-highest grosser, though it's almost impossible to predict how much this movie will ultimately make. Animated spinoffs don't tend to outgross their parent franchises (Puss in Boots wasn't a patch on any of the Shrek movies, for example; and Penguins of Madagascar came in well below $100 million last winter), but Minions is focused on the adorable yellow creatures who are arguably Despicable Me's main draw, and its voice cast is toplined by one very formidable and promotable A-lister, Sandra Bullock. The very first Despicable Me movie made $251 million, and the 2013 sequel showed staggering growth, grossing $368 million; ultimately, I'll split the difference here and predict a Minions gross that falls somewhere in between.
Prediction: $300 million

3. Inside Out
Over the last five years, Pixar has released only one non-sequel: the female-skewing Brave, which made $237 million in 2012. Critics and Pixar fans, then, will likely hail the original Inside Out, which stars Amy Poehler as one of several anthropomorphic emotions battling for control of a little girl's mind. But will its premise prove a little too high-concept for general audiences, and is there something of a box-office cap on Pixar movies, anyway? The company's stand-alone entries and franchise-starters tend to gross between $200 and $250 million, but since audiences have been so Pixar-starved as of late (it's been two years since the studio's last movie, a rare dry spell), I'll be optimistic and predict a rush to the theaters that will push Inside Out to the high end of projections.
Prediction: $250 million

4. Jurassic World
The original Jurassic Park was the highest-grossing movie of 1993, earning $357 million, a figure that's more than any film made even last year (and on 1993 ticket prices, to boot). Can the Colin Trevorrow–directed Jurassic World recapture the magic? It's the first entry in the series since 2001's Jurassic Park III — the franchise's least successful installment — but this one has got Guardians of the Galaxy breakout Chris Pratt in the lead, and it feels like one of this summer's few four-quadrant blockbusters, designed to appeal to every age. Still, I'm keeping this box-office prediction in check due to the film's mid-June release date; I think Jurassic World would have done a lot better if it had been slotted as a summer-kickoff movie, or if Universal had been ballsy enough to move it to March or April. A new Jurassic entry ought to feel like a major event, rather than just another summer movie.
Prediction: $240 million

5. Ted 2
If Ted 2 follows the trajectory of another recent, R-rated series — The Hangover — this follow-up is likely to come in just under what the first surprising installment made. Still, even that projection places Ted 2 around the $200 million mark, since the 2012 original grossed $218 million. The notion of a potty-mouthed bear may have lost some of its novelty since then (and Seth MacFarlane's 2014 bomb A Million Ways to Die in the West didn't help his career any), but there isn't much like Ted 2 in the marketplace this summer, so I'm predicting a gross more robust than its jokes.
Prediction: $210 million

Other Potential Picks

If they're brought off successfully, two comic-book franchise-starters could hop to the front of the class: Marvel's Ant-Man (starring Paul Rudd), and the reboot of Fantastic Four (with Miles Teller, Kate Mara, and Michael B. Jordan). Series fivequel Mission: Impossible — Rogue Nation has got that grabby airplane stunt in its trailer and it's following an installment that made over $200 million, but I feel like Tom Cruise is in the middle of another career downswing, and a finish closer to the $130 million–grossing Mission: Impossible III is much more likely.

There are some effects-heavy family adventures that could become sleeper hits this summer, too. I'm thinking of the video-game-inspired Pixels, which has a pretty irresistible premise (but may be limited by fading leading man Adam Sandler); Brad Bird's mysterious Tomorrowland (with George Clooney); and Joe Wright's big-budget Pan, which spins an origin story for Peter Pan and Captain Hook on a number of lavish sets, adding Hugh Jackman to the mix as a mustache-twirling villain.

Recent summers have often included a breakout, high-grossing comedy, and this year's most promising entries are all female-fronted. Will Amy Schumer's Trainwreck come out on top? Can Spy continue Melissa McCarthy's hot streak, and will Hot Pursuit (teaming Reese Witherspoon and Sofia Vergara) manage to hit box-office heights reminiscent of McCarthy's similar The Heat? Or will the biggest comedy of the summer be its most unexpected sequel: Pitch Perfect 2, which continues a franchise that has only gotten bigger since the first movie?

And then there are the question marks. I'm obsessed with the marketing for Mad Max: Fury Road, but it may ultimately prove too hard-R and male-skewing to be among our biggest blockbusters. Dwayne Johnson is coming off the biggest hit of his career, Furious 7, but expectations for his disaster movie San Andreas should be tempered by the star's apparent difficulty in launching a franchise all by his lonesome. As for Terminator: Genisys … this movie's muddled outlook is right there in its convoluted title.

But will one (or more) of these movies prove to be a sleeper hit? It's time to pick your potential top five, then let's reconvene later in the year to see how we all did. Good luck!