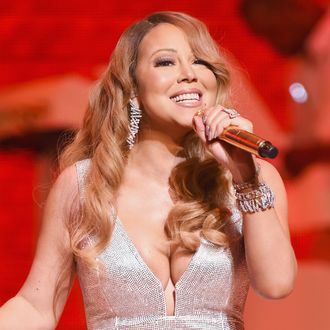 Photo: Dimitrios Kambouris/Getty Images
Mariah Carey has had a rough time lately: She was struggling in concert, filed for divorce from her husband Nick Cannon in January, and has to fend off comparisons from these little whippersnappers. So why not remember the good times — i.e., the '90s? Enter "Infinity," the (only) new track off her compilation album, #1 to Infinity, which has all 18 of her No. 1 singles, plus this single. It's a throwback in the best way: empowering lyrics, soaring vocals, and a chorus with multisyllabic words (and French!) that you can mangle at karaoke. Take that, Nick Cannon!
And here's the lyric video, powered by stardust and purple butterflies.