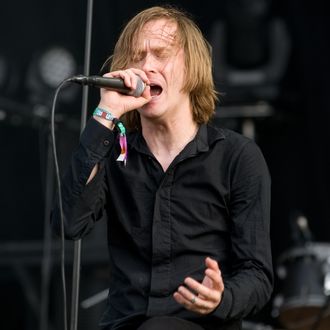 Scream!
Photo: Classic Rock Magazine/Getty
After a 17-year-long break from music, Refused will release their fourth album, Freedom, this June. And we already have its first headbanging new single, "Elektra," produced by none other than Taylor Swift fave (and fellow Swede) Shellback.
But in case the name Refused isn't ringing any bells — after all, the last time they were musically relevant was 1998 — here's a quick refresher. You might remember Refused for their bloodcurdling hit "New Noise" (especially that bonkers video). It's a song from 1998's The Shape of Punk to Come, an album that cemented their status as the quasi-godfathers of screamo. Though their influence may have had staying power, the band itself didn't. They broke up not long after that album's release due to internal bickering. They reunited for some shows (most memorably Coachella) in 2012, but then broke up again.
Fast-forward to 2015, and it appears they're back for good? Or at least long enough to release an album. "It's not a reunion anymore. This is one of the most radical things we've ever done, both musically and lyrically," front man Dennis Lyxzén says. Just tell me one thing: Can I scream?!