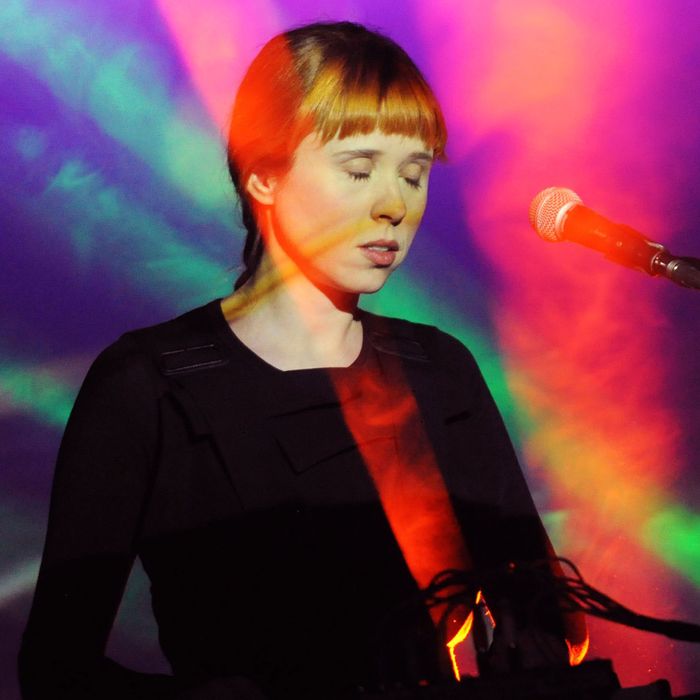 Holly Herndon performs at 40 Watt Club on March 27, 2015 in Athens, Georgia.
Photo: Chris McKay/Getty Images
Holly Herndon is the latest in a long line of women electronic-music pioneers. Like Delia Derbyshire, Wendy Carlos, and Laurie Spiegel, she uses digital tools to create music that mines the way technology influences our perception of the world. She's especially interested in the emotional impact of interpersonal relationships created online. To wit, her new record Platform, out May 19 on 4AD, includes a love song dedicated to a fictional NSA agent who's spying on a paramour through the internet. "Talking about issues of the NSA can be dry and didactic," she says. "So I'm using pop as a carrier signal to talk about a real issue."
Traditionally speaking, this sort of heady, highly conceptual stuff doesn't translate in the mainstream-pop world — the closest she can get is counting Björk and Thom Yorke as notable fans — but the "mainstream," Herndon says, is a matter of context: "If you're a noise bro, then I'm probably the most pop thing in the world. If you're Ariana Grande, then I'm a total freak weirdo." Vulture sat down with Herndon for a little listening session. We watched videos together on YouTube and asked her to dissect the songs that are blowing up the charts. She didn't call anyone a "total freak weirdo," but she did have a thing or two to say about trap.
Beyoncé, "Die With You"
"It's so unproduced, it's just her naked voice and the piano without any kind of processing or compression. That's really interesting because usually when you hear Beyoncé, it's in this hyperproduced mode. To see someone that has access to all of the resources in the world to make something high-production doing something very low-production is very interesting."
Meghan Trainor, "Dear Future Husband"
"It's good to see that the retro aesthetic of the video is matched by the retro gender dynamic that she chooses to use in her lyrics — 1950s lyrics match 1950s music video. 'When I'm acting crazy,' what is that? Like, Victorian medical analysis of women on their period? Whoa."
Empire Soundtrack, "Drip Drop"
"I think the most interesting thing about this song is that it was written for a TV show and is for a fake performer, but then it's actually charting. You see the same thing with Nashville: Those songs are also charting. Maybe it shows the state of the music industry; you need to go through television in order to sell music. I don't know how non-television-based artists can compete with television-based artists because the episode-based artists have this whole narrative to draw from. You're not only buying into the music, you have this whole story line around it. Whereas if you're Beyoncé, you don't have the whole family drama — well, you do have family drama — you don't have the scripted family drama from the week before. It's a whole new example of what's happening in music."
Rihanna, "Bitch Better Have My Money"
"The pop format these days is to have a verse and then a huge chorus, and I appreciate that this song is not really constructed that way. It's way more reduced. It unfolds more slowly over time, and it very much features her voice, which, I mean, her voice is still kind of the best. She wins. Like, you can't really fuck with Rihanna's voice. She just comes in and slays."
Ariana Grande feat. the Weeknd, "Love Me Harder"
"This is a tough one. It kind of reminds me of Italians Do It Better and the Drive soundtrack. I feel like a lot of pop music is drawing on that right now. It's funny to think about when pop music started being more like dance music. I guess that started with Nelly Furtado, but I remember noticing some of the aesthetics of trance and European club music filtering into mainstream American pop music. It's so weird."
Kanye West feat. Sia and Vic Mensa, "Wolves"
"The thing I like about Kanye is that he is not afraid to experiment and to be super raw or super stripped-back or super high-production. It's this strange mishmash that he does that I find very contemporary and interesting. In terms of pop music, hip-hop always wins in terms of innovating and pushing the envelope into a different direction. I don't know that much about Sia, I just know that she covers her face all of the time and that she did that video with that girl dancing. It's a really strange but interesting concept to be like, 'Okay, I'm not just going to have this online avatar, I'm going to have a real human avatar who's going to be dancing around with me in space.'"
Fetty Wap, "Trap Queen"
"Being called 'Trap Queen,' I think we're probably missing the most important part of the track, the 808, which is the key component to trap. I don't think we hear it through these speakers. I think we're missing the actual groove, but that aside, it still has the trap high-hat in there. I love the Auto-Tune he uses with his voice. Auto-Tune has been around for like ten years now, and people are really starting to innovate with it. They're singing acoustically, but emulating Auto-Tune, or they're experimenting within the Auto-Tune to make new sounds. I love to see how technology can come, and then people play with it and experiment. It totally changes the aesthetic of the sound, or the genre of a song."