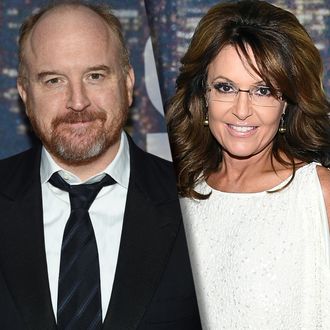 Photo: Larry Busacca/Getty
Louis C.K. apologized to Sarah Palin for that Twitter rant he went on back in 2010. "I wrote some really horrible tweets about her," he told Howard Stern Wednesday. "I was writing what I felt was comedic poetry." Some of the worst of those tweets included, "I want to rub my father's cock all over Sarah Palin's fat tits," and another said she had a "family of chinese poor people living in her cunt hole." Well, his bad! Apparently Palin came up to him at the SNL 40 after-party and told him, "Hey, I think you're terrific." Faced with an awkward, haunting sense of guilt, C.K. apologized:
Something came over me emotionally and I said, Well I owe you an apology. I've never in a million years apologized for anything I've said … Fuck anybody else who's offended, but here's the person right in front of me. I'm not an insult guy. I don't go after people, it's not what I do. So I kind of stumbled into the thing with her.
Palin then said that he was a "vile person," which C.K. found to be very funny (because it is). She then said that if he ever went to Alaska, she would take him fishing, which C.K. said he would do "in a heartbeat." Hope you're reading this, Sportsman Channel.
Here's the full conversation: