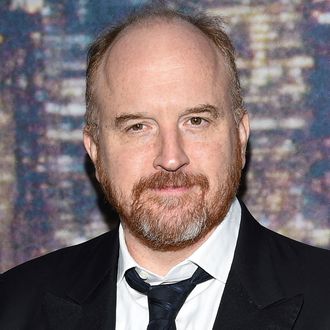 Photo: Larry Busacca/Getty Images
In an as-told-to for The Hollywood Reporter Louis C.K. remembers the magic of what it was like to move to New York. "I felt like I was breathing the right kind of air when I moved here," he writes. He talks about his early struggles: "I wasn't making any money at the beginning." He would do a set at the Comedy Cellar, make $8, which he would then use to take a cab to his next set at the Improv. He'd make $10 all told: "You want to keep it so you walk across Central Park to get home. You're happy if you did that every night." But instead of feeling jaded about the daily grind, he looks back on those times with a wistful nostalgia. The essay is in many ways, the anti-"Goodbye to All That" — the required Joan Didion essay for every young person who moves to New York. For her, the spell broke in her late 20s, when she realized that it was "possible to stay too long at the Fair." But for Louis it still has that magic.
He's glad that he never got cast on SNL back in 1993.
But I don't look back with any regrets or bitterness about my path. A [quicker] path can get you to the end quicker, and you don't want to go so fast. You know, I'm so glad I didn't get cast on SNL. I'm way better off because I host it now. That's a million times cooler and more fun because to be a castmember there or a featured player or writer is a perilous, difficult, grueling office job — like the worst kind of office job, a 12-hour-a-day job with no end in sight. As a host, you have dinner with the cast and you hang out with Lorne. You get the best of that guy, and he's a great New York institution. As a host, you get to just sit next to him and watch him do a thing that very few people do anymore. Spending a week there is one of my favorite things I get to do.
That other time Chris Rock called him the N-word.
So I was squirreling away cash — I had something like $100,000 hidden in my apartment. This was probably 2012 and Chris [Rock] was over, so I showed him where I hide my $100,000, and he looked at me and said: "You're such a n—er. You're such a f—in' n—er." That's what he said, and I was pink and proud to be called that by him. I don't hide money in my house anymore.
Broadway magic is real.
Every time I go to a Broadway play of any kind — good or bad — as soon as the lights go out and people come onstage and start to speak, I start to cry. I can't help it. The first minute of any play feels really stupid — they're pretending the audience isn't there, and they're having this loud dialogue, and you're like, "What the f— are these people doing?" — but it's so vulnerable. It's such an effort, and it's such a generous thing to do, and so I always get all choked up.
On the difference between Los Angeles and New York:
There's a whole, huge [class] of people — the El Salvadorans, the Guatemalans — who make the city run, and they're invisible to people. So when you go to L.A. and your liberal friend is rude to the valet guy or the busboy, it can be a little shocking. In New York, everyone is so mixed together that there's less of a feeling of class here. Outside some fancy office building, you see a CEO getting his cigarette lit by a cleaning lady. Everybody is dealing with the same shit, everybody is on the subway elbow-to-elbow.
He doesn't really care about the awards, but he is happy to hang out with Jessica Lange.
I go to the Emmys because there's just too much pressure not to go to the Emmys, and I don't want to be an asshole. But I feel like the awards are for everybody else because I got what I wanted: I got to have a show on TV, and I got paid to do it. I'm a total winner. So all of it is a little goofy to me, but, at the same time, I grew up watching the Emmys and the Oscars, and it's not lost on me. And I like being at an event like the Golden Globes and making Jessica Lange laugh for an hour. I'm a bit of a starf — er, so a lot of time I'm just happy to be in the same room as these people.
He makes his kids take the bus while he takes his driver.
My 13-year-old daughter leaves the house at 7:15 every morning and takes a smelly city bus to school way uptown. It's like 8 degrees out, and it's dark and she's got this morning face and I send her out there to take a bus. Meanwhile, my driver is sitting in a toasty Mercedes that's going to take me to work once both kids are gone. I could send her in the Mercedes and then have it come back to get me, but I can't have my kid doing that. I can't do that to her. Me? I earned that f—ing Mercedes. You better f—ing believe it.
You can read the full piece here.