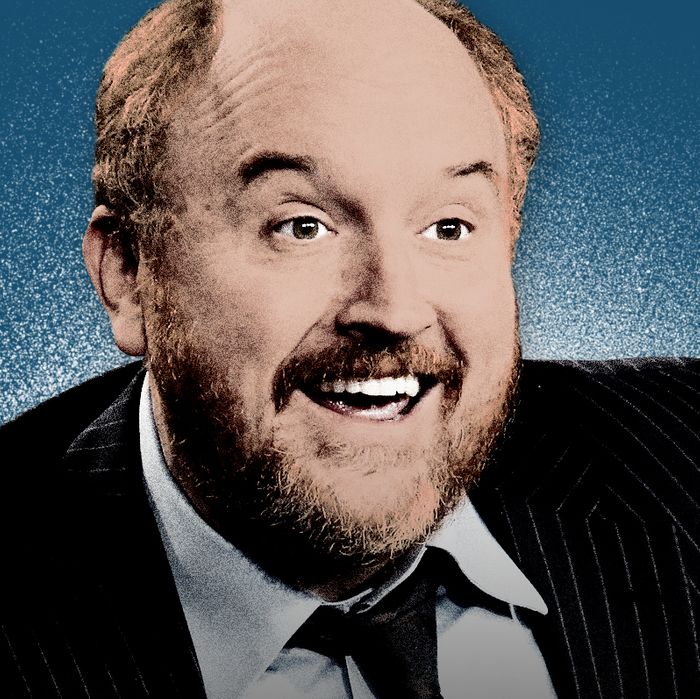 Photo: Maya Robinson and Photo by Frederick M. Brown/Getty
Over the last few years, Louis C.K. has become comedy royalty, due in large part to his much-adored FX series Louie, which closes out its fifth season tonight. C.K., 47, has won two Golden Globes and multiple Emmys; become the first comedian to sell out Madison Square Garden four times in the same month; enjoyed unprecedented creative freedom; and changed the game in terms of how comics promote their work, cutting out the middlemen and distributing many of his specials and independently funded projects on his website for as little as $5. But, as is the case with most in the comedy biz, C.K.'s ascent was the result of many a DIY risk and gamble. He's been on the scene for nearly three decades, in places you might not have suspected. Below, we document the gradual rise of Louis C.K.
***
Louis Székely (phonetically close to C.K. — he would change his last name in grade school so it would be easier for people to pronounce) was born in Washington, D.C., in 1967, but moved to Mexico City at age 1 to be with his father's side of the family. He wouldn't move back to the U.S. until he was 7 years old, at which point he and his parents settled down on the East Coast. "I grew up in Boston and didn't get the accent, and one of the reasons is that I started in Spanish. I was a little kid, so all I had to do was completely reject my Spanish and my Mexican past, which is a whole lot easier because I'm white with red hair," he told Rolling Stone in 2013. "I had the help of a whole nation of people just accepting that I'm white." Here, he discusses his misconceived roots:
C.K. grew up in Newton, Massachusetts — "on the wrong side of the tracks" — in a three-story double-decker. The comic told Rolling Stone in 2011 that he was a depressive kid who turned to drugs fairly early. "Eighth and ninth grade were two solid years of dropping acid, snorting coke when somebody had it, Quaaludes, an alarming amount of pot, mescaline, drinking," he said. "By the time I got to high school, I was a recovered drug addict."
Throughout this period, money was a concern because C.K.'s dad moved out shortly after his 10th birthday. C.K. worked as an auto mechanic to make some cash for himself. He would balance odd jobs with listening to Bill Cosby, Richard Pryor, and George Carlin records, before mustering the courage to hit comedy clubs. Wanting to emulate Woody Allen's early career, C.K. filmed his first short, "Trash Day" (unfortunately unavailable online), at age 17. Although he impressed recruiters at NYU's film school, he never filled out his application and instead dove right into the Boston comedy scene to pursue his dream. Here's a 20-year-old C.K. performing on his home turf:
1989–1993
After drawing attention in Beantown, C.K. moved to New York. He performed stand-up sets, wrote for late-night, and produced more shorts to make a name for himself. He appeared in many of the city's televised comedy specials, including Caroline's Comedy Hour and MTV's Half Hour Comedy Hour:
Here's another clip of a young C.K., about five years into his career as a stand-up, on Paul Provenza's Comics Only. It's clear he was working on finding his voice (and learning that impressions weren't his strong suit), but his soon-to-be trademark for comedy rooted in discomfort and awkward situations was flourishing:
During this period, C.K. continued to tell stories through film. C.K. said he always liked making short films because they didn't have the weight and restrictions of features. He also had complete creative control, which he would try to retain with HBO's Lucky Louie, but wouldn't get to fully embrace until FX's Louie. One of his first self-produced projects was called "Ice Cream":
As the '90s dragged on, C.K. would amass a collection (which Splitsider has chronicled in detail) of these shorts, including this one with a very young Amy Poehler and J.B. Smoove:
(He'd later return to the format in the mid-2000s, with scathing viral videos like 2007's "Louis C.K. Learns About the Catholic Church." He was diligent about cataloguing his creations online for easy public access.)
But the early '90s also marked one of C.K.'s first big collapses. As he recounted to GQ in 2014:
… [h]e was gigging ten times a night, fifty bucks a pop, motorcycling up and down Manhattan from club to club. He remembers parking his bike in the Village one night and daring to think, I have the greatest life in the world. The next night, he was racing up Second Avenue at 70 mph and nailed a car running a red light. His whole body was a bruise. In the morning, he noticed for the first time that he was balding. Even then, the New York comedy scene had begun to implode. Big venues like the Improv and Catch a Rising Star folded; others cut back on their open-mike nights. Louis, who'd bought a BMW with an AmEx card, struggled, couldn't pay his rent, and went broke.
To combat this tailspin, C.K. auditioned for Saturday Night Live during the show's stand-up boom. He recalled the experience for Matt Belknap in 2006 (via Splitsider):
I was going broke, and SNL was like the last chance, the last boat leaving, so Dave Attell, Laura Kightlinger, Sarah Silverman, Jay Mohr and me and a bunch of other people all auditioned. I remember that I was put first on the show, and the SNL people hadn't shown up, and the guy that ran Catch, Louis Faranda, was trying to put me on anyway. He was like, "Go on." "But they're not gonna see me." He said, "I don't care." It was cruel as shit. And … Jon Stewart was there and he offered to go on and stall for me, which he did. But finally I had to go on, and as I went on stage they all filed in, and I remember that David Spade was with them, and he had seen me, so he made them sit down, [head writer] Jim Downey and them, and said, "Watch this guy," which I'm forever indebted to him for even though I didn't get on SNL. It made a difference, because I went on and I had a really solid, good set, and then over the following week, Laura Kightlinger got cast, Dave Attell, Sarah, Jay, everybody but me [got cast], like everybody that was on that [showcase] but me.
1993–1996
While the SNL audition didn't pan out, C.K. would get his first taste of mainstream success because of it: SNL's head writer, Jim Downey, referred C.K. to Robert Smigel, who was helping Conan O'Brien ramp up his late-night talk-show debut. C.K. found consistent work writing for television and appearing in sketches, including on O'Brien's Late Night and David Letterman's Late Show. Here he is in 1993 on Late Night:
As a 25-year-old working with O'Brien, late-night TV would prove to be a vital arena for C.K. to cut his teeth, learn the politics of a writers' room, and experiment with his darker sense of humor:
His dirtiest joke involved a pearl necklace:
C.K. told Variety last year that late-night TV was and is appealing because it's "where the national conversation is happening. It's where we all talk to each other and feel we're in the stream with the community." After his late-night stints, he went on to become the head writer of The Dana Carvey Show between 1995 and 1996 (he made some cameos, too). It was a short-lived show, but he was able to flex his muscles as an influencer on the comedy scene — enough to keep the likes of Jimmy Fallon from getting on the show:
When The Dana Carvey Show crumbled, Smigel recruited C.K. to write for the animated "TV Funhouse" vignettes that existed within SNL. C.K. also used his experience to move on to bigger, behind-the-scenes roles on other TV shows (more on that below).
1996–2001
In 1996, C.K. filmed his first HBO comedy half-hour, a huge coup for the comedian, as it marked the beginning of his ability to convince networks to buy content that was all him. He also helmed the writers' room over at The Chris Rock Show. Below is the show's first-ever appearance of the Pootie character, which would be an important, albeit stigmatic, pockmark on his résumé:
C.K. took a recurring role on Comedy Central's Dr. Katz, Professional Therapist, which essentially gave him a platform to develop more of his conversational stand-up bits for a cult fandom — just animated in Squigglevision:
During this period, C.K. also wrote and directed one of his first feature-length films, Tomorrow Night, which featured Rick Shapiro, Steve Carell, J.B. Smoove, Wanda Sykes, and O'Brien, among others. It aired at Sundance but ultimately went nowhere:
2001–2006
C.K. wanted to make more feature-length movies like Night, so he wrote and directed Pootie Tang with Chris Rock. Samuel Goldwyn's grandson, who was overseeing the project for the studio, tore into C.K., calling the film "unreleasable" and taking him off the project just before the editing process. You can read more about it via GQ here, and watch C.K. telling Howard Stern how horrendously wonderful the whole experience was here:
And in case you've forgotten about Pootie Tang, here's a trailer to jog your memory:
The studio hated the film, as did viewers (only later did it develop a cult fandom). C.K. tried to move onto other projects, helping write Down to Earth (another Rock movie), shifting over to Cedric the Entertainer Presents, penning sketches for SNL, returning to his own shorts, and voicing Andrew Small in the cult classic 'toon series Home Movies.
The Pootie Tang experience, however, was so hellish it signified C.K.'s second major collapse. "It never stopped getting worse. I remember thinking, This is too much for me to handle. I wanted to give up," he told GQ. The lowest point in this descent was Lucky Louie, C.K.'s impish take on The Honeymooners that was canceled after a dozen episodes on HBO even though it was met warmly by critics. There were, however, a couple silver linings: It served as one of the first big collaborations between C.K. and Pamela Adlon, who would come back to work with him on Louie a few years later, and the show reaffirmed C.K.'s determination to retain his comedic vision without comprising originality:
Despite the dark content of his comedy, C.K. became equally known for the slap-in-the-face optimism and humanism that underlies some of his best outward-facing comedy, seen clearly here in his everything's-amazing-and-nobody's-happy bit (here's him explaining the bit, as well as his writing process, for Time in 2009):
He told GQ that his experiences in the '90s, combined with Pootie Tang and Lucky Louie, built up his thick skin and perseverance, which led him to create his 70 percent rule for decision-making (i.e., his motivation for trying again and again in a brutal industry):
These situations where I can't make a choice because I'm too busy trying to envision the perfect one — that false perfectionism traps you in this painful ambivalence: If I do this, then that other thing I could have done becomes attractive. But if I go and choose the other one, the same thing happens again. It's part of our consumer culture. People do this trying to get a DVD player or a service provider, but it also bleeds into big decisions. So my rule is that if you have someone or something that gets 70 percent approval, you just do it. 'Cause here's what happens. The fact that other options go away immediately brings your choice to 80. Because the pain of deciding is over. And … when you get to 80 percent, you work. You apply your knowledge, and that gets you to 85 percent! And the thing itself, especially if it's a human being, will always reveal itself — 100 percent of the time! — to be more than you thought. And that will get you to 90 percent. After that, you're stuck at 90, but who the fuck do you think you are, a god? You got to 90 percent? It's incredible!
2006–2012
The mid-2000s became the era of specials for C.K., including Shameless (2007), Chewed Up (2008), Hilarious (2010), Live at the Beacon Theater (2011), and Word: Live at Carnegie Hall (2012).
By the tail end of this period, C.K. had found his voice and genuinely established himself as one of the contemporary titans of comedy. In 2011, Rock called him the best right now. In 2012, The New Yorker's Emily Nussbaum declared him the best stand-up comedian in the country. He began gracing the covers of Rolling Stone, GQ, and Entertainment Weekly, among other magazines, oftentimes with cutlines that read something along the lines of, "America's best …" or "funniest …" Also during this time, he established himself as the reigning champion of creative cussing:
C.K. began making more frequent appearances on friends' movies and shows, including Role Models (2008), Ricky Gervais's The Invention of Lying (2009), and Parks & Rec:
After the failure of Lucky Louie, C.K. was hesitant to embark on another TV deal. But after more sold-out shows, John Landgraf, the president of FX, offered him $250,000 to make a series about his life. Thus, Louie was born (again). To promote his new show, which many called an anti-sitcom, C.K. released this NSFW short promo in 2010:
Louie became a critical darling and developed a small but loyal fandom quickly. The show and its star were lauded for a unique mix of self-flagellating discomfort, honest social commentary, and dark humor. In a 2012 piece, New York's Matt Zoller Seitz called the show's form "revolutionary."
Ricky Gervais called C.K. a true artist and added that his new show was the most interesting and most important comedy of the year:
Louis C.K. is the funniest, bravest, and most honest stand-up comic in the world at the moment. He mixes a classic observational style with a smart, modern edge and deals with the most taboo subjects, while remaining the likable underdog that carries the weight of an uncaring world on his shoulders. He's angry and right — a formidable comedy partnership.
2012–2015
Aside from Louie, the self-taught multihyphenate made room in his busy schedule to do Louis C.K.: Oh My God (2013), American Hustle (2013), Jerry Seinfeld's Comedians in Cars Getting Coffee (2014), and Louis C.K.: Live at the Comedy Store (2015):
He also found time to host SNL a few times, most recently for the show's 40th-season finale. In an essay published in THR, C.K. reflected on his path to New York, comedic success, and coming to terms with hosting SNL after being shafted. "I'm so glad I didn't get cast on SNL. I'm way better off because I host it now. That's a million times cooler and more fun because to be a castmember there or a featured player or writer is a perilous, difficult, grueling office job — like the worst kind of office job," he wrote. "As a host, you get to just sit next to him and watch him do a thing that very few people do anymore. Spending a week there is one of my favorite things I get to do."
At the moment, directing, editing, and starring in Louie continues to be C.K.'s chief creative responsibility (well, that and being the father of two daughers, frequently the subjects of his self-reflective work). Season five premiered earlier this spring on FX (read our recaps here):
And although this year's dose of Louie is running out, fingers crossed that he'll be back for a sixth season. In the meantime, you'll be able to check him out as an animal or a cop — the latter of which will probably be something like this:
The Louie finale airs tonight at 10:30 p.m. EST on FX.