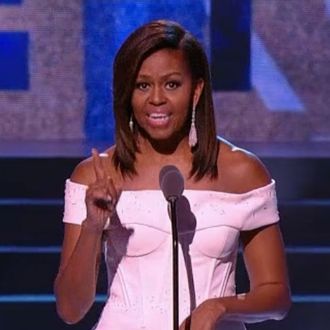 Inspiring is not usually the first word that springs to mind when one thinks of awards shows, but that's what the fifth annual Black Girls Rock was all about. The show, which aired last night on BET, featured incredible performances, powerful speeches, and an appearance by First Lady Michelle Obama. For those not in the mood to be empowered, there was a bit of drama, too, much of it supplied by Will and Jada Pinkett Smith. Will threw shade at TMZ, Jada took on that Deadline article, and there were plenty of amusing Willow reaction shots. Here are some highlights.
• While accepting her Shot Caller award, Selma director Ava DuVernay described how taking a "leading-lady stance" can help you through tough situations, even if you aren't in front of a camera.
• Jill Scott gave a passionate performance of "You Don't Know." Imma let you finish, Ygritte, but this is how you tell someone they know nothing.
• Estelle did a beautiful, Jamal-free rendition of "Conqueror."
• Kathy Sledge, Cheryl Lynn, and Alicia Myers got everyone on their feet with a throwback medley featuring "Got to Be Real," "I Want to Thank You," and "We Are Family." Roller skates were involved.
• Ciara performed "I Bet," the first single from her upcoming album Jackie.
• While introducing his wife, recipient of the Star Power Award, Will Smith described a problem unique to celebrities: learning your spouse has filed for divorce via TMZ. (Apparently, it wasn't true.)
• How do you follow up a charming awards-show anecdote from Will Smith? Start with a long kiss, then transition into a fierce rebuttal of the recent suggestion that too many people of color on TV might be a problem. "We are the women that marched from cotton fields into fields of medicine, politics, law, education, entertainment," she said. "We even found a way to march ourselves into the White House, as the first lady of the United States of America."
• Smith wasn't the only person excited that FLOTUS was in the house, and the kids in the crowd seemed to stay with Obama even when she proclaimed that education is "cool." She explained that when she was little, she used to worry that everyone who said she was dreaming too big for a little black girl was right. "Eventually, I learned that each of those doubts was like a little test. A challenge that either I could shrink away from or rise up to meet. And I decided to rise," she said. "I decided that I wasn't bossy, I was confident and strong. I wasn't loud, I was a young woman with something important to say. And when I looked into the mirror, I saw a tall and smart and beautiful black girl."