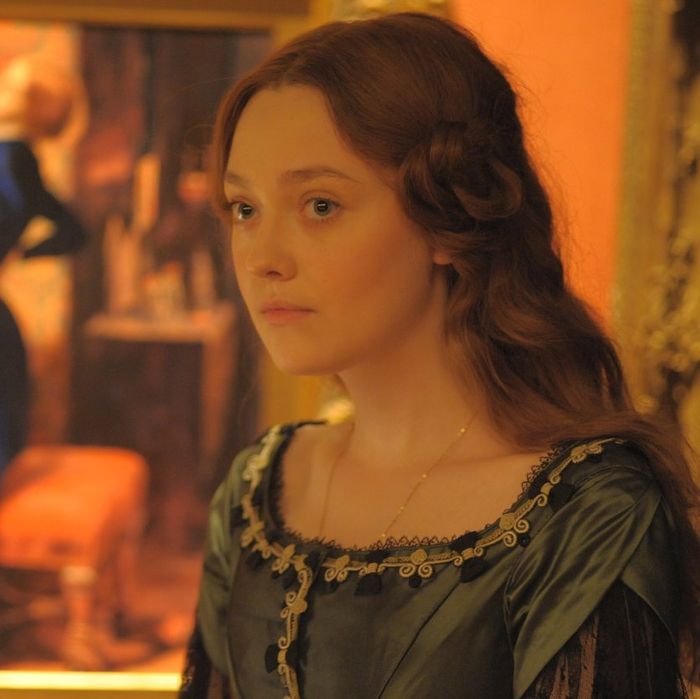 Effie Gray.
Photo: Adopt Films
Back when she was a popular child actor, Dakota Fanning's great strength was her intensity. She always seemed to have an unyielding focus and an unnerving glare. In her more grown-up roles, that intensity has waned, replaced by a certain reserve. At her best, she makes you wonder what's going on inside her head — those huge eyes, so alert when she was just a child, now feel more coy, thoughtful. At her worst, though, she vanishes off the screen. In the new film Effie Gray, she manages to do both. Fanning's controlled presence is ideal for a tale of Victorian repression. But as the film becomes one of quiet liberation, it needs more than her cool reserve. It needs passion — even if it's of the slow-boiling kind — and I'm not sure that's there.
Fanning plays the title character, who was wed to the influential art critic John Ruskin at the age of 19 (after, as we see in flashback, a long courtship that reached back to her childhood). When we first see Ruskin (Greg Wise), he's a commanding figure among students and artists, exhorting them to bring "truth to nature" and reveal the mind of God. On the day he comes to take Effie away, he stands beside her and proclaims, "Consider me as a man who is not an artist, but has nevertheless been granted a muse." They're words to swoon over. But when they get home, as she stands before him — the two of them alone for the first time — he tells her to close her eyes, regards her smugly, and mutters, "Perfect." To him, she's just another pretty, perfect thing to admire.
The marriage between Ruskin and Effie was famously unconsummated. The critic, brilliant in thought and on the page, appears to have been a basket case of sexual neuroses: He can barely touch her, let alone have sex with her. Instead, he spends his nights working. Or wanking: He lies next to her in bed, quietly jerking off. Ruskin's revulsion, we understand, feeds into his criticism too. When asked for his opinion of Venice, he offers, "Once she was a virgin and now she's a harlot, addicted to nothing but beauty and voluptuousness," and the film isn't exactly subtle about the fact that he's talking about his wife as well. But as the two drift apart, Ruskin seems almost to encourage Effie's being with other men — though he still judges her for it. He even leaves her alone with his dashing protégé John Everett Millais (Tom Sturridge), whose passions reflect the life Effie would rather be living. Guess what happens next.
Visually, Effie Gray is impressive: Director Richard Laxton and cinematographer Andrew Dunn often frame Effie in symmetrical spaces, or behind windows — a prisoner of elegance and perfection. They also often cut to images and fragments from the Pre-Raphaelite paintings Ruskin so championed. As a critic, he makes an intellectual and spiritual case for them, but Effie lives them — the combination of exacting depictions of nature with melancholy subjects clearly speaks to her experience. Ruskin may see God in these pictures, but Effie sees herself.
Effie Gray was written by Emma Thompson, who herself appears here as Lady Eastlake, an influential aristocrat who takes a liking to Effie and encourages her to come out of her shell. The film wants to see in Effie a proto-feminist figure, and, indeed, her later life — after she left Ruskin — would bear this out. But a sad disconnect between the film's ambitions and its achievement grows as the story proceeds. Fanning is asked to do a lot here, and, as noted, she's the very ideal of sunken idealism in the film's early scenes: She wants to be a good wife, but Ruskin won't let her. As Effie becomes more open to experience and finds herself drawn to other men, however, the actress's tense submersion can't quite carry the movie. We sense her fear, but we don't sense her anticipation — or the intelligence, or passion, that the story suggests are there. The result is an exquisitely produced, but largely one-note, film.