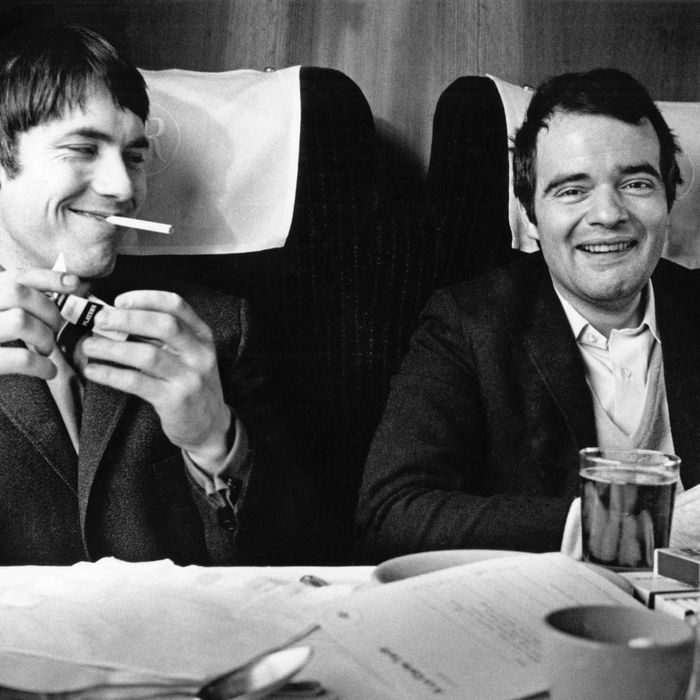 Photo: Sony Pictures Classics
You'd probably have to be a pretty big music nerd to understand at first glance why anyone might get excited for a tell-all movie about the Who's managers. Why focus on the suits when one of the most momentous acts the world has ever seen is right there? But James D. Cooper's documentary Lambert & Stamp makes a hell of a case: For all the Who's flamboyance and rock-god excess, the more fascinating story behind them may well have been that of Kit Lambert and Chris Stamp, the two aspiring filmmakers who signed Townsend, Daltry, & Co., put them on the map, and then proceeded to have a dramatic rise-and-flameout of their own to rival any band's.
Lambert was the wealthy, gay scion of an artistic family, fond of eccentricity and adventure — he had just endured a narrow escape from Amazon tribesmen and Brazilian cops when he connected with backstage ballet assistant Stamp (the brother of actor Terence Stamp, by the way, who's also interviewed here). The two film nerds, in love with the burgeoning French New Wave, had the bright idea of making a movie about a band. But where to find the band? Enter a group of novice, clueless, but supremely talented kids calling themselves High Numbers, soon to become the Who.
The story of Lambert and Stamp also is the story of the Who, to a great extent. Roger Daltrey, interviewed here, credits Lambert with teaching him about the dramatics of a stage performance; he would go on to become one of rock's most electric showmen. Pete Townsend, meanwhile, developed his chord style around the opera and baroque music that Lambert, with his encyclopedic knowledge and diverse tastes, pushed on him; he would go on to become one of the most eclectic and ambitious guitarists of all time. The proof of their transformation is in the archival footage: Back then, Townsend was a lean, awkward, earnest, overeager kid; Daltrey was a burly, vaguely clueless street fighter.
Lambert and Stamp, we're told, helped the individual members of the Who find their places within the greater entity of the band. The duo's background in film was integral to the band's big, loud, cinematic persona. "They were never supposed to be a professional group," Stamp himself tells us. "They were outsiders. They were misfits." To that end, it was Lambert who suggested the stutter on "My Generation" — a gnawing imperfection that transformed a simple little tune into a posture, an attitude, a generational ear worm. And when Daltrey and drummer Keith Moon got into a fight onstage, Stamp reportedly remarked, "Thank god it wasn't wasted in a back room."
And at the end of it all, the two men still hoped they would end up with a film. Maybe that's why they understood the value of a band that was ragged, flawed, wild, and aggressive — an ideal protagonist. It's also, apparently, one of the things that eventually came between them. The two had done much to help turn Tommy from an inchoate mass of half-baked ideas and songs from Townsend into an album and a show of real vision and unity. When Ken Russell got the chance to direct the film version, and when Stamp took a producing credit, sans Lambert, something irrevocable was lost.
There's a lot of story to tell here: There's the tale of how Lambert and Stamp came up with an independent record label on the spot, just so they could work with Jimi Hendrix; there's the tale of Lambert's descent into drugs, hedonism, and resentment; there's the loss of the Who to the world of corporate rock. There are also cross-currents and contradictions: Townsend, for example, isn't exactly sold on the idea that Tommy was a mess before Lambert and Stamp whipped it into shape; that the film can make room for this while continuing on its narrative is a testament to its efficiency. Cooper admirably crams as much as he can into a two-hour running time. And while slick, the film breathes, too. In fact, perhaps Lambert & Stamp's most touching moments come during some intimate exchanges between Townsend and Daltrey, reminiscing about the late, loyal madman Moon, and about the late genius Entwistle, and about the late maverick Lambert. It's great not just because we're eavesdropping on two rock survivors, but also because we're seeing, in these living legends, the handiwork of the two unsung men to whom this film pays tribute.