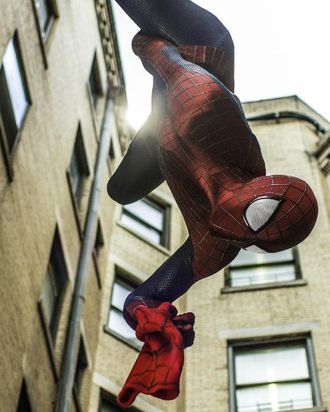 Photo: Niko Tavernise/Columbia Pictures
Kevin Feige, supreme chancellor of the Marvel Cinematic Universe, has unveiled some much-pondered-about information regarding the upcoming MCU rendition of Spider-Man. What makes this information of interest, however, is how uninteresting it is.
During a press day for Avengers: Age of Ultron, Feige fielded some questions about the Marvel Cinematic Universe's Spider-Man. (Feige nabbed Spider-Man from Sony's clutches earlier this year.) According to Screen Crush, Feige confirmed that the new Spider-Man will definitely be Peter Parker. Again. And he'll be in high school. Again.
So, of course, the newest Spider-Man will be like the older Spider-Men insofar as he'll be a high-school student named Peter Parker who acquires strange, spiderlike powers that bear a slight resemblance to the effects of puberty. Stuck in a Sisyphean runnel, Peter seems to attend high school in every new Spider-Man series. Like a Lost Boy, he'll never grow up, never get old. He'll never face the afflictions of adulthood: student-loan debt, losing your hair, killing your best friend's father. Oh wait, scratch that last one.
"In terms of the age of an actor we'll eventually to cast, I don't know," Feige said. "In terms of the age of what we believe Peter Parker is, I'd say 15-16 is right."
Since every Spider-Man movie (well, every one save for Japanese Spider-Man) has only ever given us a slightly different portrait of the same character, a lot of people don't realize that Peter Parker isn't the only Spider-Man. He's the original, of course, but many writers have taken various kinds of cracks at changing the visage behind the mask. There's a plethora of alternate-universe incarnations of Spider-Man (warning: only delve into the convoluted web of alternate universes if you're really, truly dedicated, or you have a long weekend to kill), which fluctuate wildly in levels of weirdness. There's Man-Spider (weird), Zombie Spider-Man (weirder), and Spider-Girl (super weird, because everyone knows Spider-Man isn't allowed to be a woman). There's even a Hispanic Spider-Man, Miguel O'Hara, but he'll never get his own movie, anyway. But Feige made it clear early on that the MCU Spider-Man would not be an alternate-universe Spider-Man, which meant he had to (ostensibly) pick from one of the mainstream Spideys. Luckily, a coterie of characters other than Peter Parker has donned the red-and-blue suit in the mainstream world, too, including Peter's clone, Ben Reilly, perhaps the most popular and well-known non-Peter Spider-Man, as well as Miles Morales, the first black Spider-Man.
Some were hoping, perhaps with knowing futility, that Feige would pick Morales for the MCU universe, but, come on, it was always going to be Peter. He's a name brand at this point. The name "Peter Parker" has become synonymous with "Spider-Man." So when the web-slinger shows up for his token cameo in Captain America: Civil War, rest assured that the face behind the mask will belong to a 16-year-old boy named Peter Parker. The still-untitled Spider-Man stand-alone film lands on July 28, 2017.
In the meantime, there's still Japanese Spider-Man. It's so good.