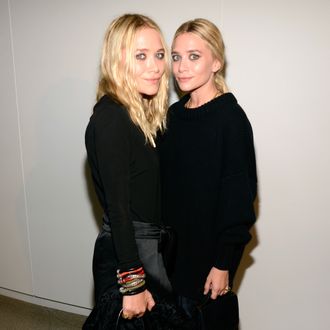 Mary-Kate and Ashley Olsen.
Photo: Kevin Mazur/WireImage
Fuller House is going to be a complicated project, mainly because the people who should be in it don't know if they're going to be in it. Mary-Kate and Ashley Olsen told Women's Wear Daily this week that they learned of the project only hours after the mystical John Stamos had announced it on Jimmy Kimmel Live. Which one will be Michelle Tanner? "I guess we're going to talk to the creators and see what's happening," Mary-Kate Olsen said. "I'm shocked I haven't heard from John [Stamos]." (So are we, guys.) "I ran into Bob [Saget] the other day and we didn't even talk about it," Ashley Olsen said. "I'm going to call [Saget] and get his perspective." So the sisters haven't ruled out participation yet — thank your lucky stars — but they are making us nervous. Saget told People last year that "[n]ot everybody would want to do [the spinoff]. Maybe two-thirds of the cast." Someone do something, please. There is no house without Michelle and her catchphrases.