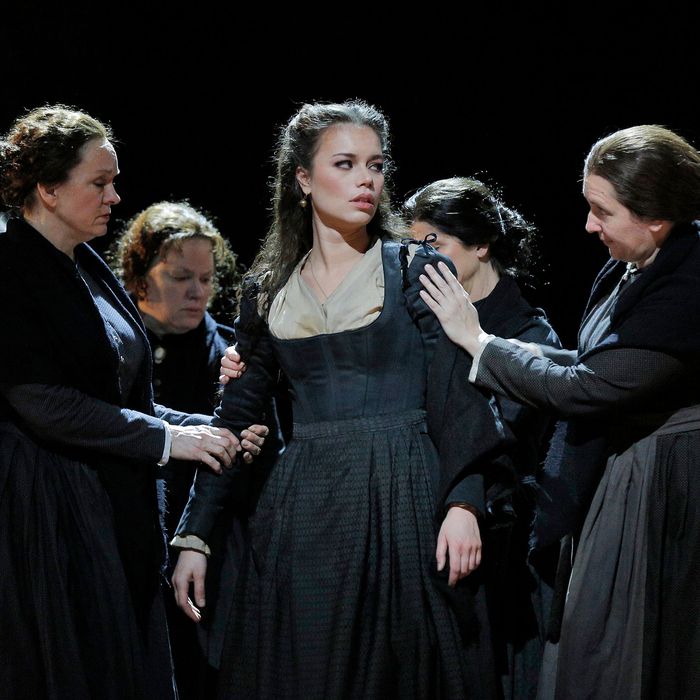 From the Metropolitan Opera's new Cavalleria Rusticana.
Photo: Cory Weaver/ Metropolitan Opera
Mascagni's Cavalleria Rusticana and Leoncavallo's Pagliacci, that classic diptych of tuneful weepies, has returned to the Metropolitan Opera in a lopsided new production. One piece is black-and-white, the other polychrome; one stodgy, the other Stooge-y; one grim, the other strenuously entertaining. Serious opera people are constantly apologizing for these enduringly popular one-acts, and director David McVicar hedges his bets, too. He mutes the simple plot and supercharged emotions of Cav with a bleak, bare staging, then amps up Pag with cream-in-the-face, spaghetti-on-the-head, duck-puppet comedy. The result is a show with two halves that each half work.
In Cavalleria, McVicar gives us a southern Italian town at the turn of the 20th century, trapped in poverty and perpetual mourning. There's grace in that starkness, brought out by the choreographer Andrew George and the Met's unfailing marvel of a chorus. But the stage's big turntable turns, choristers move chairs this way and that, the excellent George Gagnidze as Alfio climbs dutifully on top of a long rustic table, and Eva-Maria Westbroek does an unconvincing impersonation of the pious sinner Santuzza. In Pagliacci, the same town has come to life after World War II; a tilting electric pole and its hank of wires serve as an indicator of modernization. McVicar had fun with this one, even recruiting a vaudeville consultant (Emil Wolk) to manage the slapstick. The routine provokes more snickers than guffaws, but it does leaven the show-within-a-show, reminding everyone that violence and ridiculousness often occur side by side.
The most powerful reason to see this production is to hear the conductor Fabio Luisi bring old-fashioned briskness to an often overboiled score. The Met's orchestra has the focus and might to crank up the heartbreak quotient, but Luisi knows how to dole it out — how to slip fleetly from one big basses-and-brass Oh no! to the next without getting bogged down. He has persuaded some of the singers to match his elegance, especially Patricia Racette, whose sultry Nedda in Pagliacci is the second-best reason to buy tickets. Equipped with a sumptuous black wig and a deluxe soprano in its prime, she toggles between heavy passion and light mockery. In the duet with her lover, Silvio, Racette's voice rides the orchestra's warm currents in long, legato glides, making the physical craving she inspires in men seem like an acoustical phenomenon.
Much lower down on the list of the production's attractions is Marcelo Álvarez's doubleheader as the murder victim in one opera and the murderer in the next. He has always struck me as quite a good dramatic tenor: strong, in tune, tasteful, and polite, who knows what excitement is supposed to sound like and fakes it pretty well. But Turiddu in Cavalleria is a vainglorious cad, Canio a tormented brute, and Álvarez seems to be observing his characters' agonies from a safe distance. In the greatest-hits aria "Vesti la Giubba," he smears white paint on his face and steps in front of the glittering curtain to stand in a tight circle of brilliant light. That's his cue to sling the tune up into the family circle and make even the taxman weep; instead, he sings it rather nicely.