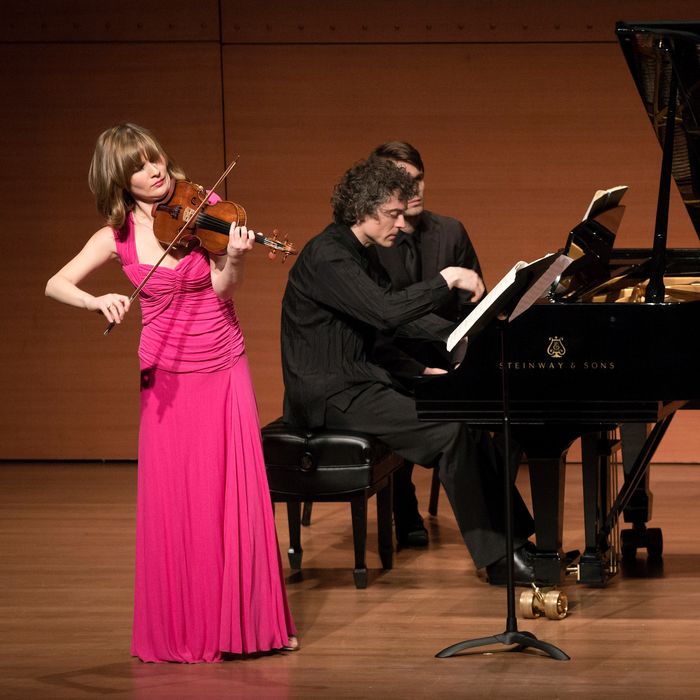 Lisa Batiashvili and Paul Lewis at Alice Tully Hall.
Photo: Jennifer Taylor
Lisa Batiashvili and Paul Lewis's violin-and-piano recital on Monday night at Alice Tully Hall should by rights have been an unexceptional event. It had none of the newsiness that sometimes attracts media attention to classical music: no new work by an emerging composer, no labor troubles, no entrepreneurial electric ensemble or young conductor, no movie-theater seats with cupholders for handcrafted beer. Any two musicians could have performed virtually the same program at any time in the past 150 years. And yet the concert, part of Lincoln Center's Great Performers series, was a quietly shocking marvel.
Batiashvili and Lewis are both marquee soloists of the kind who know where to charge their phones in every airport lounge on three continents. Lewis made his belated New York Philharmonic debut last year; Batiashvili, the orchestra's artist-in-residence, performs the premiere of a new violin concerto by Thierry Escaich next week. The system tends to isolate such stars, encircling them with honor, confining them to the best dressing rooms and to little patches of real estate near the lip of the stage. Chamber music fits uneasily into this arrangement, mostly because of logistics but partly because it demands the merging of powerful personalities. When musicians of this caliber get together, they often fake a relationship. They watch and listen, adjusting in minute ways on the fly, so that even when they start a measure infinitesimally out of kilter, they get themselves in order within a couple of beats.
Lewis and Batiashvili went well beyond improvised accommodation. They seemed to think and move in sympathetic ways, like well-paired dancers, happy couples, or synchronized starlings. As if to wriggle away from their overweening reputations, the pair performed a program of deliberate un-star turns: Schubert's delightful after-dinner sonata in A major and his razzmatazz "Rondo brillant," an introverted and sublime Bach organ prelude arranged for piano by Ferruccio Busoni, a Telemann showpiece, and Beethoven's "Violin Sonata No. 10 in G Major" — not one of the big-boned classics.
With these slightly less-than-famous works, they created a superstructure of subtle pleasures unsuited to our rough, noisy times. Batiashvili never allowed a long note to just sit there inertly; instead she had it slip, seal-like and muscular, through Lewis's liquid arpeggios toward the next downbeat. In an encore performance of Fritz Kreisler's irresistibly wistful "Liebesleid," she drew the bow so quickly and tenderly across the strings that she produced a light, crooning sound, like a 1930s pop singer's tenor. Lewis's tender, darkly Busoni-fied Bach would ennoble any funeral.
Explaining why it sounds good too often boils down to a catalogue of finely crafted details. There was no shortage of such minutiae: Batiashvili's opening trill in the Beethoven, for example, sounded not like a declarative statement but an echo of inaudible music that had just stopped ringing a moment before. You could string together a thousand of those ravishing instants and still bore the audience to sleep. But, as anyone with ears will sense, sometimes two sympathetic musicians can conjure magic from a page of notes, while another equally capable but unmatched pair ekes out ordinary beauty.
Achieving that fusion is an unnatural task, given that the instruments make sound in completely different ways: The violin slides into a note, the piano hammers it; the bow sustains a tone that on a piano necessarily dies away. Compatibility is an illusion. Nevertheless, Batiashvili and Lewis spun it with total conviction, producing a musical banter that sounds both lighthearted and profound. In his sonata, Beethoven treats the piano and violin like a conspiracy of eccentrics. They trade off obsessional phrases, near non-sequiturs, sudden pauses, and abrupt changes of mood. Lewis and Batiashvili were in agreement about every odd turn, their shared sensibility emerging in the exact shading of a pianissimo, or in the momentary loosening of a tempo.
Another example of their preternatural unity: Schubert's "Rondo brillant" opens with the piano's portentous B-minor march, which sends the violin skittering up the scale and overshooting the two-octave mark. It's often played to emphasize the contrast between the piano's heavy tread and the violin's airborne agility. Lewis and Batiashvili did the opposite: They bound the disparate phrases together in one gymnastic impulse — the trampoline bounce, preparing the weightless leap — so they made physical sense. The two machines, operated by two different humans, shared a common musculature, a common breath — even when they weren't playing at the same time. That's chemistry you can't fake.