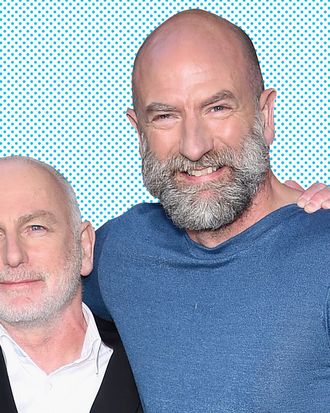 Photo: Dimitrios Kambouris/WireImage
Spoilers ahead from the most recent episode of Outlander.
Two brothers lead Clan MacKenzie on Outlander — Jamie's maternal uncles Colum and Dougal — but, right now, Dougal is on the outs. Following the death of his long-suffering wife, his lover's husband, Arthur Duncan, has also died, and it all looks very suspicious. Dougal has also gotten said lover, Geillis, pregnant, but Colum orders him to leave Castle Leoch. And so Dougal departs, Jamie in tow, just as Geillis and Claire are arrested for witchcraft. Actors Gary Lewis and Graham McTavish, who play Colum and Dougal, chatted with Vulture about their characters' sibling rivalry, virility, and why fans are looking up their kilts.
Graham, you're leading the New York Tartan Day Parade this weekend. Have you been practicing your wave?
Graham McTavish: [Laughs.] I'm practicing it now! The royal family, they've got it down to a fine art. They barely move the hand! I'm actually convinced it's not a real arm. They've just got a mechanical arm that they use. It's a bit namby-pamby, isn't it, the royal family wave? It's not even a wave, it's just a trembling of the hand. A Scottish wave, that would be like a flag waving, absolutely. But I am a little nervous. I hope I don't screw it up! I will put the kilt on; I will put my head into Scotland and think of all the people who settled here from Scotland, and the spirit of those people will be walking with us.
Diana Gabaldon says the appeal of a man in a kilt is that he could have you up against the wall in a moment.
McTavish: Wow, she said that? Interesting. It's easy access.
Gary Lewis: Dougal could show you. Dougal's an up-against-the-wall kind of guy. Colum's a by-the-hearth kind of guy, you know?
McTavish: A little candlelight, a little wine …
Lewis: And a great chat-up line: "Brace yourself!"
Any fun fan reactions when you're wearing the kilts?
McTavish: The kilt makes people behave quite strangely. People do things when you wear a kilt that they would never do, with their hands all over the place like in the back of a taxi. It gets people going. I want to stress first that I was not offended by this, that it didn't upset me, but it surprised me … I was doing a signing, and there was a line of people, and I'd seen this one woman before — a sweet, smaller lady — and suddenly, I noticed that it seemed like she fell down on the ground in front of me. She was right in front of me, and then laid down, right at my feet, with her head between my feet. And when someone does that, your first thought isn't, Oh, obviously they're looking up my kilt to see if I'm wearing any underwear. So at first it was more just, "Why are you doing that?" And then the penny dropped, and I realized … I'm hoping that I realized what she was doing before she had a chance to get a good look, because I stepped back pretty quick. But she didn't mean any harm. It wasn't malicious or anything. I think the poor lady now wishes she hadn't done it, but it was fine. I wasn't upset or anything. But it was a bold move. [Chuckles.] That was quite something.
It's the kind of thing women are usually subjected to, more so than men. 
McTavish: Absolutely! The groping hand of a man, I'm sure that's happened to many people I know.
Dougal himself has taken some liberties before. He's a bit of a womanizer.
McTavish: You mean the kiss with Claire? She really belted me on that one! You always slightly dread those scenes where you get actually smashed across the face, because obviously you can't really fake being slapped. And Caitriona [Balfe] was quite nervous about that. We got about 25 slaps in. There were some real ear-ringers in there. Dougal admires her, and he's attracted to her. Well, he's attracted to most women with a pulse.  It's his weakness. He's attracted to very strong women.
Which might explain, just after we've had confirmation that he's the father of Colum's child, we learn that he's also the father of Geillis's child in this episode.
Lewis: Who is the father of my son?
McTavish: That would be me! [Laughs.]
How do you even begin to have that discussion? How do you say to your brother, "I want you to have sex with my wife and impregnate her, so I can pretend that it's mine."
McTavish: I know! [Laughs.] Exactly. In some ways, I think there is a very pragmatic side to Colum and Dougal, and I think the conversation would have been a very pragmatic one. I think they would have sat down together. I don't think it would have been embarrassing. I don't think there would have been these awkward silences. It would have just been like a business deal. "I need this from you. You can give this to me. I provide other things in this relationship." And I don't think Dougal would have found it a chore, by any means!
Lewis: A conversation like that would be one of the major components to convince Dougal that this is how it should be — that Colum would take care of the big decisions and running the Clan MacKenzie, and that Dougal would be the man of action. I don't think Dougal could come up with anything better. But he's crossed the line on a few different levels, one of which is talking in public about the parentage of wee Hamisch.
McTavish: I think when they made that decision, it was not to be shared with others, so when I say that out loud, it's so deeply offensive and disloyal to Colum. But you know, his blood's up. He's angry. Because Dougal is very loyal, but his loyalties have a sort of hierarchy. He's loyal mostly to Bonnie Prince Charlie, and his country. And then, in descending order, it would be the clan and his brother.
Lewis: And of course, it's just getting ridiculous. There he is, he has four daughters of his own, he is the father of my heir, and he's out there getting Geillis pregnant. I mean, he's irresponsible! [Laughs.]
McTavish: Colum was not impressed at all with that. He likes to keep up the appearance of morality in the clan, and the fact that he already agreed to have his wife impregnated by his brother betrays a slight immorality on his part, but he likes to see himself above it. Which also gets Dougal's goat. He's more like, "Come on! Let's just be honest about what's going on here!" And seeing it from Colum's point of view, Dougal looks the part of the laird. He's physically able. He's good at war and all those situations. And Colum probably feels a little bit jealous, perhaps. Dougal's your ultimate plaid-covered bad boy. He's the one your mum told you to keep away from, but there he is, knocking on your door.
Dougal and Geillis exchange a meaningful look after her husband dies, and both Claire and Colum catch that. And given that Dougal's wife has also just died …
Lewis: He sees, and he knows what's going on, the skullduggery of it.
McTavish: I don't think for a moment that Dougal did away with his wife. I don't think he would have done that. But I suspect that he knew she was possibly not well, and passing that information along to Geillis, that would have possibly hastened Geillis's resolve in terms of Arthur, what she did to Arthur. If she knew that Dougal's wife wasn't going to be around for much longer, then it's Okay, let's speed up the agenda with Arthur. Let's get rid of him so we can be together. There's a touch of the Macbeths about them, that powerful ambition that supersedes anything. And I'm pretty sure that Dougal would have known about what was happening with Arthur. I don't think she would have kept that from him. I don't think he would have stopped her. He's not stupid, and he's not amoral.
Lewis: But I think after that, Colum does not think Dougal is capable of being the leader. He is too all over the place. It would be very dire if he was the MacKenzie, because he's not focused on the business of the clan. Plus, he's out collecting money for the Jacobites, which Colum doesn't think is in for the best interest of the clan. It's all tied together. It's all very well to see it's for honor, it's for Scotland, but you have to think it through. The clans are divided on the issue. And the English are a disciplined force, in greater numbers than us. Although Colum cannot see the future, he has an understanding that you can't take a decision like this lightly. So that's part of their personality clash.
If you could bring anything back from the future to help your characters, what would it be?
McTavish: Weapons. I think if the clans had access to the machine gun, it would have been a very different story! Or medicine. To be able to cure smallpox. Or even just knowledge. That would be a very, very powerful thing to bring back to the past.
Lewis: Condoms. Although I suppose they would have early condoms?
McTavish: Condoms did exist, they just weren't very good. They were made of leather and animal skin. They weren't the guarantees they are now.
Lewis: We could do it with sheep's stomach.
McTavish: Gary's character doesn't need condoms, does he? [Laughs.] That wouldn't be very helpful to keep the MacKenzie bloodline going!