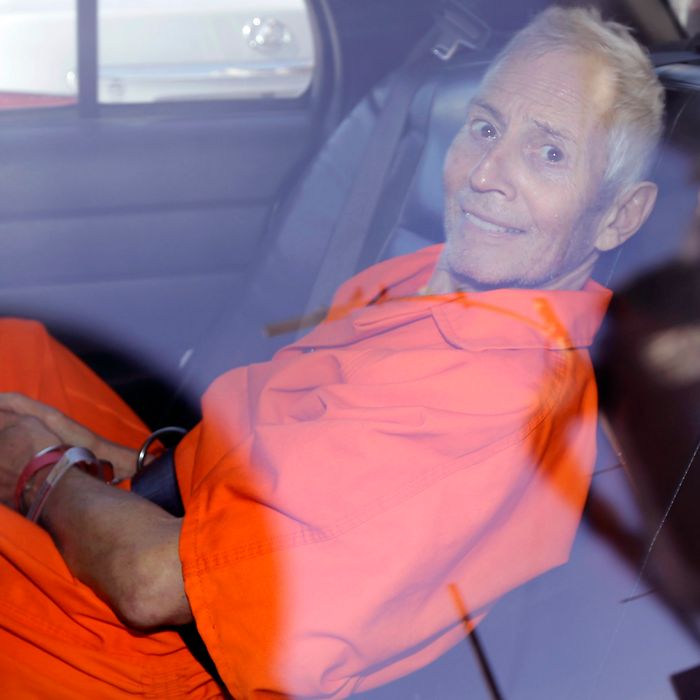 Robert Durst is transported from Orleans Parish Criminal District Court to the Orleans Parish Prison after his arraignment in New Orleans on Tuesday, March 17, 2015.
Photo: Gerald Herbert/AP
Fifteen years before Robert Durst became a celebrity of sorts thanks to HBO's The Jinx, People reporter Matt Birkbeck began following the case, interviewing friends, family, investigators, and others about the strange real-estate tycoon and the disappearance of his wife Kathie. Following the dismemberment of Morris Black and the shooting of Susan Berman, Birkbeck wrote the 2003 book A Deadly Secret: The Bizarre and Chilling Story of Robert Durst, chronicling the case and Durst's links to other murders. Now, for the second time since its initial release, the book is being reissued with updates to reflect Durst's latest arrest: for the Berman murder, in New Orleans, where he was found with a latex mask, five ounces of marijuana, thousands in cash — and two copies of A Deadly Secret. We recently caught up with Birkbeck to discuss the cases, the recent events, and his views on how The Jinx presented several parts of Durst's life falsely, while also omitting plenty of chilling details.
What have the last few months been like for you, with the show and the arrest?
Andrew Jarecki and I, we first met back in 2005. He was working on a Durst project. He wanted to just talk about what I knew. We spent some time together. And then he emailed me in 2011 — this was after his movie came out, All Good Things — and he told me he was working on a documentary and that Bobby had agreed to an interview with him, so I was pretty shocked when I heard that. He told me he already had several interviews in the can, and that he had said some things that were somewhat incriminating. His movie in 2010 wasn't a favorable portrayal of Durst, but it was trying to understand him, and I had already had my own distinct opinion of [Durst] by then. [Jarecki] asked me to interview for his program, and I declined.
I spoke with Andrew after the series aired, and he explained the whole thing to me and said that [Durst's hot-mic bathroom confession] was something they found months after they recorded it. Without that, [the documentary] would have advanced it a little bit given that they had that ["Beverley"] letter, but that was just a monumental moment. For people who weren't familiar with Durst, it was a good primer, but the last five minutes, I was shocked when he said what he said. When he said at the end, "Killed them all," that was the first time throughout the entire documentary, in my mind, that you saw the real Bobby Durst. You heard him, you saw him. He was obviously stressing out in the questioning with the letter, and then it appears to be multiple personalities having conversations with themselves. It was stunning.
What's your opinion of Jarecki's handling of it? There's been some criticism that they should have presented it more journalistically, but other people say, "Well, he's just a filmmaker. It's not his job to report the facts." Then again, people are dead here, so there's a bigger responsibility.
I share that opinion. There was a lot in The Jinx that was factually incorrect that he was aware of. For instance, Jeanine Pirro had a huge role in this, and she really played up the story about how she had gotten this tip and got the original investigation going, and how her office was going to interview Susan Berman before she died, and that's the reason Bobby killed her. None of that ever happened, and [Jarecki] knew that. The New York State Police didn't reach out to Susan Berman until after she was murdered.
[The book] gets into Pirro fairly in-depth. She did the same thing back in 2001, 2002, 2003, where, for her, it was all about the publicity value of the case as opposed to any kind of pursuit for justice. And clearly, that's what was happening with the documentary, so I had a problem with that. Andrew and I had talked about this before, about Pirro's role in all of this, so as a journalist, I had an issue with it. He's a filmmaker [sighs], perhaps he's beholden to a different set of standards. Joe Becerra, the detective who actually started this whole thing, I think he was in The Jinx for maybe 10, 15 seconds.
There are some really crucial questions here [for Durst]. One of which is, "How did you learn to dismember a body?" And that was never asked. It was more about, "Tell us about Kathie." He admitted [to] lying to the police way back when, but I didn't really see anything else that was outlandish. Basically, you just saw a cold, emotionless guy with little empathy for anything. And they knew what the questions were. I thought we might see some answers to them, and we didn't.
There was that scene where Jarecki asks Durst about intentionally shaving his eyebrows, and Durst says, "Who would mistakenly do that?" Maybe he knew he was dealing with someone that would let him get his side across.
Right. Which he did. He allowed Bobby to get his side across. His movie, All Good Things — Bobby liked the portrayal of himself, the one of the tormented son of the big real-estate developer, Seymour Durst. He liked that, as opposed to other descriptions of him that he had read over the years, of being a psychopath and whatnot. That's my understanding of why he agreed to do this. The really big question also was, when Durst was 10 years old, he went to go see a psychiatrist because he was having mental issues after his mother died. The psychologist letter is in the book, and he says he can't even be treated because he's got some real severe issues. I think the word is "psychological deconstruction." [Ed. note: It's actually "personality decomposition and possibly even schizophrenia."] It's a warning to everyone that you've got this ticking time bomb here, and that was back in 1953. And that wasn't addressed either, the doctor's letter. But like you said, he's a filmmaker, and he's got his own agenda. When I met with him back in 2005, he and his producing partner Marc Sperling, they had my book, and they had Post-its on almost every page, and we actually spent three hours talking about the book. Everything about Durst was in the book, so they knew about it. They spent years on him, so there were some obvious things they could've asked him but they didn't.
One thing they took dramatic liberties with is the scene in which Durst and his father dispassionately watch his mother's suicide, but according to your research, there were cops and firefighters there trying to save her.
That bothered me. The whole description in my book about how the mother dies is taken from the records from that day, from news reports, from police reports. So when I saw what they did, that's the story according to Bobby. It's one thing to ask him, "Bobby, what happened? Oh, really?" But then to basically film a scene around it, to me, that was over the top. That wasn't even challenging him. They could have basically said, "Hey, here's a police report from that day," or, "Here's a newspaper article from that day describing what happened. You're telling me one story, here's another story." They knew the real story. They went with his version. Again, that bothered me.
To go back to his arrest, were you surprised that happened?
I wasn't surprised. I had heard they were going to indict him a few weeks earlier. The FBI has been involved since 2012. They were always interested in Durst in some capacity, but it really picked up steam with the Gilgo Beach murders, those women that they're finding on Long Island off the ocean. They thought Bobby might be involved in those and became very intrigued. They couldn't connect him to those. They decided to take a look at the Kathie Durst investigation as well as Susan Berman. They formed a loose task force, and since 2012, they've been working with those local police jurisdictions. The FBI has been involved for several years now, and they've been working on this and building their case, so I had heard that he was going to be indicted several weeks earlier. The Jinx had started airing. It was the first or second weekend it was airing that I heard he was going to be indicted. Apparently, they had been tracking him for a while, he was getting ready to flee. They figured they had to move on him now, and that's what they did.
Why did the FBI think he might be linked to the Long Island prostitute murders?
I think they're convinced that he's a serial killer, and so they're trying to connect him to other cases around the country. Being that some of those women had been dismembered, they began looking at him. They couldn't make a connection, but their interest there led them to the Westchester County District Attorney's office and the Los Angeles police.
There have been reports linking him to other murders, like Karen Mitchell in California, or Lynne Schulze, who disappeared outside his store in Vermont. Have you heard any more about them?
The one in Vermont came out of left field. That one I did not know about, and I don't think anyone knew about it other than the police in Vermont and the FBI. The Karen Mitchell and Kristen Modafferi ones out of northern California I had reported on in the book. One of the problems with the Durst case is law enforcement, and the fact is, you've got different investigations in different jurisdictions, and it became complicated for them to work with each other. For instance, no one wanted to work with Westchester because of Jeanine Pirro and her penchant for publicity. Then she apparently refused to work with other jurisdictions. In northern California, when they linked Bobby to Karen Mitchell, police there reached out to New York to get Bobby's credit-card records, and New York refused. They had to go to a judge and get a subpoena to get Durst's records, which placed him in Eureka the day Karen Mitchell disappeared. That case, it came, and for whatever reason, just like everything else with Durst, it faded. The one good thing about The Jinx is that it brought attention to Durst. The Mitchell one is the strongest one of them all because you know that he lived up there, he had gone to the shoe store that Mitchell's aunt had owned, and Mitchell worked there, too. He had gone there also dressed in drag. He had visited this homeless shelter, soup kitchen that she worked at, which Bobby had an affinity for. He did the same thing in Galveston. And then you've got this dead-on composite [sketch] that is a spitting image. Not only is it the spitting image of Bobby, but the guy that gave the composite, he knew Durst. They can't get the local cop there to bite on any of this. He had his own suspect in mind, so it's a comedy of errors with law enforcement. Thankfully, the FBI is looking across the country at every city they can identify where Durst has lived, and they're going to be looking at missing-persons cases to see if, by any chance, there's any connection between Bobby and these people.
Do you think he knows what he can get away with? Is he that cunning?
That's a really good question, because the Durst that we're seeing now, the one that agreed to be interviewed, the one who apparently just wrote a letter to the L.A. Times, the one who seems to be a little more public, that's not the Bobby Durst I remember originally reporting on. He went into hiding, he stayed away from everybody. When he was on the run, he shaved his head and his eyebrows and was trying to travel under the radar. Now, apparently, he's more open about what he's doing, so I don't know. When the search warrant was released and they found two copies of my book in his apartment, people asked me what I thought about it. At first I was surprised and somewhat shocked. And I'm thinking about it, and the book provided a roadmap of what he'd been doing before these investigations started up again in 2000. On one hand, it's reference material for him. He knows what the police know. But on the other hand, maybe there's something else going [on] with him mentally now, and he likes seeing his name in print.
Considering everything he's gotten away with so far, do you have any inkling what will happen with the charges in Louisiana or L.A.?
Here's what's going on. Law enforcement wants him to stay in New Orleans for a while. They want to take a deep breath, they want to be able to look and see what, if anything, is out there involving him. I think they believe there are other cases out there. They're going to use this time to find them. That includes getting to the bottom of the Karen Mitchell case, and Modaferri. It gives them time to investigate properly, and not just the cases we know about. Moving forward, unless the judge down there throws out the charges, he could potentially spend several years in prison down there and then ultimately face trial in Los Angeles. I think the people who have been most affected by this case, particularly the family of Kathie Durst, would like nothing better than to see him tried in Los Angeles for the murder of Susan Berman, because if he's found guilty of killing Berman, the charge would be that he killed her to shut her up because she knew about Kathie. That would give authorities in New York a motive. He was convicted on it.
They may keep him in prison for ten years or so, and he's 71 years old. He'll never leave prison, I can tell you that. Everyone believes he's dangerous. The best thing would be, "Hey, go to some psychiatric facility for the rest of your life, but tell us first what you did in all these different cases. Did you kill this one, did you kill that one, what happened to Kathie Durst, what happened to Susan Berman?" It might be wishful thinking, but that would be, in my mind, the best-case scenario.