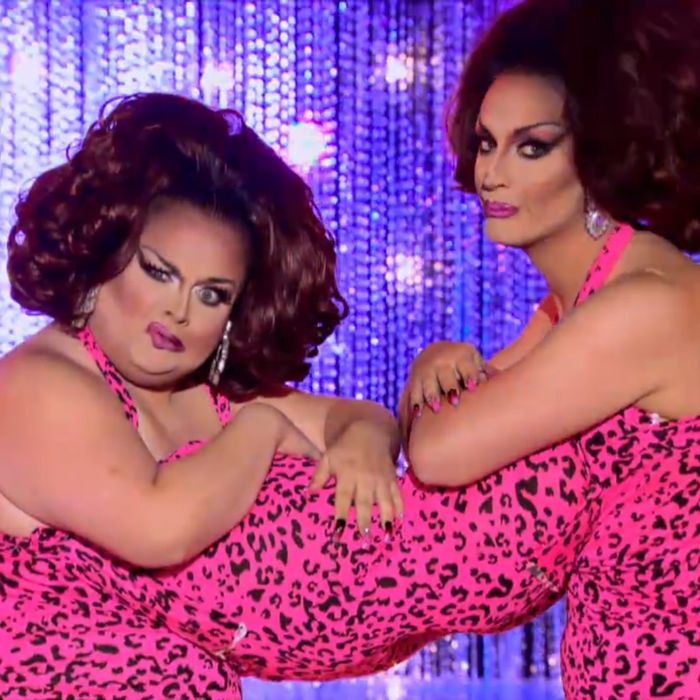 After last week's mediocre showing in "Snatch Game," this week's episode of RuPaul's Drag Race is one for the ages. Not only are the contestants faced with the sudden return of the previously eliminated queens, but they're forced to work with them to stave off their own elimination. The shady stakes could not be higher, and everyone is the better for it, as evidenced by this week's five memorable moments.
We'll Never Be (Latrice) Royale
This week's mini-challenge involved the girls trying to bring glam to the slammer and prove that orange is the new drag. Each had 20 minutes to turn out a prison uniform and make that perp walk runway-worthy. As inspiration, season-four alumna Latrice Royale was on hand to recapture the magic of her time spent as a a Tuckahoe Prison for Ladies guard from the previous season. Royale is a fan favorite, having won Miss Congeniality previously, and no matter how tenuous the excuse for her presence, she's always an unyielding delight.
Return of the Queens
Though RuPaul hinted at the end of last week's episode that an eliminated queen may be returning to the competition, the remaining contestants had no idea that before one would return for good, all of the eliminated competition would return for one last challenge. Thanks to winning the mini-challenge with a meticulously deconstructed jailhouse look, Kennedy Davenport had the ability to assign each eliminated queen to an existing contestant for the maxi-challenge, which required the two to work together and come up with a look for themselves … as conjoined twins.
Kennedy was pretty fair with her match-ups, taking Jasmine for herself, pairing Ginger with Sasha Belle, Pearl with Trixie Mattel, Fame with Kandy Ho, Katya with Mrs. Kasha Davis, Violet with Max, and Jaidynn with Tempest DuJour. While there were plenty of niceties tossed around welcoming the eliminated girls back, tons of resentment was boiling under the surface, perhaps in one contestant more than any other.
Gingervitis: The Silent Killer
Ginger was not happy to see all of the queens back, feeling like one opportunity is enough for anyone, and that to potentially be eliminated because of the failure of someone else was too much to bear. She vented to Katya, but it seemed as though her concerns ran deeper than just ideas of fairness. This challenge, a departure from the more purely performance challenges of earlier episodes, had a huge design element, something that really handicapped Ginger and Sasha, as neither of the pair were strong sewers. This, combined with the fact that Sasha was far more interested in socializing than strategizing, all led to the normally unflappable Ginger having a bit of a meltdown.
It was maybe this meltdown that made her (ultimate) triumph while lip-syncing all the sweeter, however, as Ginger turned in a tour-de-force performance of "I Think We're Alone Now." Though not generally a fan of "remove your wig" showstoppers, Ginger recognized the absolute necessity of removing herself physically from Sasha, and embraced it. The other difference was in how she, while topless and wigless on the runway, never for a second stopped performing or being the beautiful, poised queen she is. She never let desperation take over, and let her charisma, uniqueness, nerve, and talent rule the day.
It Gets Better
One of the nicest thing about the episode is that it afforded us a bit more time with some girls who hadn't gotten as much exposure, thanks to early eliminations. Having a full workroom again also led to more chatter and outreach, as the queens too seemed to recognize this as an opportunity to connect with people they hadn't before. Through this, we're able to learn about Tempest's time spent in conversion therapy, thanks to her religious family, as well as Trixie's adolescence spent with an abusive stepfather. Trixie went on to speak about how whenever her stepdad found her behaving in a fashion he deemed too effeminate, he would call her "Trixie" as an insult, revealing that choosing her drag name was a form of liberation and celebration over a moniker that had caused her so much pain for so long.
As powerful as open advocation is for the future of LGBT youth, there's something so human and accessible in watching these individuals share their personal tales of struggle and triumph in a very laid-back and social way. It becomes less of a PSA and more of a story shared with close friends, and the message gains an immediacy and attainability that is sometimes lost through other venues. It was lovely.
Whole Lotta Look
There were some absolutely fantastic looks this episode, with winners Pearl and Trixie taking the cake with their not-quite-identical-twins look. Max and Violet also looked exquisite and unnervingly similar, and made me sad that only one queen would be rejoining the race. And, of course, Katya and Mrs. Kasha Davis were hilarious and campy and everything drag queens should be. It's also a testament to the fashion strength of the remaining contestants that Fame and Kandy Ho could pull together such a fierce (if predictable) look and still fall flat with it. Still, that Pearl/Trixie look was gorgeous and hilarious and amazing and all that was good in the world. Welcome back to the competition, Trixie Mattel.
Winners: Pearl and Trixie Mattel (Trixie rejoins the competition after previous elimination)
Bottom Two: Jaidynn Diore Fierce and Ginger Minj
Eliminated: Jaidynn
Line of the Night Honorable Mentions:
"You could just call her Sad Pink Eyes for short." —RuPaul on Fame's prison look.
"It's like seeing Sharon Stone, except fat and black!" —Katya on Latrice Royale's presence.
"If I have to go home and one of those eliminated whores gets to stay, I'm going to have a wonderful time traveling to their house and burning it to the ground." —Katya, don't play.
Winner:
"How is your head?" [Beat.] "Fine." —RuPaul and Miss Fame. Again. (In Fame's defense, after having the joke explained to her and being told, explicitly, to listen more, she finally completed the joke correctly during judging.)