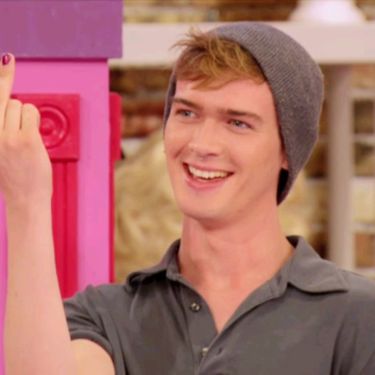 Coming off the heels of last week's fantastic episode, it was fair to assume that "Divine Inspiration," the latest episode of RuPaul's Drag Race, would inevitably be something of a letdown. That assumption couldn't be more off the mark, however. With the John Waters–themed episode reaching even greater heights than last week's conjoined-twins challenge, it's possible season seven has finally settled into its sweet spot. Let's take a look at what everyone will be chattering about this week.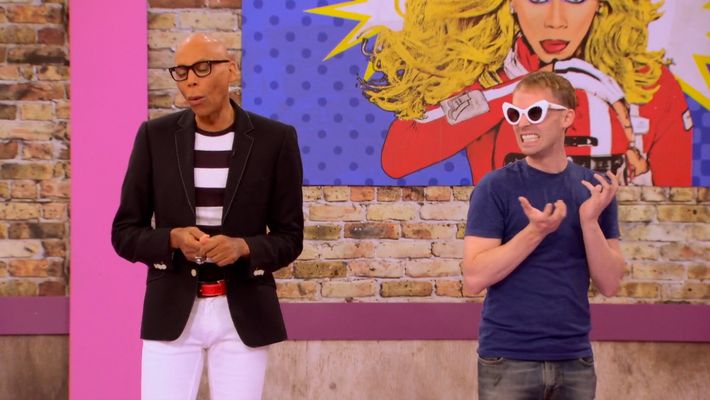 Reading is FundaMENTAL
Hands down, the best mini-challenge of any season encompasses the opening of the library, allowing each queen the opportunity to read her competition for laughs. The competitor with the quickest mind and sharpest tongue wins, and of course, being funny helps. The shade, as far as any of that goes, isn't particularly inspired (though the jab at Ginger asking if she ever managed to save Carol Anne from the poltergeist was pretty amazing), but where things get really interesting is when it became evident that, though the challenge ends with a Trixie Mattel victory, the library never really closes.
Which is just another way of saying that an already shady crop of queens gets even shadier as the episode progresses. Tensions are already heightened with the return of previously eliminated Trixie, but the strain escalates, and Pearl and Fame can't stop picking at each other, a rivalry made all the more inane and entertaining because they're basically the same person. Pearl and Fame's pick-a-little, talk-a-little isn't helped by the fact that they end up stranded on a team together (with wayward Violet) because no one else wanted to work with them. However, the brilliant part of all the bitterness being flung around the workroom is that, combined with a quippy judge's panel for the ages, it makes for some fantastic pull quotes, which means that competition for quote of the week will be particularly fierce.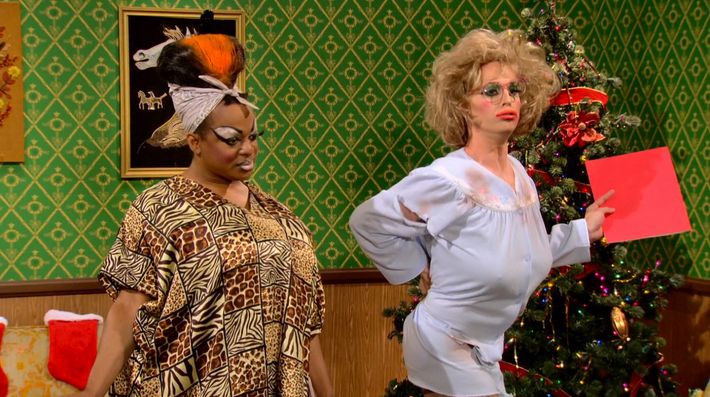 Wheat and Chaff
Thanks to another challenge, in this case, filming musical scenes that take inspiration from John Waters's films, the contestants manage to divide themselves according to strength. Kennedy and Katya team up, as do Ginger and Trixie, leaving Pearl, Fame, and Violet in the remnant pile. While the two pairs all host strong performers, the girls left identify far more as fashion queens, meaning that they were always going to be dead weight in a performance challenge. However, all three have had their moments of weakness throughout the season or, as in Violet's case, just have trouble playing with others. Typically in a season of Drag Race, it's at about this point that you can determine who the top three will be, based wholly on who's strong where. If I were predicting today, I'd say Kennedy, Ginger, and Katya are the top three, with a Violet dark horse, only because the divide between good and bad is becoming shockingly stark.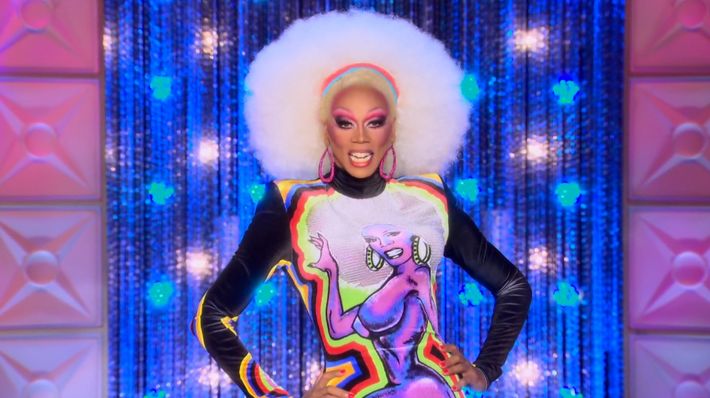 Ru's Showstopper
Perhaps because the runway challenge for the queens was "Ugliest Dress"–based, or perhaps just because it was a jaw-dropping look, RuPaul threw down the gauntlet with her dress at judge's panel. A full-length, curve-hugging gown, with a depiction of none other than Queen Ru herself, complete with sequined white Afro. It was, for lack of a better word, divine, and almost certainly the best look we'll see all season.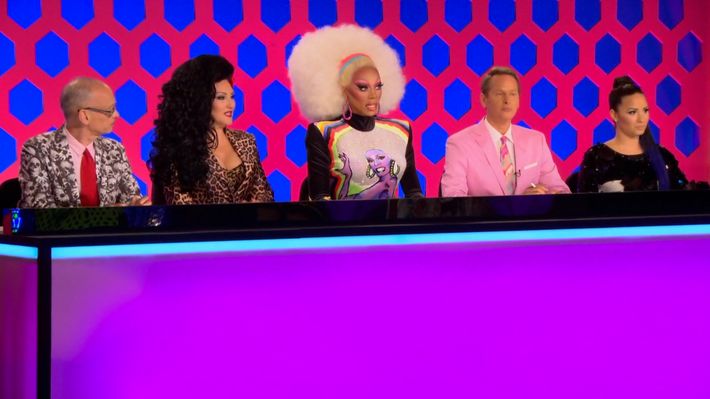 Opposites Attract
When the episode opened with the announcement that the guest judges were to be Demi Lovato and John Waters, I'll admit I was a bit agog. Talk about your bizarre pairs. Yet the judge's panel consisting of Waters, Lovato, RuPaul, Michelle Visage, and Carson Kressley absolutely gave me life. Each judge was consistently hilarious, but more important, gave cogent and insightful criticism when it came to evaluating the competitors. Every episode should have a panel this great.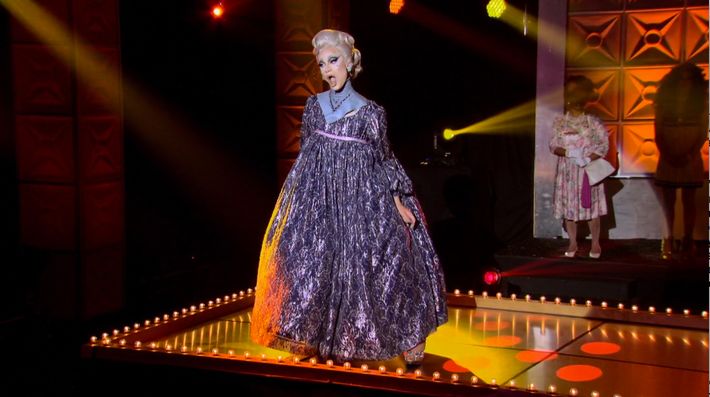 Fade Away
Surprising no one after their awful performances in the video short "Poo" and off-the-mark "pretty" ugly dresses, Pearl and Fame, after sniping at each other all episode long, end up facing off as they lip-sync for their lives. As amazing as Ginger was in last week's lip-sync, Fame and Pearl were both the opposite, as though instead of drawing inspiration from the work of John Waters or Divine, they'd both determined to model their performance after Flat Stanley. Throughout the song, "Really Don't Care" by guest judge Demi Lovato, I couldn't help but marvel at how dynamic Lovato's vocal work is, not because it is, particularly, but because the queens lip-syncing to it were just that bad. In the end, Fame goes home, and with it, all of her wasted potential. In a season full of characters, it's just never going to be enough to be a pretty face.
Winner: Ginger Minj
Bottom Two: Miss Fame and Pearl
Eliminated: Miss Fame
Line of the Night Honorable Mentions:
"Miss Fame, you're such a talented makeup artist. I've never met anyone who's able to shove their head so far up their own ass without smudging their eyeliner." —Katya with the read.
"John Waters has a filthy, twisted, delinquent sense of humor — he's my hero." —Katya again, with a little hero worship.
"Neither of us have ever topped anything before!" —Ginger aspiring to new heights.
"Good luck and, by all means, f**k it up." —RuPaul decides to shake up her moral support.
"Take that criticism, and apply it as much as you apply glitter to your eyelid, girl!" —Ginger hopes Trixie will get inspired.
"Y'all, she's not a hooker, she's a McCalls Girl." —Michelle on Katya's Holly Hobbie yarn dress.
"It's not like the pride flag, it's like the shame flag." —Carson sizes up Violet's fantastically atrocious rainbow clown dress.
"If it ain't brocade, don't fix it." —Carson on Fame's curtain caftan.
Winner:
"She really did go balls deep." —Sorry, kids. You just can't top Demi Lovato using the phrase "balls deep."