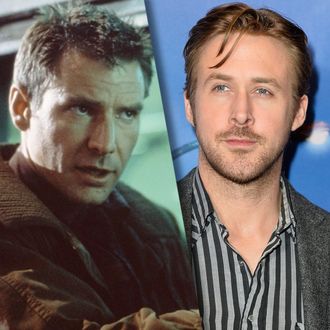 Harrison Ford in Blade Runner, and Ryan Gosling in real life.
Photo: Warner Brothers, Getty Images
Ryan Gosling used to be famous for avoiding roles in tentpole films, but for some reason he's now changed his mind: Variety reports that Gosling is in final talks to appear in Denis Villeneuve's upcoming Blade Runner sequel. Harrison Ford is already onboard to reprise his role as Rick Deckard in the film, which will reportedly take place 30 or so years after the original. Gosling's role isn't known, but he'll likely be the movie's main character; as Ridley Scott explained last year, the sequel is centered around a search for Deckard, who doesn't appear until the third act. Is that because he's a replicant? We'll get our answer when the movie comes out, and then a different answer when the director's cut does.