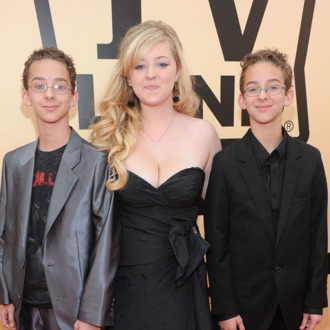 Sawyer Sweeten (L) and siblings Madylin Sweeten and Sullivan Sweeten arrive at the 8th Annual TV Land Awards at Sony Studios on April 17, 2010 in Culver City, California.
Photo: Alberto E. Rodriguez/2010 Getty Images
Sawyer Sweeten, the actor who played one of the twin boys on the sitcom Everybody Loves Raymond, died in an apparent suicide Thursday, according to reports. He was 19. Sweeten was visiting his family in Texas, where The Hollywood Reporter says he is believed to have shot himself. Sweeten played Geoffrey Barone on Raymond, from 1996 to 2005 in nearly 140 episodes, alongside his real-life twin, Sullivan, and older sister, Madylin. He also appeared in Frank McKlusky, C.I., and Even Stevens. He's survived by his siblings and parents.
"This morning a terrible family tragedy has occurred," Sweeten's sister said in a statement released to Variety. "We are devastated to report that our beloved brother, son, and friend, Sawyer Sweeten, took his own life. He was weeks away from his 20th birthday. At this sensitive time, our family requests privacy and we beg of you to reach out to the ones you love." His sister also shared the following on Facebook, shortly after the news was announced: "At this time I would like to encourage everyone to reach out to the ones you love. Let them have no doubt of what they mean to you."