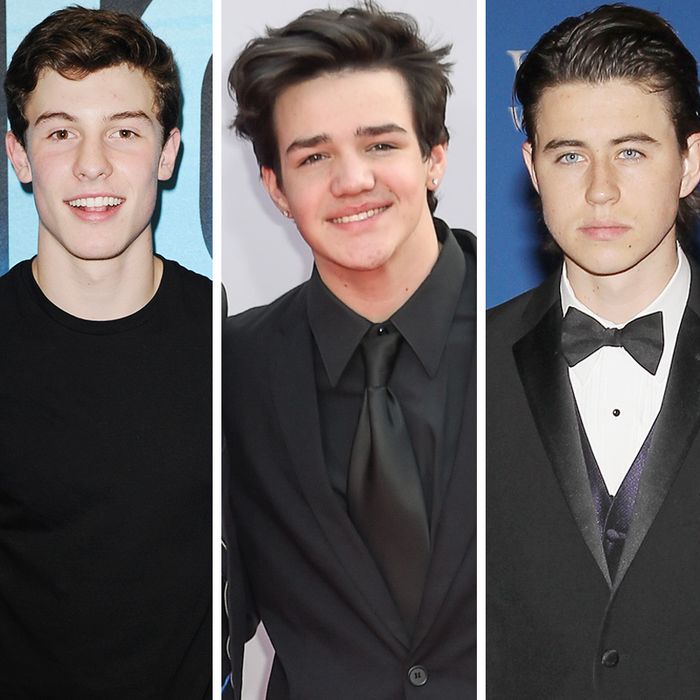 Photo: Getty Images, Corbis
Shawn Mendes, the cherubic 16-year-old from Pickering, Ontario, who is set to join Taylor Swift on her world tour next month, may seem like an overnight success story, but he's not. His first big break, before the earnest, acoustic-guitar-heavy pop songs on his debut album Handwritten unseated the Furious 7 soundtrack for the No. 1 album in America last week, was with Magcon, a touring group of teenage boys whose robust social media following — mostly screaming, devoted teenage girls — flocked to various venues around the country (with their parents) to see their favorite online personalities perform amateur comedy skits, songs, Q&As, and awkward dance moves.
Short for meet-and-greet convention, Magcon was founded in 2013 by Bart Bordelon, a single dad from Louisiana who came up with the idea, which he's referred to as "a boy-band phenomenon without the band," after Aaron Carpenter, the teenage son of a family friend, invited his 200,000 Twitter followers to meet him at a mall in Dallas on a lark and over 200 screaming females showed up. "My thought was, if I brought a bunch of guys together and we organized it, made it more of a formal event, made it a party, made it fun for the fans, this thing could go big," Bordelon said last year during a Magcon event in San Diego. Bordelon selected the initial lineup with teenage social-media savant Cameron "Cam" Dallas, whom he calls "hands down the No. 1 star in social media." They ended up with an amorphous group of about ten online whiz kids with varying "talents," including Nash Grier, Carpenter, Dallas, Mendes, and one female, Mahogany Lox, a kind of ringleader/feline mascot/DJ. At its peak, Magcon sold roughly 2,000 tickets to each of its events, including VIP packages offering one-on-one time with your favorite Magcon boy. Mendes, a self-taught guitarist whose six-second, stripped-down acoustic covers of pop songs by Ed Sheeran and Justin Bieber have earned him close to 3.5 million followers on Vine, stood out to Bordelon. Unlike Taylor Caniff, a Magconner known for run-ins with the law, Mendes, who didn't stay up late or engage in antics with his peers, seemed genuinely interested in building a career.
Magcon broke up about a year ago, after a disagreement between Grier's management and Bordelon. (Some fans were so upset that they resorted to cutting and dirty fanfiction.) By that time, though, Magcon copycats with major backing, like YouTube's DigitTour, had already gained traction among the viral teen set. Former Magcon boys like Grier's brother Hayes, as well as Carpenter, are now with DigiTour, which expects to sell 250,000 tickets this year. But Bordelon tells me that there will never been another Magcon. "It's like the '92 Olympic basketball team, the Dream Team," he says. "That will never be duplicated. That's once in a lifetime. That's it." Mendes, whom Bordelon says never wanted to leave the homespun community built by the Magcon family, eventually signed to Island Records and released an eponymous EP of original songs that reached No. 5 on the charts last year. He never had any of the Magcon boys under contract and believes Magcon was on its way toward "One Direction status." He no longer has a professional relationship with Mendes, but remains close with his family. In his words, "that's what happens when you have a novice like me that had never been in entertainment before."
So far, Mendes is the only Magconner to translate his online success story into chart-topping fame, but his old comrades continue to plug away, hoping, as many would-be digital celebs do, to turn internet stardom into real-life success. They'll always have Magcon to thank for giving them their start, though, says Bordelon, who still looks back on his days at Magcon fondly. "It was lightning in a bottle," he says. "The talent themselves, they don't really understand what could have been. I think when they get to my age, when they get into their 30s, they're going to look back on this and say, 'Wow, we really were about to go down in history as something huge.'"