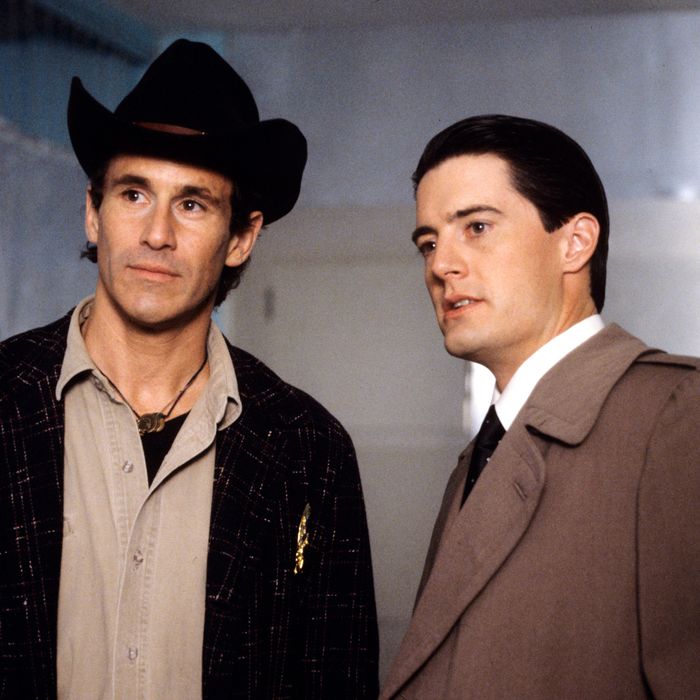 The owls are not what they seem.
Photo: ABC/Getty Images
It's been five days since David Lynch took to social media Sunday to deliver the news that he was "pulling out" of Showtime's previously announced Twin Peaks revival. He cited differences with the network over the budget for the new episodes, tweeting that "not enough money was offered to do the script the way I felt it needed to be done," and expressing regret at the turn of events. On cue, fans immediately freaked out, directing most of their ire at Showtime for seeming to pinch pennies. Some past Peaks actors (none of whom have deals for the revival) put out a video declaring their horror at the idea of a Lynch-free reunion. All of a sudden, things weren't looking so good for Twin Peaks redux. And yet, nearly a week later, Showtime hasn't declared the project dead, leaving open the possibility that perhaps the owls are not what they seem. Below, we break down the biggest outstanding questions regarding what had been one of 2016's most anticipated pop-culture events. (Note: Showtime declined comment for this story, as did a rep for Lynch.)
Why did Lynch announce, and Showtime confirm, a deal for the new Twin Peaks if Lynch wasn't locked in and happy with the proposed budget?
Because there was a deal in place for Lynch, co-creator Mark Frost, and, eventually, star Kyle MacLachlan. Or at least enough of a general understanding between the producers and Showtime to make all parties comfortable with an announcement. But as sometimes — even often — happens in Hollywood, the anticipated cost of the new Peaks appears to have changed as preproduction got underway. Remember: Lynch and Frost have been writing the upcoming episodes for months, with a plan in place to complete those episodes before shooting began. Industry insiders tell us that as Lynch and Frost wrapped up early drafts on the scripts, they realized the show as written was going to cost more than originally budgeted. Again, this isn't unusual, and it's actually common in the feature world, where Lynch has spent most of his career. Under normal circumstances, this is when studios or networks and producers start finding a way to deal with the new price tag by either increasing the budget, making concessions in parts of the production not related to what appears on camera, reducing compensation for actors or writers — or some combination of all of the above. Based on Lynch's tweets and Showtime's one public statement, it sounds as if just such a back-and-forth was taking place: "We believed we were working towards solutions with David and his reps," the Showtime statement read.  
Was Showtime willing to increase the budget for the show?
Sources indicate the network was, and is, open to spending more money. What isn't known is whether the network is okay giving Lynch every last dollar he says he needs, or if it's asking him to meet them in the middle. It's also possible that the dollar figure itself is doable for Showtime, but that the network might want Lynch and/or Frost to give up something in return — perhaps smaller paychecks for themselves, or decreased participation in any potential profits from the show that come about via a DVD release or anything else related to the show's return. What doesn't seem logical is that Showtime would suffer through a week of bad publicity and endanger a buzzworthy project because it was being "cheap." No, the network isn't a free-spending start-up like Netflix, which bet $45 million on two seasons of House of Cards before a frame of film was shot, and now has so much cash to burn it's apparently ready to spend some on a sequel to Full House. But unlike broadcast networks, or even AMC during its budgetary dust-ups with Mad Men creator Matthew Weiner and the producers of The Walking Dead, Showtime doesn't have a history of cutting corners on projects. (Those exotic Homeland locales weren't filmed in the California desert.) It seems unlikely (though admittedly not impossible) that Showtime is trying to force Lynch to film Twin Peaks Lite. 
If the two sides were talking, why did Lynch walk away (or at least say he was)?
Here, we can only speculate. It's possible that Lynch simply grew tired of haggling with Showtime over the budget and decided to bolt. After all, he is not your typical Hollywood director: He's only directed two major features this century (Inland Empire and Mulholland Drive) and, according to sources, doesn't currently employ a manager or agent. (Lynch is being represented in his talks with Showtime by power attorney Tom Hansen, who negotiated the original deal with ABC for Twin Peaks 25 years ago. Hansen did not return a phone call by the time this story published.) This really could be a purely creative dispute, with Lynch not interested in compromise. 
It also seems just as feasible — and again, this has to be filed under "spitballing" — that Lynch knew exactly what he was doing when he dropped his Twitter bomb, and that it was a calculated plan to get Showtime to bend to his will. While it's unclear whether Showtime legally can, or would, try to do the new Peaks without Lynch directing the episodes, he may have figured even the idea of such a thing happening would spark a firestorm among his fans and the media. And that's just what occurred: A few prominent TV writers reacted to Lynch's tweets by basically disowning it. If Showtime were a ratings-driven network, such a ploy might not hold as much sway. The network might try to get Frost to take over full control of the project and perhaps recruit some hot young TV or film directors to step in and replace Lynch. But as a premium network, Showtime is all about buzz and prestige and programming that can't be seen anywhere else. A Lynch-less Peaks might conceivably be good, but it would probably have far less cachet.

So where do things stand now?
Industry insiders say Showtime hasn't given up, and that from the network's perspective, things pretty much are where they've been for weeks now: It's trying to find a way to make the project move forward with both Lynch and Frost onboard. Among the reasons to be hopeful: Lynch collaborator Frost hasn't joined his partner in expressing any distress over the show's budget, or said or tweeted anything at all (at least as of this story's publication). This doesn't mean Frost is #TeamShowtime or doesn't share Lynch's desire for more money. But the fact that he's not speaking out — and is still firmly attached to the project, as far as Showtime knows — suggests he may believe Lynch can be brought back onboard. (Of course, Frost's silence doesn't mean he'd be okay with Twin Peaks being revived sans Lynch. It means we don't know.)  It should also be noted that while a bunch of Twin Peaks actors appeared in the pro-Lynch viral video, MacLachlan — the only actor who's been announced as part of the new cast — did not. He also has said nothing on Twitter about Lynch's announcement. Again, silence doesn't equal support for Showtime. But it does give credence to the notion that, at least for now, there's still a negotiation going on between Lynch and Showtime.