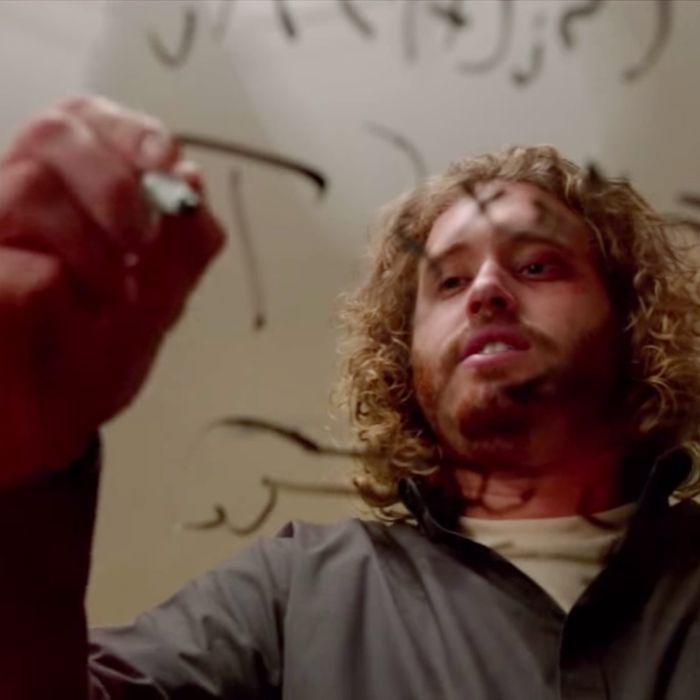 Erlich sets the "hand-job math" idea into motion in season one of Silicon Valley.
When we last saw the misfits of HBO's Silicon Valley, they were capping off the show's excellent first season with one of the most epic and scientifically complex dick jokes ever seen on television. In the episode, titled "Optimal Tip-to-Tip Efficiency," the men of fledgling web start-up Pied Piper are under pressure to please an auditorium full of tech geeks and begin to ponder the best presentation practices for winning the TechCrunch Disrupt competition. Erlich (T.J. Miller) plays team cheerleader and offers to take one for his team: "We're going to win, even if I have to go into the auditorium and personally jerk off every guy in the audience," a statement that sends Gilfoyle (Martin Starr), Dinesh (Kumail Nanjiani), and Jared (Zach Woods) down a rabbit hole of hand-job calculations that include "dick-to-floor" ratios and "mean jerk time," which ultimately inspires Richard's (Thomas Middleditch) winning compression algorithm.
With the show's sophomore season upon us, we asked the cast members at the second season premiere in Los Angeles a very important question: How have they topped last season's hand-job-math scene?
Josh Brenner (Big Head)
"[Laughs.] Every night, right before I go to sleep. No, I'm so sorry, that's horrible. It does get topped, it legitimately does. It is legitimately the funniest thing I've ever seen in my life. I just have never seen anything funnier. I wish I could say more, I don't even know what episode it is. It's either four or five. What I'm thinking of is four or five, and it involves other species."

Amanda Crew (Monica)
"I mean, Monica cannot top that hand-job math. She can handle her own, but they do top it this year. There are some really good story lines and jokes that are seeds planted in the early episodes that then come full-circle in later episodes, which is my favorite kind of comedy  — when it comes full-circle later, and you forget about it and it comes back."

T.J. Miller (Erlich)
"There is talk of the monkey episode being the one that's going to do it. But you know, Erlich gets pretty bold with some of his body parts. We hope it's not just a huge finale, but a show that all the way through has really funny moments. I hope people don't think there's one incredible scene or scenes."

Alice Wetterlund (Carla)
"[Laughs.] Well, I don't get to be in any of those giant ensemble scenes where those things really take hold. I do give Dinesh and Gilfoyle a lot of hell, so that was very cool."

Jimmy O. Yang (Jian Yang)
"Well, maybe we'll top it with an actual hand-job demonstration. We'll see. I'm not going to spoil anything, but you never know, it's HBO."

Silicon Valley returns Sunday, April 12.