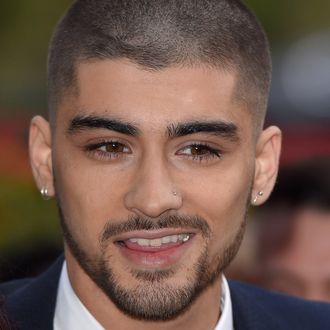 Yes!
Photo: Karwai Tang/Getty
Of all the people who could be a shoulder to cry on for One Direction fans still reeling over Zayn's departure, Stephen Hawking probably isn't at the top of anyone's list. And yet the renowned physicist knew just the right thing to say to a young girl's inquiry about the "cosmological effect" of Zayn going solo and "consequently breaking the hearts of millions of teenage girls across the world." Appearing via hologram at a Q&A at the Sydney Opera House on Saturday night, here was his incredible response:
"Finally, a question about something important. My advice to any heartbroken young girl is to pay close attention to the study of theoretical physics. Because one day there may well be proof of multiple universes. It would not be beyond the realms of possibility that somewhere outside of our own universe lies another different universe.

And in that universe, Zayn is still in One Direction. This girl may like to know that in another possible universe, she and Zayn are happily married."
Science!