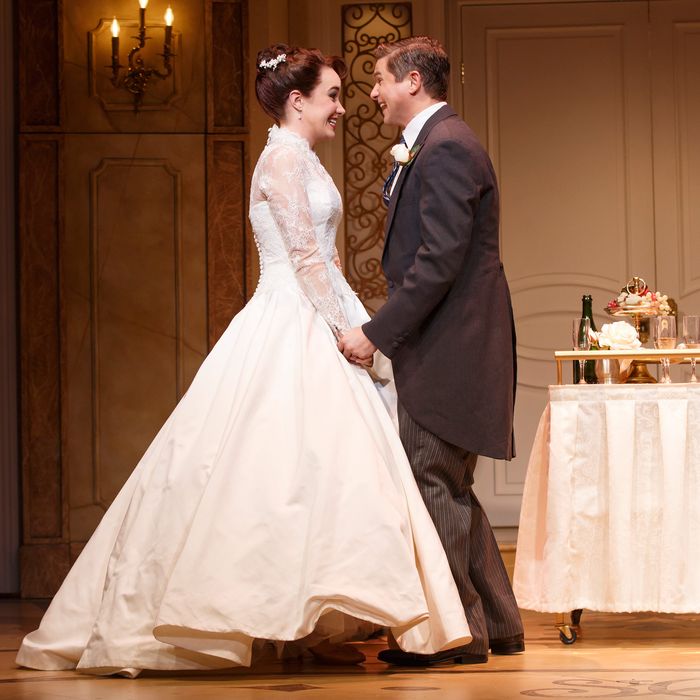 With its title reminiscent of that very old standard "It Had to Be You," the new musical It Shoulda Been You sounds like a retread even before it starts. The impression does not abate once you get a whiff of the plot, which recalls dozens of moldy domestic comedies. Watching it, I at various times thought of Take Her, She's Mine; Mary, Mary; Norman, Is That You?; and the Forest Hills bridezilla section of Neil Simon's Plaza Suite. Those plays, part of a genre that flourished in the 1950s and 1960s, were mostly throwbacks already. With their generation-gap humor and culture-clash antics, their mixed marriages and children gone amok, they harked back at least as far as 1922, to the enormous hit Abie's Irish Rose, which Robert Benchley described even then as having "the comic spirit of 1876."
A musical in that antique vein would seem to be a nonstarter now. Indeed, after developmental productions in 2011 and 2012, It Shoulda Been You arrived on Broadway trailing terrible buzz: the kind of buzz you might think, or perhaps hope, would result in a Merlin or a Moose Murders. But it's not that bad, and I'm pretty sure I'm not just saying that because I know some of the creative team that put it together. It helps that its ambition is modest: It's trying to amuse, not overwhelm. Brian Hargrove's book, based on a concept by Barbara Anselmi, is cleverly constructed, laying out its wedding plot according to musical-theater best practices. We meet nearly all of the characters — there are more than a dozen — in the opening number, and get a foretaste of their conflicts as well. The bride's family is Jewish and the groom's is anti-Semitic. The bride's older sister is overweight and underappreciated; she wouldn't fit into the wedding gown, she tells us, even if she were cremated. The best man and the maid of honor squabble nonstop. And when the bride's ex-boyfriend, who everyone wishes were actually the groom, shows up with a secret, the stage is set for high jinks, as ads for this sort of fluff used to say. Unfortunately, that's where the plot gets stuck for a while. Until we hit the surprises — a minor monkey wrench a third of the way through, and a huge one at the two-thirds mark — the real story must be laboriously withheld. For that reason, red herrings are scattered everywhere, as if the appetizer buffet blew up.
This makes it difficult to say much more about what happens, but it's worth pointing out that neither plot twist is very credible, and the big one, however contemporary it may be in fact, already feels stale. Still, it has been set up well enough to produce a roar of laughter, and to carry the story swiftly to its unexpectedly touching conclusion. This is in part the result of David Hyde Pierce's understated direction, with its emphasis on comic timing and full commitment to stock characters. In this he is greatly aided by a luxury cast led by Tyne Daly and Harriet Harris as the sparring mothers; Daly has the rhythms of disapproval honed to a weapon ("My daughter breaks your heart and you don't have the decency to call me?"), and Harris does her dipso-wack-job shtick with panache. (Sierra Boggess as the bride and Josh Grisetti as her interloping ex are two more standouts in a cast that also includes David Burtka, Chip Zien, Michael X. Martin, Montego Glover, and Edward Hibbert.) But it's a nice surprise to find that the real star of the show is Lisa Howard as the older sister who just wants to be the beautiful one for once. (Actually, she looks terrific in William Ivey Long's costumes.) Howard, who played the bubbly moderator in The 25th Annual Putnam County Spelling Bee ten years ago, has the unusual ability of making likability and warmth, so often boring onstage, theatrical. She also sings beautifully, and gets most of the evening's best songs, which isn't saying much.
Take Her, She's Mine and its ilk didn't have to worry about that. It Shoulda Been You clearly does; it's not only a musical but a heavily musicalized one at that. There are 19 numbers in its 100 minutes. They are well placed and fulfill their little dramaturgical missions, sometimes even with lyrical élan. (The lyrics are by several hands, mostly Hargrove's.) But there are too many of them, and the music itself, by Anselmi, too often sounds like the bumper cues between sitcom acts. (The very small orchestra doesn't help.) Even if the songs were better, I'm not sure most of them would serve the story, which is fundamentally a farce; there are nearly as many doors and entryways on Anna Louizos's unit set as there are people. No less an authority than Stephen Sondheim has said, referring to his score for A Funny Thing Happened on the Way to the Forum, that farces resist singing, except as occasional respite from the action: They must, like sharks, keep moving or die. It Shoulda Been You doesn't die; the cast is too good for that, and a few well-placed zingers perk up the proceedings. But let's just say it's on life support.
It Shoulda Been You is at the Brooks Atkinson Theatre.
*A version of this article appears in the April 20, 2015 issue of New York Magazine.