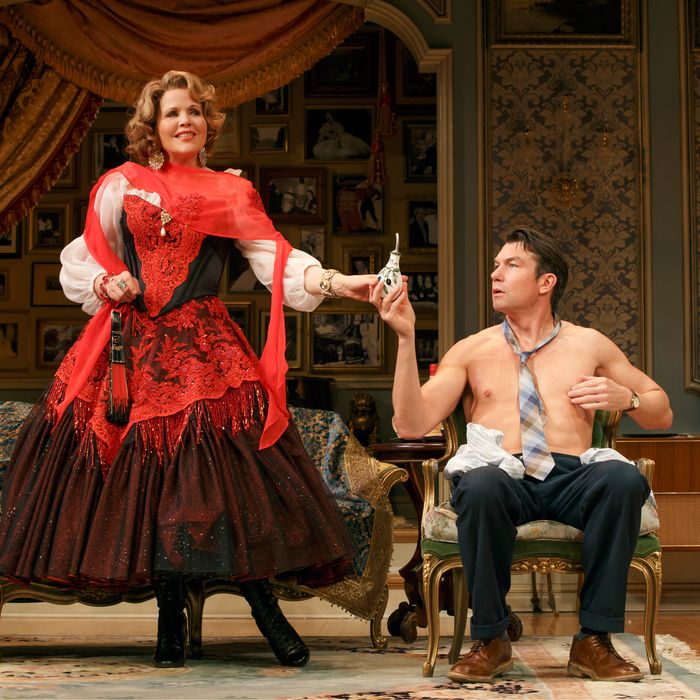 It's not fair to judge a play by its bloopers; almost everything that has ever appeared onstage has had its share of dropped lines, missed entrances, Parkinsonian sets, or plummeting Spider-Men. And yet sometimes the bloopers are too expressive of a play's overall blooperishness to resist. At a recent preview of Living on Love, a comedy starring Renée Fleming and Douglas Sills, two bottles of Champagne, meant to contribute to the fizzy, farcical atmosphere of a mismatched romantic dinner, turned out, upon uncorking in the second act, to be empty. Symbolic enough, but when the actor Jerry O'Connell, also in the scene, hustled the bottles offstage to be refilled, and Sills then tried to pour a toast, a few glugs of what was evidently tap water was all that fell into his glass. "Flat!" he ad-libbed, to a big laugh. 
It may have been the only genuine laugh of the night. Not that there weren't plenty of punch lines, but the audience's response to them seemed as canned as the material. This is only in part because the play, by Joe DiPietro, who won a Tony award for his book for Memphis, is set in 1957 and feels as if it were written then too. Fleming is Raquel De Angelis, a fading opera diva, and Sills is her husband, Vito, a likewise fading maestro supposedly at work on his autobiography. It is not going well. His hysterical egoism — the mention of Leonard Bernstein sends him into paroxysms of envious rage — has already alienated six ghostwriters, whom he calls, in his Chico Marx patois, "spooky helpers"; he is now wearing thin the patience of a seventh, Robert Samson, played by O'Connell. When the publisher sends Iris Peabody, a mousy "assistant junior editor" played by Anna Chlumsky, to threaten termination of the contract, the maestro charms her into becoming spooky helper No. 8. Raquel, equally tempestuous, responds by signing a contract for her own autobiography and choosing for her ghostwriter the just-unemployed Robert Samson. But as Vito romances Iris (whom he calls "Irish") and Raquel romances Robert (whose name she can barely remember at all), the younger pair become aware of their own attraction, while the older pair begin to wonder whether they've finally grown too old for the game.
If these neatly symmetrical affections and antagonisms sound like the setup for a Hepburn–Tracy film, there's a good reason. Living on Love is based on a 1985 play called Peccadillo, by Garson Kanin, who also wrote the screenplays for Adam's Rib and Pat and Mike. Compared to those, Peccadillo, which had its premiere in Palm Beach starring Christopher Plummer and Glynis Johns, is somewhat plodding and effete; no surprise it never made it to Broadway. But compared to Peccadillo, Living on Love, as directed by Kathleen Marshall, is tacky and weirdly downmarket, as if divas and maestros could only be made palatable to contemporary audiences by turning them into frenetic buffoons. Where Kanin's characters are erudite and passionate about their art — Vito was apparently based on the pianist Arthur Rubinstein — DiPietro's seem to have learned from their years in the classical music trenches only the most superficial things. For Vito, Ravel's Bolero is make-out music; for Raquel, La Bohème an excuse to show off cleavage. 
When I saw Living on Love at the Williamstown Theatre Festival last July, it seemed like a pleasant summer evening's diversion. The Broadway production is, on the surface, substantially similar. The cast, save O'Connell (replacing Justin Long), is the same. Blake Hammond and Scott Robertson, who play the De Angelises' officious manservants, still steal the show — not a difficult task except when Trixie the Pomeranian (or her understudy, Rocco) is stealing it from them as Raquel's lapdog, Puccini. But somehow Living on Love no longer seems pleasant enough, let alone diverting. You expect things to grow if they're coming to New York, to offer something greater than they did in the country. Otherwise, they seem to shrink. And while Sills has the craft and comic experience to scale up his performance to Broadway levels, I'm sorry to say he's the only one of the four leads who can convincingly project this weak material to the back of the house. Okay, maybe Trixie can, too.
It is certainly very strange to report that Fleming, one of the great operatic sopranos of the last three decades, cannot. She is lovely, she is game, and you always sense her niceness. But these qualities domesticate Raquel's monstrousness; she isn't fierce enough to make her middling antics funny. (You'd need a Christine Ebersole to make the part work.) What's oddest is that, without music, Fleming can't seem to find a natural shape for her lines. In part, that's because her diction is just too operatic. Final consonants are pronounced as if they are separate syllables: "I was so move-d." Rs are trilled nearly to death. Such affectations leave me with no doubt that she could play Raquel's roles; indeed, we hear her singing bits of some of them, gorgeously, on the stereo. But playing Raquel herself is a different matter. Spoken English does not tell you, the way a good composer does, how to fill its contours. This distinction becomes clear when, after teasing us with snippets of arias throughout the play, Fleming finally lets loose with a whole song: "Always." Now we realize what we've been missing. The character snaps into place, the affectations seem like expressiveness, and the sense of the words is inescapably clear. Perhaps what this material needed was not so much Joe DiPietro as Irving Berlin.
Living on Love is at the Longacre Theatre through August 2.