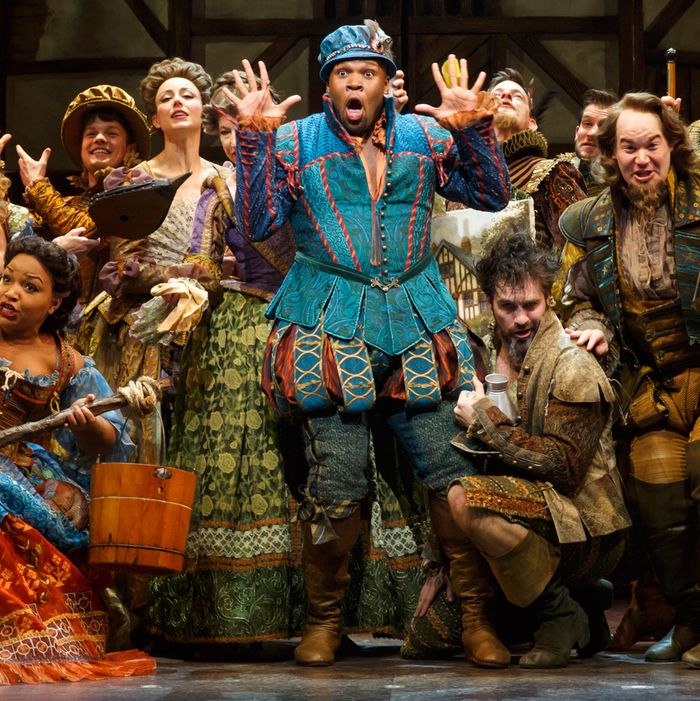 Whatever their nominal subjects, musical comedies today are usually about musical comedies. Consider three of the funniest of the last ten years: Spamalot, The Drowsy Chaperone, and The Book of Mormon. In The Drowsy Chaperone, an old Broadway tuner comes to life in the apartment of an obsessive fan; the other two shows draw most of their humor from the contrast between their settings and the musical comedy tropes that forward the action. Indeed, the surprise intrusion of a rap song or kick line into seemingly unrelated contexts is by now so commonplace it may fail to surprise. (Can we call a moratorium on boogying old ladies?) Yet a few savants, including the director and choreographer Casey Nicholaw, who worked in one or both capacities on all three shows mentioned above, are still able to pull off the trick. Nicholaw's genius for reducing an audience to helpless giggles is on blazing display in Something Rotten! — a new show so steeped in the tradition that it often seems like a concordance. Anything you've ever liked in a musical comedy (and a few things you haven't) are here, just waiting to sing-and-dance you into submission.
The story of Something Rotten! is perhaps the purest musical-comedy material Nicholaw (or anyone) has ever had, concerning as it does not just the hysteria but the history of the genre. Or, anyway, an imagined history. Feisty Nick Bottom and his sensitive brother Nigel, lesser theatricals in Shakespeare's London, are desperate for a hit. They think they've got one with a little play they call Richard the Second, until their patron, the foppish Lord Clapham, informs them that the Bard once again has beat them to it:
NICK: Why is he doing Richard the Second?? He just did Richard the Third! Who goes backwards?! 
NIGEL: He breaks convention. That's why he's so great. 
NICK: Oh yeah? Did you see Romeo and Juliet? What's so great about two lovers who kill themselves in the end? 
LORD CLAPHAM: Oh, you've spoilt it! I'm seeing it this evening. 
When Clapham threatens to withdraw his patronage unless the brothers come up with something really new, Nick visits a soothsayer named Nostradamus (not the famous one, but his nephew Thomas) to find out what that might be. In a showstopper that's a hall of mirrors of self-reference, Nostradamus reveals that the next big thing in theater will be something called a musical. (The song packs in more references to classics of the genre than you can keep track of, especially while laughing so hard.) Nick and Nigel now set out to write one, having only a very foggy idea of what sort of subject will work. Their first attempt is so horrific it's shut down in rehearsal, but their second, inspired by Nostradamus's slightly imprecise rendering of future titles and plots, makes it to its Springtime for Hitler–ish opening night. I won't give away more, except to say that the plot also involves Brother Jeremiah, a closet-case Puritan always leaking double entendres; his daughter, Portia, a poetry fangirl who bonds with Nigel over their shared Bardolatry; Nick's wife, Bea, a proto-feminist who disguises herself as a man to make money; and a Jewish moneylender named Shylock who complains that Shakespeare totally ignores him.
It's total silliness, of course; Nicholaw keeps the lights bright, the sound loud, and the plot moving at a furious boil. (That's part of why it evaporates so quickly.) He's an expert player at Can You Top This, building production numbers patiently toward a series of climaxes and even sneaking in surprise encores when you thought you were back to the story. In this way the entire first act flies from high to high, including not only Nostradamus's vision but an introductory number for each of the major characters. The best of these, called "Will Power," posits Shakespeare as a kind of Tom Jones–Mick Jagger–Prince sex god, oozing charismatic smarm and rocking a giant codpiece. The others, especially those for Nick ("God, I Hate Shakespeare") and Bea ("Right Hand Man"), also score big. None of this would matter if Nicholaw had not cast the show impeccably. But Brian d'Arcy James as Nick, Christian Borle as Shakespeare, Heidi Blickenstaff as Bea, Brad Oscar as Nostradamus, and John Cariani as Nigel are the kind of comic actors who make even piffle full-bodied. 
That wasn't an insult to the piffle: As light as the material may be, it's no easy achievement, and quite a surprise coming from a group of writers with no experience on Broadway. This is in fact the theatrical debut of the brothers Wayne and Karey Kirkpatrick, who wrote the songs; in real life Karey is known for his work with Disney Animation, and Wayne for singles performed by the likes of Eric Clapton and Amy Grant. For every freshman infelicity (the rhymes sometimes miss by a mile) there are a dozen smart lyrical jokes, nicely set on tunes that do only as much as they need to in order to keep the momentum going. (Anything more musically ambitious might stall the plot.) The book, by Karey and the British comic writer John O'Farrell, also plays both low and high: There are frequent gay jokes (endearing, not offensive) but also many textual references for Shakespearians in the audience to unpack over post-curtain drinks. (My favorite was Nick Bottom's telling his rival: "You will not make an ass of me.") In all these ways, Something Rotten! mimics the achievement of Shakespeare himself — not, obviously, in the deathlessness of its poetry and insight but in its binding of disparate potential audiences and tastes into one, at least for a few hours.
If Something Rotten! has mastered the surprise-based humor that is now de rigueur in musical comedies, it is something of a meta-surprise as well, its producers having decided to skip its planned out-of-town tryout in Seattle and open it cold on Broadway. Perhaps that's why it retains a pleasant feeling of shagginess and idiosyncrasy: qualities too often pruned out of shows that are over-workshopped en route to New York. Perhaps that's also why the contraption starts to sag in the early going of the second act, at which point we are no longer very interested in peripheral issues unless they obviously contribute to the fun. (A subplot about Nigel's conflict with Nick, and another about Shakespeare's difficulty writing, don't come to much.) A month in front of a Seattle audience might have helped identify those longueurs and left time to correct them. But a more fundamental problem — the only one, really — is too deeply entwined in what makes the show work to have ever unwound it. I refer to its relentlessness, the will to conquer at any cost, like Mel Brooks on steroids. The authors all but admit the tendency when they have the soothsayer look into the theater's future to find actors "gyrating to that titillating beat": 
NOSTRADAMUS: It's called a "dance break." … People onstage, just bursting into spontaneous dance! 
NICK: Why? Does it advance the plot? 
NOSTRADAMUS: No.
NICK: Advance character? 
NOSTRADAMUS: Not necessarily. 
NICK: Then why do it? 
NOSTRADAMUS: Because it's entertaining! 5, 6, 7, 8! 
Well, yes. But if I could wish for any improvement in Something Rotten! it would be to relax a bit more, so we could. It's hard work enjoying a show this much. 
Something Rotten! is at the St. James Theatre. 
*A version of this article appears in the May 4, 2015 issue of New York Magazine.