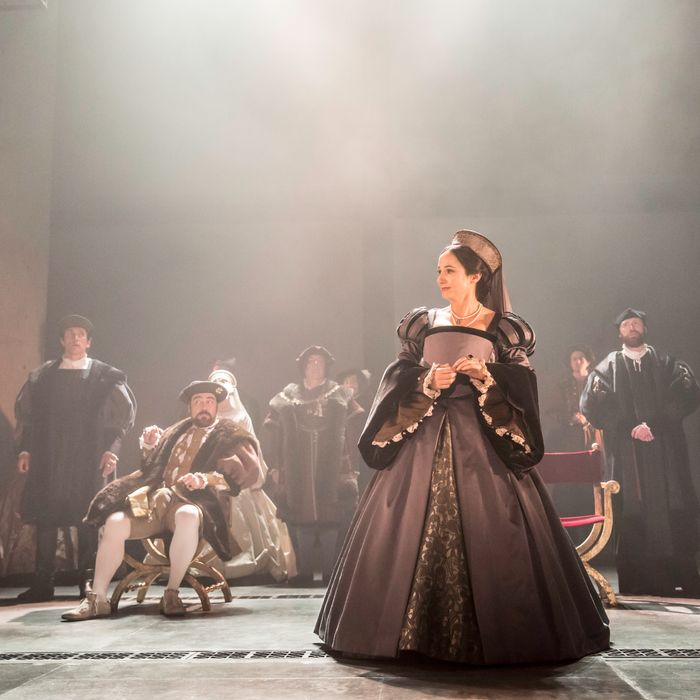 WOLF HALL
Photo: Johan Persson
With more than 1,500 seats, the Winter Garden is generally considered too large for plays: too lacking in intimacy and too hard to fill. In any case, it hasn't housed a nonmusical since 1982. So it might seem like an odd place for the Royal Shakespeare Company's production of Wolf Hall, which is not only a play but a historical drama, and an English one at that. Its two parts take almost six hours, plus a dinner break if you see both in one day, to cover eight years in the life of Thomas Cromwell, consigliere and fixer to Henry VIII. There are no stars. (By contrast, The Audience, at the 1,000-seat Schoenfeld, covers 65 years of English history in two swift hours, with Helen Mirren to boot.) How could such a production prosper in the home of Cats? Unless Anne Boleyn was going to sing "Memory," the play and the place looked like a mismatch. 
They aren't. While not by any means a musical, Wolf Hall, adapted by Mike Poulton from the first two books of Hilary Mantel's Cromwell trilogy, has a musical's structure and the scale to go with it. Part 1 (also called Wolf Hall) begins with a dance: a court entertainment that introduces some of the major players and themes. The ensuing drama, directed by Jeremy Herrin as tautly as possible under the circumstances, is interspersed with the equivalent of specialty numbers: jousts, hunts, investitures, pantos, and — especially in part two, which is called Bring Up the Bodies — executions. Even the "book" scenes have the cobbled-together quality of shows assembled from preexisting parts. In this case, those parts are the past, or Mantel's inferences about it from surviving records. Her reconstructions of the gaps between the facts function much as the scenes between ABBA's songs did in Mamma Mia!, which played the Winter Garden for 12 years. You might call Wolf Hall a historical jukebox. 
The highlights will be familiar if you have picked up some Tudor history along the way. King Henry (Nathaniel Parker, excellent) wants out of his marriage to Catherine of Aragon, whose several pregnancies have resulted in only one living heir: a daughter. Anne Boleyn (Lydia Leonard, fabulously waspish) is waiting in the wings to help Henry secure the Tudor line, but how can he marry her if Catherine will not consent to an annulment? Cue the English Reformation. But having supplanted Catherine, Anne, too, fails to produce a male heir, offering the country only the "useless, mewling, ginger puke-pot of a girl" who would later be Queen Elizabeth. Before you can say "Tower of London," Anne is beheaded; one day later, her replacement, Jane Seymour, is betrothed.
But the facts do not tell you how history is made at the ground level by practical men like Cromwell. Though merely the son of a provincial blacksmith, a fact the courtiers never let him forget, he is the one who successfully wrangles Catherine into submission; who ushers her supporter, Sir Thomas More, to the scaffold; who clears the path for Anne and then, when that match goes sour, prosecutes her for treason. It's often a bloody, or at least a hypocritical, business, and Ben Miles, whose only other Broadway appearance was as Tom in The Norman Conquests, is completely convincing as far as the role permits him. He is feral, subtle, eyes darting everywhere. When he says that the past "changes all the time," we understand that, for him, everything is fungible, even history.
But for all its insights, this is not the kind of play that offers much psychology. We may infer that Cromwell's difficult childhood and rowdy youth (he was a mercenary soldier on the continent for several years) helped shape his outlook and hone his sixth sense for finding the escape hatch in any situation, but the script does not give us much to go on. (For that, you'll have to watch the entirely separate BBC television version of Wolf Hall, starring Mark Rylance.) The stage production is more of a pageant, visually beautiful but a little flat. Christopher Oram's set consists largely of walls painted to resemble reinforced concrete; a weird metal gridwork, perhaps suggesting the honeycomb intrigues of the plot, hangs over the action. We get the brutalism of it all, but rather miss the emotion; even the obvious heart-wrenchers, such as the sudden death of Cromwell's beloved wife, are gracefully elided. (She makes a lovely ghost, though.) And most of the compensatory attempts to leaven the material with humor seem grasping. Apparently it's historically accurate that Cromwell's servant Christophe was French, but was he, as portrayed here, Monty Python French?
Indeed, aside from the Boleyn intrigue, which is handled fairly thoroughly, there's a little-bit-of-everything flavor to the proceedings. That makes sense, and I'm not sure you could find any other way to corral the material in Mantel's books unless you were willing to go for 60 hours instead of 6. Still, I found myself wondering whether newcomers to the period might guess from the play that anything else important happened while Cromwell was serving as Henry's marriage counselor. The dissolution of the monasteries, an event of huge significance, is mentioned briefly. The creation of the English Bible earns a line or two. But mostly what we have is an extremely elegant Tudor soap opera, the kind of "event theater" that from time to time can fill a Winter Garden. It fits nicely with the three-course prix fixe "English feast" dinner being offered to Wolf Hall patrons at the nearby Rock Center Café between plays. There you may choose among such menu offerings as Scotch egg, shepherd's pie, and bubble and squeak. Venison or pheasant would be more authentic, but who has the time?
Wolf Hall, parts one and two, is at the Winter Garden through July 5.
*A version of this article appears in the April 20, 2015 issue of New York Magazine.