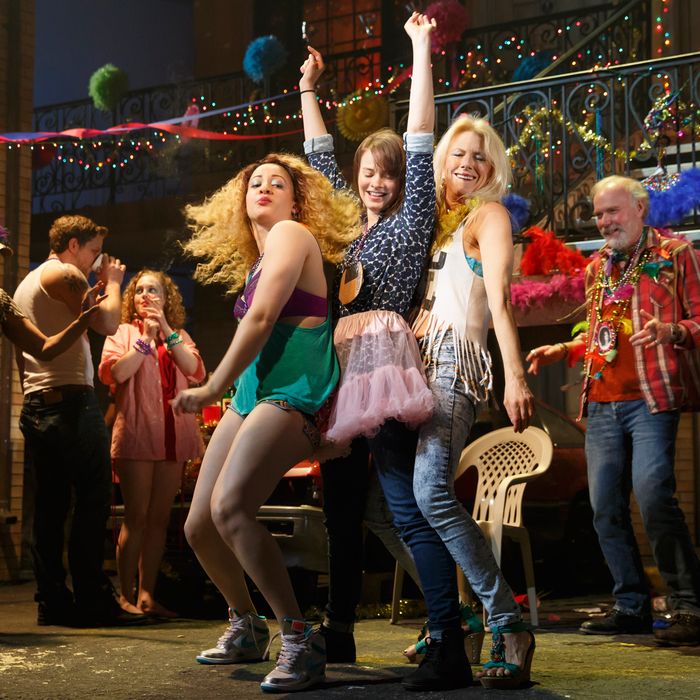 From Airline Highway, at the Samuel J. Friedman.
Photo: Joan Marcus
Sixteen-year-old Zoe has come to New Orleans with her mother's boyfriend, Greg, to visit the Hummingbird Motel. When Greg lived there, before he cleaned up his image and moved to Atlanta, he was called Bait Boy and made a marginal living as, among other thing, a karaoke wrangler. In his pressed chinos and tucked-in print shirt, he now looks incongruous among his former cronies: a group that welcomes (as one of them, called Sissy Na Na, explains) anyone down-and-out: "the drunks, the addicts, the ex-addicts, the hos, the super hos, the ex-cons, the soon-to-be cons, the bouncers, the strippers, the street musicians, the faggots, the poets, the activists, the dykes, the trannies, the super trannies — whoop whoop!" Zoe, with a privileged teen's sense of entitlement, gets out her iPad to take notes as she asks for examples of the ways the members of this "tribe" have survived so much hardship together; she's writing a sociology paper about subcultures. "An example isn't the whole picture," says Tanya, a kindhearted 60ish hooker. Rather more warningly, Sissy Na Na, who is evidently one of those "super trannies," tells Zoe that the "whole picture" is "not yours to get."
That's the animating conflict behind Airline Highway, a beautiful and mesmerizing kaleidoscope of a play by Lisa D'Amour. It is set in a post-Katrina New Orleans that is still managing, in pockets, to resist the homogenization that has elsewhere led (as one character complains) to $75 tickets for "Kid Rock on the Coors Light Stage" at the Jazz Fest, and (as another one adds) a shiny new Costco where two pawnshops and a car wash used to be, across the titular road from the seen-better-days Hummingbird. The occasion for the play, and for Greg's uncomfortable homecoming, is itself a metaphor for this liminal new New Orleans: a "living funeral." Why celebrate the dying Miss Ruby, a former burlesque queen, after she's dead? The party being given in the Hummingbird's courtyard–cum–parking lot will allow her to enjoy the tributes and fun while still (if only slightly) alive.
D'Amour, who lives part-time in New Orleans, made her name in experimental theater; one of her pieces (made with her frequent collaborator Katie Pearl) featured a flotilla of handcrafted vessels on the Hudson, and another was a 12-hour roadside installation designed to be seen by people passing in cars. Her play Detroit, well received at Playwrights Horizons in 2012, was a much more conventional five-character, two-act, one-set affair about downwardly mobile cities and marriages. In Airline Highway, she has evidently sought to split the difference between her devised high-concept work and the kind of traditional narrative that theater companies can actually stage. There are characters you get to know and care about; an event everything points toward; a perceptible conflict leading to a crisis; and at least a quasi-resolution. On the other hand, the play bleeds well beyond those ordinary dramaturgical boundaries. Much of the dialogue overlaps: Not only do characters cut each other off, but whole speeches and scenes run concurrently, as in life. (The script looks like a spreadsheet.) The crisis, too, is unusual: It is not a central overarching one but a series of related realizations, dispersed among the characters. The unusual resolution, bringing together a fantasy sermon from the spectral Miss Ruby with an excerpt from Zoe's finished sociology paper, is, for me, the play's only overindulgence. One speech about self-acceptance and the vital importance of marginalized people is plenty; two begins to feel like a lesson. Zoe's paper is the worse misstep, highlighting D'Amour's use of the old playwriting shortcut in which a naïve visitor makes hasty generalizations, and in so doing making for uncomfortable parallels between Zoe and the playwright. We are meant to laugh, a little, at the teenager's blithe appropriations and well-meant condescension, but how again are D'Amour's different?
It's a minor off-note in a play you receive almost like music. Indeed, Joe Mantello's Steppenwolf production, re-created at the Manhattan Theatre Club, seems to pour off the stage. Mantello is in top form, keeping a cast of 16 in constant movement, maintaining focus among them as they chitchat, hang streamers, or go about their own business. He is abetted not only by a universally excellent cast (led by Julie White as Tanya and K. Todd Freeman as Sissy Na Na) but by Scott Pask's knockout set, which, gorgeously lit by Japhy Weideman, is an active player, too. In its loving attention to squalid detail, it does a novel's worth of work.
* * *
Scott Pask is a busy man. His sets appear in two productions that opened recently: Finding Neverland and, just yesterday, Something Rotten! Tonight, the last of the official Broadway season, he has not only Airline Highway opening but Kander and Ebb's "final" musical, The Visit. It's final, that is, for the team; Fred Ebb died in 2004. But John Kander, now 88, continues to work: Kid Victory, a new show he's writing with the playwright Greg Pierce, is scheduled to open at the Vineyard in the fall of 2016.
The Visit nevertheless marks the end of an era, so perhaps it's natural that it's had such a long and twisty history. Based on the 1956 play by Friedrich Dürrenmatt, the musical was scheduled to begin previews on Broadway in 2000, in a production directed by Frank Galati, but was canceled when its star, Angela Lansbury, withdrew to care for her ailing husband. (He died in 2003.) Chita Rivera, a star of Kander and Ebb shows including Chicago and The Kiss of the Spider Woman, came aboard to replace Lansbury; still, The Visit kept not happening — at least not in New York. A 2001 Chicago production failed to transfer after the September 11 attacks. A staging at the Signature Theater in Arlington, Virginia, likewise stalled in 2008. Finally, last summer, a production directed by John Doyle at the Williamstown Theatre Festival caught a tailwind. By then, nearly everything about The Visit had changed, and so the version that has now arrived at the Lyceum represents not only a triumph of persistence but a distillation of many years' worth of theatrical savvy. It is as lean and as sere as a skeleton.
That's only fitting; though Dürrenmatt apparently thought of his death-infused play as comic, it was at best only dryly so. His story, to which the book writer Terrence McNally has been largely faithful, has the contours of a monstrous fable. Claire Zachanassian, the richest woman in the world, returns in old age to her hometown of Brachen. (Dürrenmatt called it Güllen, a scatological joke in keeping with the epic theater style.) The townsfolk, long since fallen on desperate times, hope Claire will rescue them, and indeed she offers to do so. But in return for a billion francs (upped for inflation to 10 billion marks in the musical) she wants the man who loved and abandoned her when she was young — a shabby, now 70-ish grocer named Anton — killed. That's it really. The rest of the story is the working out of the bargain: a demonstration of greed and the fungibility of morals.
If this comes off as unlikely material for singing and dancing, keep in mind that Kander and Ebb are the ones who made a musical out of a pair of "merry murderesses" in 1920s Chicago, not to mention the rise of Nazism in 1930s Berlin. And Doyle is expert at stripping away the surface decoration and audience sops that can detract from the seriousness of the form. (He often removes the applause-begging "buttons" from musical numbers because they impede the flow between song and dialogue.) With The Visit, this creates a certain tension, though. You have, on one hand, the unimpeachably cold — almost terrifying — production design: Pask's decrepit, arcaded railway station; Japhy Weideman's harsh sidelighting; Ann Hould-Ward's moldy-looking costumes for the townsfolk; and J. Jared Janas's expressionistic makeup design, equal parts whiteface and bruise-y black smudges. On the other hand, you have Rivera, whom everyone adores and hopes to see succeed in a challenging role at age 82. This is a tension that's useful, at least insofar as it puts the audience in sympathy with the devil. In wishing Rivera well, are we not somehow complicit in Claire's death pact with the town?
But our connection to the beloved star gets a bit out of hand. Sometimes it feels as if we're not watching The Visit so much as Rivera's cabaret act. (The original play focuses much more on Anton, here played by Roger Rees.) She's given such a tremendous showbiz buildup to her first entrance, in blazing hot light, that when she sings "I Walk Away," a remarkably nasty number about her multiple widowhoods, you begin to recoil as if it were Rivera, not Claire, offering the stone-hearted comments about her six husbands, especially the racist descriptions of her "very small Chinese" second. It works the other way, too. When she reveals that several of her body parts are fake, saying "I'm unkillable," the line solicits and gets a huge laugh because many of us know that Rivera is unkillable too. (A 1986 taxi accident left her with 18 screws in her left leg, but she kept on dancing.) Still, she seems torn. If she's convincingly imperious, she's too much of an old-school star to let the audience out of her grasp.
The songs, too, pull in two directions. Many are minor-key uptempo numbers — a Kander and Ebb specialty that combines sourness and pep. At other times, we are offered ballads that fit a despairing Ebb lyric to a gorgeous Kander melody. "Love and Love Alone," for instance, sounds at first as if it will be an exercise in fond nostalgia but then turns around and whacks you with its icy cynicism:
When you're young
Feeling, oh, so strong
What can prove you wrong?
Love and love alone.
The better the songs are, the weirder the show gets. There is, it seems to me, something ultimately incompatible in the marriage of this prime example of the European absurd, with its eunuchs and coffins and silly names, and American show-must-go-on razzmatazz, even as diluted by Doyle. Alienation and gregariousness make strange co-stars, but then so did Kander and Ebb. What a joy to have them back on Broadway and to think that, even half-dead, they're unkillable.
Airline Highway is at the Samuel J. Friedman Theatre through June 14.
The Visit is at the Lyceum Theatre.
*A version of this article appears in the May 4, 2015 issue of New York Magazine.