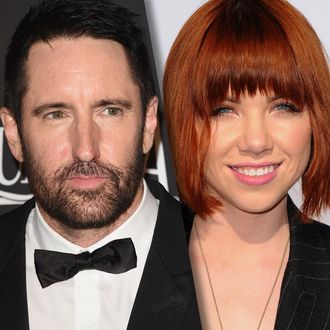 More of this, please.
Photo: Jason Merritt/Getty and Jason LaVeris/Getty
A couple years ago, you might've had a mash-up of "Call Me Maybe" and Nine Inch Nails' "Head Like a Hole" subconsciously playing on endless loop. Well, now that Carly Rae Jepsen's back with another earworm, so is yet another NIN mash-up. And it involves the same damn song! Surprisingly, "Head Like a Hole" works even better with "I Really Like You" (that chorus is to die for, literally), which just goes to show that Trent Reznor and Co. should maybe consider doing a pop collab every now and then. Just imagine Carly singing over one of Trent's eerie Gone Girl soundtrack cuts mid-throat-slash scene. Gold.