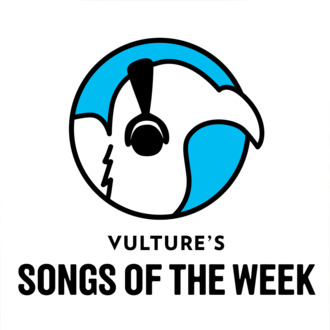 Every week, members of the Vulture staff highlight the best new music of 2015. We do not discriminate; as long as the song is worthy of your ears and attention, you will find it here. Read our picks below, share yours in the comments, and subscribe to the Vulture 2015 Playlist for a comprehensive guide to the year's best new tunes.
Bent Denim, "Good Night's Sleep"
"Did I listen to pop music because I was miserable? Or was I miserable because I listened to pop music?" I think about this quote from High Fidelity weekly, usually around when I have to write my bit for this column and I am confronted by how sad-bastard-y my tastes are. This song is so, so good and so, so devastatingly sad. It is seemingly about hearing that the person you're dating got an abortion ("I was a father for a few weeks"), but it's also about the type of "what am I doing with my life?" questioning that comes during the fallout of a relationship. If you're an easy cry, like this guy I know from the mirror, I suggest not watching the video at work. —Jesse David Fox (@JesseDavidFox)
Casey Veggies featuring DeJ Loaf, "Tied Up"
Casey Veggies is solid, but DeJ Loaf is really killing it right now. One year after the intimidating "Try Me," it is interesting and refreshing to see DeJ, like Da Brat before her, prove you don't need to be aggressively feminine to have sex appeal. Like she says, "let 'em know you're versatile." —Marcus Jones (@MarcusJonesNY)
Mariah Carey, "Infinity"
Mariah's had a rough run over the past few years. But as always, she'll make it through the rain — back with her old label Epic and starmaker LA Reid, and busy opening a huge Vegas show that'll showcase her insane amount of No. 1s. It helps that her new single, to accompany all this news, is the appropriately grandiose breakup track (bye, Nick!) "Infinity," which is overproduced to perfection and features the word Fritos. What else could you ask for? —Lindsey Weber (@lindseyweber)
Brandon Flowers, "Lonely Town"
So far, I've been bored by what I've heard from Brandon Flowers's upcoming sophomore solo album — a reaction I shared with his first solo effort. Then along came "Lonely Town." It's huge, nearly as big as "When You Were Young," had the Killers recorded it in the '80s (a decade he's drawing on heavily for this next record). It's also got the creepy stalker undertones of the Police's "Every Breath You Take," which is pretty much the vibe I've always associated with Brandon anyway. —Dee Lockett (@Dee_Lockett)
Jeremih featuring Chance the Rapper, "Planes" (Lido and the Social Experiment Remix)
There aren't too many ways to improve a Jeremih song, but adding a little Chance the Rapper never hurt anyone. In fact, we were all introduced to "Planes" when Chance performed a version of it live with Jeremih last year. For whatever reason, that song resurfaced this year with a laughable J. Cole verse attached to it. I prefer it done in the style of Pitch Perfect's "Cups" (thanks to Lido's touch) with Jeremih's vocals amplified against some gorgeous arrangements from the Social Experiment. I'd also much rather listen to a thousand "beat the pussy up" innuendos from Chance than one "dick so big it's like a foot in your mouth" joke from Cole. —DL
Lianne La Havas, "Unstoppable"
I can't really put into words how good it feels to have Lianne La Havas's voice back in my ears. We last heard from the Prince co-signed Brit three years ago, but now she's ready to release her sophomore album, Blood, this summer. Its first single "Unstoppable" is giving me heavenly Jill Scott feels. Pretty sure the first time I played this song, I daydreamed about Lianne, Janelle Monáe, and Jessie Ware all gliding over this track together while hanging out on a bed of tulips on a lazy summer day. It just totally warms my heart. —DL
Jens Lekman, "Postcard #17"
Did you know that Jens Lekman is releasing a new song for every week of 2015? He is and here's his 17th, the lovely Charles Mingus–sampling "Postcard #17." The rest are here. — LW

Ta-ku featuring JMSN & Sango, "Love Again"
Makes sense that a man who looks like Jesus has so much soul. Although JMSN backed by a gospel choir is the highlight, producers Ta-ku and Sango get their chance to shine with an enchanting outro, complete with haunting piano and booming drums. —MJ
Ruby Wood, "Off My Mind"
Jessie Ware had my favorite album of the year last year, so when she makes a recommendation, I listen. This song is sunny with just enough of a bounce to it — perfect for getting you excited about summer. —MJ
Wet, "Deadwater"
I have a major weakness for Wet A.K.A., the band with perhaps the worst SEO. But it really is a perfect name for the trio, who write songs that (for lack of a better term) really do flow. The latest, "Deadwater," is off their debut album, and is perfect for lounging beachside, lakeside, or poolside. Your choice. —LW
Do you like good music? Of course you do! Subscribe to Vulture's 2015 Playlist to hear the new music we're listening to every week.