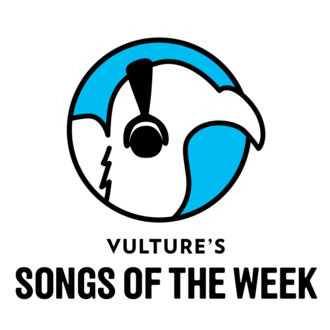 Every week, members of the Vulture staff highlight the best new music of 2015. We do not discriminate; as long as the song is worthy of your ears and attention, you will find it here. Read our picks below, share yours in the comments, and subscribe to the Vulture 2015 Playlist for a comprehensive guide to the year's best new tunes.
Ryan Adams, "Oh Sweet Carolina" (live from Carnegie Hall)
I practically cried when I heard that Ryan Adams was planning to release a 42-track album of his two performances at New York's Carnegie Hall. This is because I know that the best Ryan Adams is the one onstage, all vulnerable, bantering about beating the final level in Angry Birds and then segueing right into "My Sweet Carolina." Go pick him up. (Just making that reference caused tears.) —Lindsey Weber (@LindseyWeber)
Christine & the Queens, "iT"
Climbing up the charts overseas, add Christine and the Queens to the list of Cool Things we're forever late on over here in the U.S. Led by Héloïse Letissier, the project is infectious French electro-pop, and "iT" (off her brand-new St Claude EP) is a standout shining disco anthem. —LW
Crystal Castles, "Frail"
Last October, it appeared that Crystal Castles were done, with singer Alice Glass announcing her departure from the duo after about a decade together. Then, earlier this week, Ethan Kath, the band's producing half, released a new song under the name Crystal Castles. The song sounds exactly like Crystal Castles, even the vocals, which means it's great, but also a bit mysterious. Who is singing? The answer is not totally known yet, though Stereogum did a good job trying to figure it out. It might be a baby. It might be a young teen. It might be Kath himself. Through all this intrigue, Kath also said that a lot of the classic CC songs weren't actually sung by Glass, which Glass refutes, officially starting a beef. Regardless, the song is a really good song if you like Crystal Castles songs. —Jesse David Fox (@JesseDavidFox)
girlpool, "Before the World Was Big"
Right now, there are hundreds of thousands of teens prepping for their senior prom, graduation, and all the events that carry a certain weight of finality of youth about them. The older you get, the more you feel disconnected to that time in your life. Most days, I can't even pinpoint a single memory from high school prior to those last few weeks. The two teens of girlpool are in the same boat, it seems, on the title track from their upcoming debut album. They just want that old thing back, don't we all? If Green Day's "Good Riddance" and Vitamin's C "Graduation" are too '90s for your senior-year ride-out, then here's another option to get nostalgic to. —Dee Lockett (@Dee_Lockett)
Major Lazer featuring Travi$ Scott, 2 Chainz, Pusha T, & Mad Cobra, "Night Riders"
It seems like Diplo, for better or for worse, has produced at least one song a week this year. This week's has mad Warren G "Regulate" vibes, especially with 2 Chainz switching up his flow for this guest verse. The trademark dancehall sound Major Lazer is known for remains, but it may be a little hard to twerk to this. —Marcus Jones (@MarcusJonesNY)
Maritime, "Milwaukee"
Sure, the song is a bit schlocky (with lyrics like "Milwaukee, Milwaukee, You're my one horse town / Milwaukee, Milwaukee, it's the place we're bound"), but that's kind of the point. It's a big, fist-pumping anthem to a hometown. It's like if Bruce Springsteen grew up playing in emo bands, and, well, in Milwaukee. Go Bucks! —JDF
Mitski, "Fireproof" (One Direction Cover)
NYC-based fuzz-pop genius Mitski's Bury Me at Makeout Creek is one of my favorite 2014 records that I tragically discovered too late to make my year-end list, but now I get a chance to tell you about it because she went and released this amazing cover of One Direction's "Fireproof." Like most great covers, it's a perfect combination of reverent and iconoclastic; she remains faithful to the original melody but envelops the whole thing in her signature wooly distortion. #ReplaceZaynWithMitski. (Bonus: Her recent single "Townie" is also a total banger.) —Lindsay Zoladz (@LindsayZoladz)
Tech N9ne featuring Eminem and Krizz Kaliko, "Speedom (Worldwide Choppers 2)"
When I was a kid, sometime in elementary school, I had to take a class to fix a speech impediment. My teeth were crooked and we couldn't afford braces, so I experienced a slight lisp when my mouth tried to make certain sounds. For fun, I used to challenge myself to rap along with Busta Rhymes songs, just to see how far I could get before tripping over the words. It was never about actually rapping the whole thing — that's impossible — but just building my confidence a few bars at a time. Weirdly, Tech N9ne, another one of the fastest rappers in the world and Eminem's first collaboration ever (!), gives me that same feeling. At this point in their respective careers, they're just showing off. —DL
Trey Songz, "Good Girls vs Bad Girls"
R&B's so crowded now, it's easy to forget just how close Trey Songz came to being a marquee name along the lines of Usher. Even despite having two consecutive albums debut at No. 1, he's often shut out of conversations about the R&B resurgence — mostly because he's bucked the trend of downtempo PRB&B. He's not Miguel and he's not trying to be FKA Twigs, and you know what? It means no one's really repeating his sound right now (though August Alsina has sure tried). He dropped a six-song EP last week to hold fans over until the next album that could've easily been a B-side to Trigga. Which is to say every song is fuel for your sex drive. (He also does wonders with that Jacquees sample.) —DL
Justin Vernon, "Inside Out" (Spoon Cover)
With May approaching, potential Songs of the Summer will begin emerging. However, mine has already been whittled down to a two-horse race between Sufjan Stevens's "Fourth of July" (the one with the "We're all gonna die" refrain) and this lonely solo piano cover of Spoon's "Inside Out" by Bon Iver's Justin Vernon. (I'm a miserable fuck, LOL.) "Inside Out" was already my favorite song off Spoon's newest album, and Vernon Bon Ivers it up real good, recording and performing it in an empty wood to promote his inaugeral Eaux Claires Festival. It's a very nimble melody, as is Spoon's wont, and Vernon brings an immediate feeling of longing. You know, perfect Memorial Day BBQ music. —JDF
Do you like good music? Of course you do! Subscribe to Vulture's 2015 Playlist to hear the new music we're listening to every week.