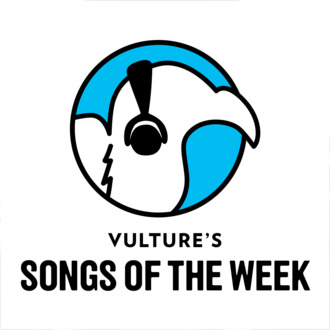 Every week, members of the Vulture staff highlight the best new music of 2015. We do not discriminate; as long as the song is worthy of your ears and attention, you will find it here. Read our picks below, share yours in the comments, and subscribe to the Vulture 2015 Playlist for a comprehensive guide to the year's best new tunes.
Tunde Adebimpe featuring Sal P and Sinkane, "Speedline Miracle Masterpiece"
TV on the Radio's Tunde Adebimpe recorded this song for The Alchemist and Oh No Present: Welcome to Los Santos, a compilation inspired by Grand Theft Auto V, which comes out on PC today. It's a peculiar source of inspiration, but who cares, this song is the shit. It basically sounds like if TV on the Radio were tasked with making the Drive soundtrack, and in turn made the thing funky as hell. —Jesse David Fox (@JesseDavidFox)
Erik Hassle, "No Words"
It's hard to believe Erik Hassle hasn't blown up since 2013's irresistible "Talk About It" (later remixed by Vic Mensa), but sometimes people are slow to catch on. Now the Swedish singer-songwriter's followed up his Somebody's Party EP with a bubbly disco-leaning single that fans of "Uptown Funk" and acts like Chromeo should have no trouble getting down to. (I hope.) —Dee Lockett (@Dee_Lockett)
Hop Along, "Texas Funeral"
Hop Along's lead singer, Frances Quinlan, is the truth, and her voice — coarse, nimble, singular, powerful, frail — is a gift to all of us. Listen, then say thank you. —JDF
Kehlani featuring Lexii Alijai, "Jealous"
Kehlani has had it with you and your thirst traps. —Marcus Jones (@MarcusJonesNY)
Mumford & Sons, "The Wolf"
A valiant attempt to chart new territory, a bold move for any band to make, but especially for one with so much success tied to a trademark sound. I can respect that. —Lauretta Charlton (@LaurettaLand)
Night Bed, "Tide Teeth"
I always have a difficult time when white indie artists take on smooth R&B, but sometimes it's just too good. This is one of those examples. "Tide Teeth" has a real Drake, Weeknd vibe, with a sparse beat and that thing where there is a high-pitched hook sang intermittently in the background. It feels like warm bed on a snowy evening. —JDF
Vic Mensa featuring Kanye West, "U Mad"
Mensa was in high school when My Beautiful Dark Twisted Fantasy was record; he wasn't exactly around to contribute. But on "U Mad," with its big dark beat, and synth horns sounding like a fanfare, he gets to pretend he did. He doesn't fuck around. —JDF
Ratatat, "Cream on Chrome"
Mike Stroud and Evan Mast are one of those electro-rock duos I don't miss much when they're not around, but once they're back on my radar, I realize just how much their presence is a present. After five years off, Ratatat are back this summer with a new album and its first taste, "Cream on Chrome," is a gentle reminder of just how much pop has adopted their sound in the duo's absence — and yet still can't quite match their magic. —DL
Towkio featuring Chance the Rapper, Lido, Eryn Allen Kane, "Heaven Only Knows"
2015 is poised to be the year of the Savemoney crew with the anticipation Chance's Surf, Vic Mensa being taken under Kanye's wing, and now Towkio's upcoming mixtape .WAV Theory. It takes a lot of talent to make this much work (it's got gospel, trap, rapping, singing, etc.) and a lot of confidence to put Chance on the end saying that you'll have the hottest record of the year. —MJ
Tyler the Creator featuring Kanye West and Lil Wayne, "Smuckers"
If juvenile shock-bait raps are what you're looking for from Tyler, the Creator's surprise new album, well, that's there. (He's got a song dedicated to getting off on Cara Delevingne; you can't make this shit up.) But there are also signs of artistic maturity on this album, specifically in its impetus, which is that Tyler finally wanted to make the soulful music he actually listens to, rather than what he thinks his teenage fans want to hear. It shows especially on "Smuckers," a song that assembles two rap legends, Kanye and Lil Wayne, both delivering classic verses ("Richer than white people with black kids / Scarier than black people with ideas," Kanye says), but somehow doesn't allow Tyler to be completely overshadowed. Everyone sounds hungry, a beautiful summation of the way hip-hop's gone this year. (I also can't get over Tyler and Wayne going tit for tat!) —DL
Do you like good music? Of course you do! Subscribe to Vulture's 2015 Playlist to hear the new music we're listening to every week.