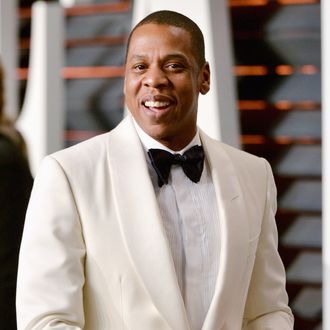 Photo: Alberto E. Rodriguez/Getty Images
Tidal is awful. Tidal is a flop. Tidal launched with the weirdest press conference in history. Tidal is for out-of-touch pop stars who, in spite of their unfathomable wealth, want more money from us. There's no shortage of criticism and vitriol being lobbed at the Jay Z–fronted nascent streaming service, and if you believe the reports, the whole thing is already dead in the water. It's easy to make that assessment; after three weeks, no one is downloading the app.
As Gawker reported, after Tidal launched, it briefly cracked the U.S. iPhone top 20 download chart before plummeting out of the top 700. Meanwhile, competitors Spotify and Pandora are thriving in the top five. In spite of all this, Tidal, miraculously, does have fans. "There will always be an audiophile niche who will happily pay extra for lossless sound," says Mark Block, an executive of The Audiophile Society in New York, and a Tidal user. "Once you get used to better sound — even if the improvement seems quite minor at first — it's often hard to go back to less-good sound." Tidal's closest competitor for hi-fi sound is Deezer, which is still only available in the U.S. to consumers with Sonos or Bose hardware. Cornering that niche market would be a drastic downgrading of Tidal's end-goal, but it would also be a step in the right direction if failure is indeed the only alternative.
Branding seems to be Tidal's biggest problem right now. Had they launched with less fanfare and let its popularity grow organically, the backlash may have been less noticeable. Instead, artists and consumers are preoccupied with its elitism and tone-deafness. The #TIDALforAll social-media campaign that blew up on Twitter was in direct contradiction to what Jay Z and his high-profile shareholders, like Chris Martin and Usher, were asking for: more money, more time, and more effort. From a consumer's perspective, the real question was, What's in it for me? Why do you deserve our money more than, say, the local Brooklyn band who put their album on Bandcamp? Isn't $10 directly in their pocket a more effective way to realize the #TIDALforALL artist-friendly mission than canceling a Spotify subscription and signing up for a service that is more or less the same? Even Kanye West is having second thoughts. Last week, Tidal announced a sizable shakeup in the company ranks. It didn't look good from a PR perspective, but it may also signify that Aspiro, the parent company, is on its way toward addressing some of the these larger identity issues.
It's premature to call Tidal a failure when the service is less than a month old. Tech companies from Apple to Twitter had rocky beginnings. Spotify, too. The company had annoying cataloging issues and was vilified by artists for its royalty payouts long before it became the biggest streaming service in the world. Tidal is off to a bad start, but that's hardly proof it has no future. After its initial launch, shares in Aspiro skyrocketed before it was taken off the market. There's still time for Tidal to turn things around — at least until Apple relaunches Beats Music later this year.