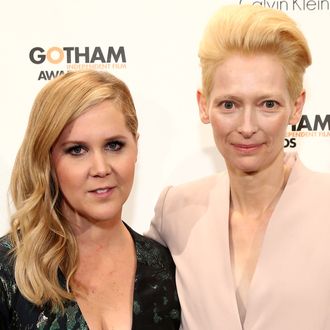 Amy and Tilda.
Photo: Neilson Barnard/Getty Images
It's time for the Time "100," when influential, important people write about other influential, important people. There is Elon Musk writing that Kanye would be the "first person to tell you he belongs on this list," Martha Stewart calling Kim Kardashian and her clan "a totally modern construct,"and Oliver Platt falling in "mad unrequited love" with Bradley Cooper the first time he met him. There are little gems like Björk writing Marina Abramovic an email that said, "I'm so proud to tell you that our baby volcano is just born — it's so beautiful!" and Chris Rock joking that Top Five should have been called Kevin Hart Presents Chris Rock's Top Five With Kevin Hart.
But the best ones, of course, are the ones that come from the heart, and who better to wax poetic about Amy Schumer than her ultimate stan, Tilda Swinton? Let's not forget how Schumer praised Swinton not only for being a "badass" but one of her "greatest friends." She returns the favor, with typical Swinton swag, by writing her a poem:
Amy's got your back.
She's in your corner.
She's an honesty bomb.
And she's coming for you.
BFFs for life.