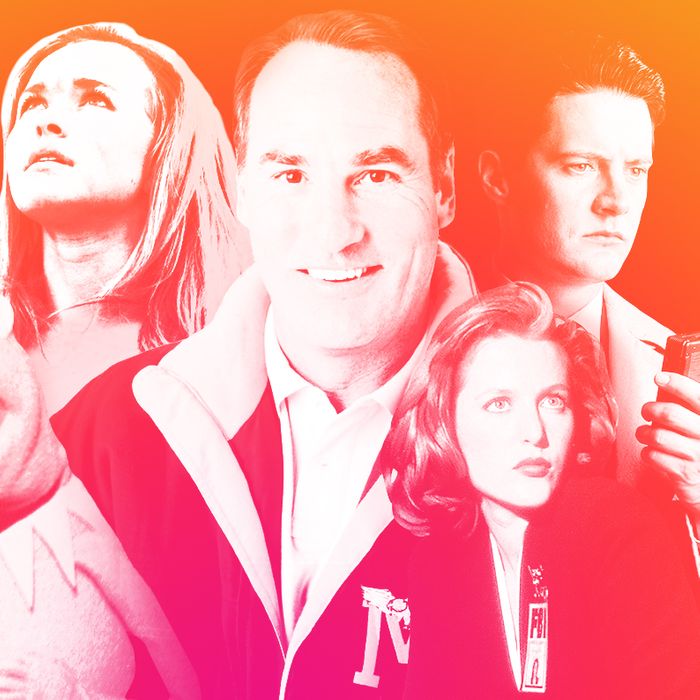 Photo: Maya Robinson and Photos by J. Vespa/WireImage, NBC, Bob D'Amico/ABC/Courtesy Everett Collection, ABC and FOX
It's been a banner spring for fans of long-dead TV shows. In just the past two weeks, there's been news of two sitcom revivals (Full House, Coach), a drama comeback (The X-Files), a cult-sketch-series reunion (Mr. Show) and a variety series that may be reincarnated as a sitcom (The Muppet Show). These new projects join an already-airing update of The Odd Couple, this fall's resurrection of Heroes, a planned 2016 return to Twin Peaks, and a slew of old movie titles being transformed into TV shows (Wet Hot American Summer) or pilots (Rush Hour, Problem Child, Minority Report, Uncle Buck). What's odd about the small screen's current infatuation with chasing ghosts is that it comes smack in the middle of what's widely considered a new Golden Age for the medium. We expect TV today not only to be better than it used to be, but creatively superior to the feature film industry — where reboots and tentpoles are now the (depressing) rule. So why are programmers suddenly so interested in recycling?
Ironically, the fact that there are so many shows on TV right now — and so many good-to-great shows — may partially explain why small-screen suits are eager to bring back old ideas. "People are just desperate for attention," one television-industry vet told Vulture. As we noted earlier this year, there were over 325 different scripted series produced for broadcast, cable, or streaming networks in 2014. While some of these shows bring new eyeballs to TV — Empire is the most obvious example — for the most part, the rapid explosion in original fare means networks are frequently settling for lower ratings, fewer breakout hits, and less advertising revenue. Worse, it's now become a regular occurrence for heavily promoted new shows like Fox's new comedy Weird Loners, NBC's Allegiance, USA's Dig, or A&E's The Returned to open to scary-low premiere ratings. "There's so much product, it's hard [for something new] to stand out," our industry vet explains. "Somebody sees a new series now and it's, 'So what?' There's ten a day."
By contrast, even a rumor that a network is considering a reboot or remake of a beloved title can set off a social media (and traditional media) tsunami. "You announce something like Full House or Coach, and boom — instant interest," our TV vet says. "People are buffeted with so much content flying at them … anything you can do to get them to say, 'I'll check that out' — that's huge these days." Indeed, Coach was trending on Twitter not long after NBC issued a press release announcing it had ordered 13 episodes of the new show; the same thing happened after TV Line reported the long-rumored Full House follow-up had landed at Netflix (even though the streaming service has yet to confirm a deal). Both projects also generated hundreds of news stories on the web and in print. None of this guarantees a show's eventual ratings success, of course. But the ability of presold properties to cut through the clutter, to stand out in a sea of shows angling for eyeballs, is no small feat. Before NBC or Netflix had spent a single dollar marketing them, millions of potential viewers were already aware of the existence of Coach and Fuller House, many already making room for them on their mental DVRs. As network insiders see it, that gives these shows a major head start in the battle for survival. "You know there's some base of ratings you'll be able to get," says one senior exec who works in program development.
That's certainly been the case with Disney Channel's Girl Meets World, the sequel to the ABC TGIF classic Boy Meets World. As the New York Times rightly noted last summer, just before Girl launched, the kid- and tween-targeted network had struggled to find "a live-action juggernaut" along the lines of Hannah Montana or Lizzie McGuire in recent years. Green-lighting Girl was a bid to reverse that trend, and it seems to have worked: After drawing over 5 million viewers when it debuted in June, the show has become a hit with tween girls, regularly ranking among the top ten shows in that demo whenever original episodes air.  Even though those young viewers weren't around when Boy first aired, their parents and siblings were — and it seems logical that they encouraged their daughters and sisters to check out the update (while some stuck around to watch themselves). Nostalgia alone didn't make Girl a success; Disney execs also wisely slotted its premiere behind one of its big event movies (Zapped, starring teen queen Zendaya). But built-in name recognition probably made the process of launching a new family comedy on Disney Channel a lot easier.
While the marketing advantages to using existing properties almost always play a role in decisions to revisit an already-tapped well, it would be simplistic to suggest it's the only factor — or even the deciding one. "All the remakes and [use of movie] titles get lumped into a giant box, but each of them has a different reason for being," our development exec says. For example, Netflix's latest forays into sequels — Full House and Wet Hot American Summer — seem to be all about emotionally connecting with millennial viewers who get warm-and-fuzzy feelings at the mention of certain titles. "Netflix's target subscriber is probably kids who grew up watching Full House when it was first on," the industry veteran says. "It's just nostalgia." And while Full House episodes don't live on Netflix — yet — the data-obsessed streaming network has undoubtedly noticed how well reruns of the show do on Nick at Nite. It's actually become common for random reruns of Full House to draw more female viewers ages 18 to 34 than new broadcast and cable shows airing at the same time. (Netflix has neither confirmed nor denied its interest in reviving the show.)
By contrast, NBC's Coach game-plan probably isn't contingent on millions of former viewers anxiously awaiting a chance to reconnect with Craig T. Nelson's 1990s alter-ego. (Indeed, news of the reboot generated a fair number of social media reactions comparing its return to one of the signs of the apocalypse.) Vulture sources familiar with the deal to bring the show back say execs at NBC and producer Universal TV didn't just wake up one morning and decide the world needed Coach back on TV. Instead, insiders say Nelson and creator Barry Kemp had been talking about a continuation of the series informally for years, long before TV's latest reboot wave began. When they finally pitched the idea to Universal execs — after Nelson was free from Parenthood — the suits at the studio were "impressed with how much thought and specificity" was evident in their pitch, the development source says. "It was so fully formed, and it was an idea that could work even if you had never seen the original."
Universal initially planned to pitch the revival to a variety of networks, including ABC, where Coach originated. But sister network NBC, following the complete collapse of its comedy brand in recent years, was very much on the hunt for new comedies — particularly family shows with strong male leads. Peacock execs were thus already primed to develop a show like the new Coach; with Nelson and a familiar title attached, they were prepared to skip the pilot process and go directly to series. That commitment allowed NBC to snap up Coach 2.0 before any other network had a chance to hear the idea. Even execs at rival networks believe the Peacock's decision is something of a no-brainer. "NBC has no successful comedies right now. Why not do Coach?" one exec says. And while some might argue that a completely fresh idea would have a better shot at a big audience, it's very hard these days for any new comedies to get noticed unless they're positioned behind existing hits. (This is why ABC's modestly successful Fresh Off the Boat previewed episodes behind The Goldbergs and Modern Family before landing on Tuesdays.) Even if it doesn't work in the long run, Coach figures to generate enough early interest to help provide a respectable lead-in for a number of potential multi-camera half-hour comedies NBC is working on for next fall, including a Patrick Warburton sitcom from writer Suzanne Martin (Hot in Cleveland) and a '90s-set family comedy from Friends alum Greg Malins.
While the recent flurry of revival news has resulted in understandable concerns that networks have become infected with the reboot virus that currently plagues the film business, such hand-wringing probably isn't necessary. It's true that, as with so many TV trends, a little bit of success can trigger a rush of copycats. One development exec tells us she's already prepared her staff for what she fears will be a slew of retro ideas from the creative community. "I know that every producer in town is going to be going through the [studio] libraries, and I'm going to get a call every five seconds pitching me every title you can imagine," she laughs. (Seriously, why isn't one of Will Smith's kids doing a new Fresh Prince of Bel-Air?) But the exec insists she won't bite on most, and that her response to all will be a single word: "Why? Why that title? We're not just going to remake stuff just because it's beloved in some way. It has to be something organic … You have to know that the show, even without the title, is a great show."
The exec's skepticism is shared by others we talked to, and informed by history: While reboots can get attention, they also hardly guarantee success. In recent years, viewers yawned at new takes on Charlie's Angels, Knight Rider, The Bionic Woman, and Melrose Place, among others. Some revivals and remakes, including attempts to bring back The Munsters, Beverly Hills Cop, and In Living Color, didn't even make it past the pilot stage. "There have been a lot of remakes and reboots that haven't worked," one industry insider says. "They give you a fun, flashy hook, but they don't guarantee you more eyeballs in the long-term." This insider also insists that even if preexisting titles currently have a bit of a moment in TV land, television execs are not anxious to copy the feature world's reboot, rinse, repeat business model. "We talk about this a lot: We can't end up with a movie slate of tentpoles and franchises," one suit says, noting that of the nearly two dozen projects being developed internally at this executive's company, just two are based on a past movie or TV show. "This is still a business where 90 percent of it is original." For now, at least.