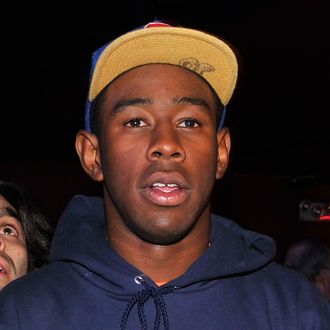 Tyler The Creator in May 2012.
Photo: Stephen Lovekin/2012 WireImage
Following close on the heels of Earl Sweatshirt's I Don't Like Shit, I Don't Go Outside, Odd Future commander-in-chief Tyler, the Creator has thrown an album up on iTunes for fans to preorder. Titled Cherry Bomb, the record will be available in five days, on April 13. The surprise was unveiled today alongside the artist's Golf Media app, which has lots of fun and weird media (get it?) curated by none other than Tyler. OF is on a roll, you could say.
Stream two of the Cherry Bomb tracks, "DEATHCAMP" and "FUCKING YOUNG/PERFECT," below:
And here's the album art, in all its horrifying glory:
Update: Tyler has released a video for the two songs.