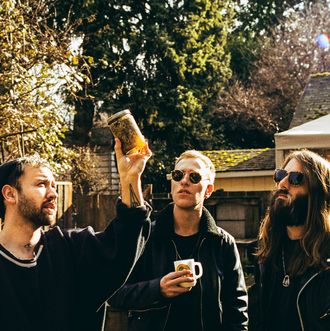 On Unknown Mortal Orchestra's new single, "Can't Keep Checking My Phone," the New Zealand (now Portland-based) trio imagines a world in which we are all less dependent on our overpriced data plans and online-dating apps. Or, as lead singer-songwriter Ruban Nielson tells Vulture:
"Cant Keep Checking My Phone" is about missing somebody and that point where you refuse to accept online "connectivity" as a substitute for being with someone IRL. When someone you love turns into texts and ideas delivered through a device, at some point, they're competing with real things, like the Aurora Borealis, which is another thing that only really makes sense in the flesh. I also read somewhere that the universe might be holographic, and in that case, maybe the distance between us is just an illusion. So do you fall in love with the idea of someone? Or the chemicals they give off in person? Either way, I've got to get off my phone.
The song opens with what could almost be a low-key tribute to Ennio Morricone's spaghetti-Western anthems. From there, the tone smooths out into an up-tempo dance track with beats that jangle and a disco vibe that will put you in the mood for rooftop dancing this summer.
"Cant Keep Checking My Phone" is off Unknown Mortal Orchestra's upcoming album Multi-Love, out May 26 on Jagjaguwar. Stream it exclusively on Vulture below.