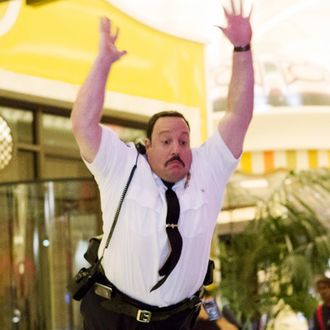 The diesel-powered behemoth Furious 7 just keeps on going, like an Energizer bunny on steroids. James Wan's film crossed the billion-dollar mark (worldwide) on Friday on its way to another $25.5 million this weekend. The seventh film in the motors-and-muscles franchise hasn't had any serious competition at the box office, and probably won't until Joss Whedon's Avengers: Age of Ultron comes out next month.
Doing less well: Paul Blart: Mall Cop 2, the sequel to the Kevin James 2009 original, earned a modest $22 million (the original found its way to $31.8 million opening weekend) while managing the impressive feat of maintaining a zero percent score on Rotten Tomatoes. While we don't want to jinx it — a zero percent score for a wide release is like a perfect game in baseball — it's looking like Kevin James may have the first ubiquitously disdained film of 2015. The first Paul Blart opened around the same time as the Seth Rogen–starring tar-black Observe and Report, a brilliant exercise in bad taste taken to vile extremes. Paul Blart made more money — the PG-13 rating certainly helped — but Observe and Report remains the far better film. Our own Bilge Ebiri even looks at Kevin James's Kevin James problem.
Unfriended, filmed in 16 days on laptop cameras, offers a new take on the tired found-footage sub-genre, addressing cyberbullying in a very literal way. It earned a surprising $16.2 million, which is 16.2 times more than its budget.