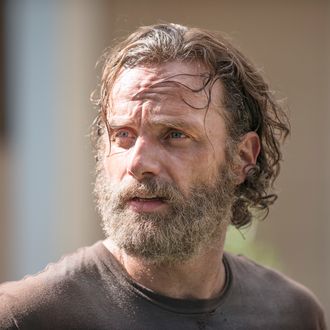 Andrew Lincoln in The Walking Dead.
Photo: Gene Page/AMC/? AMC Film Holdings LLC.
The Walking Dead comic-book writer and producer Robert Kirkman has been at the National Association of Broadcasters Show in Las Vegas this week, and he's shared some cryptic, albeit interesting, tidbits about the show's sixth season, as well as its upcoming spinoff series. It turns out the former is going to revolve around a very important, long-awaited reunion, and the latter is going to be less of a prequel than we might have been initially led to believe. Here are some of the highlights from Kirkman's panel:
1. Rick and Morgan
The dynamic that was set up at the end of last season, between Rick and Morgan, will be vital to season six, according to the Wrap. "Now it's a very different Rick and a very different Morgan who are going to have a completely different relationship," Kirkman reportedly said. "And it's the questions of how they're going to interact, how they're going to work together — if they're going to work together — and what comes from those interactions is going to be basically the spine of season six." Yay.
2. Glenn's Life?
Kirkman and Steven Yeun, who was also at the panel, both pussyfooted around the rumor of a Glenn death in season six, but they did say cool stuff was going to happen with him this season. Oh, and they said, theoretically, if he were to die, it would be in a balls-to-the-walls-type scenario. "If I go — that could happen," Yeun said. "The way that we make the show — the writers and everybody really want to focus on making things poignant and purposeful and meaningful. … So if it were for Glenn to go, then it's probably going to be awesome."
3. Fear the Walking Dead Outbreak Buzzkill
If you wanted to know how the zombie outbreak began, you won't. "[Learning the origins] is not the priority in Walking Dead; that's not the priority in Fear The Walking Dead," Kirkman said, according to Mashable. "Every other story deals with that stuff and we're concerned about the heart." He knows the story, but he's never written it down — that's how unimportant the very beginnings of the series are to him. "It's not about fixing this world, and it's not about learning what the cause is," he added.
4. Fear-TWD Overlap
Kirkman said the show will take viewers "back to a timid time when the walking dead were more dangerous and more of an ever present threat," according to Mashable. It sounds like this show will have a focus that's much more centered on the walkers, and it's "possible the people we're following on this show are a little more deadly." Fear will also be a stand-alone series, and it's "not a prequel in that at the end of the series Rick will wake up from his coma." In fact, there will be some timeline overlap.