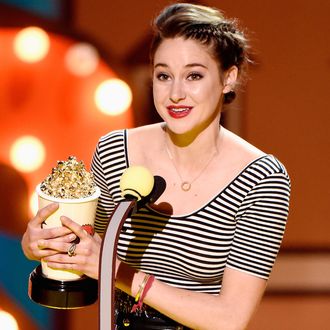 What a trailblazer.
Photo: Kevin Mazur/MTV1415/Getty Images
Last night, MTV held its annual Movie Awards despite the network having made only one film in the last two years (bet you didn't know MTV was responsible for Project Almanac), and as usual, it was a snoozefest. Sure, Amy Schumer held her own as host with her usual sex jokes, a mini-roast for Kevin Hart, and some great in-between skits involving her auditioning for some of the last year's biggest movies. But the surprises were few and far between: The Fault in Our Stars, the clear tween fan favorite of 2014, walked away the night's biggest winner with three awards, including Movie of the Year. Here's a breakdown of the night's best and worst moments.
Channing Tatum: Jennifer Lopez won Best Scared As Shit Performance (for The Boy Next Door), and since she accepted the award from the Magic Mike XXL cast, she had just one request: twerk! Channing Tatum, of course, delivered the goods.
Miles Teller and Shailene Woodley: The night was all about Shailene and TFIOS. Not only did she win Best Female Performance for the film, she was named an MTV Trailblazer. And who better to honor her than her repeat co-star Miles Teller, who half-praised, half-mocked her Earth Mother ways. Naturally, Shailene returned the shade. ("You were amazing in Whiplash.")
Amy Schumer's audition sketches: Nothing was funnier than Amy's Selma–Salma Hayek spoof. Nothing.
Robert Downey Jr.: RDJ was due for the Generation Award (even he couldn't believe it took this long), and with Avengers: Age of Ultron close to release, his cast mates assembled to deliver the award on bended knee. RDJ couldn't have been more amused, and neither could we after his perfect drug reference ("Keep your nose clean").
Kevin Hart: What makes Kevin Hart such a lovable guy is that he's able to take Schumer's (and everyone else's) short jokes in stride, invite his son and very-close-in-height daughter onstage to help him accept the award for Comedic Genius, and charm us all with a great speech for his kids — even if his son totally stole the show while holding that golden popcorn.
Amy Schumer and Amber Rose's make-out session: We 'ship it.
Rebel Wilson: "Exclusive clit" is a thing Rebel Wilson almost got on the air, and Anna Camp nearly lost it.
And the worst:
Amy Schumer's Hunger Games blunder: We're guessing this was supposed to be a stunt that ended with Schumer killing Jimmy Kimmel with her bow and arrow. But Amy's just no Katniss Everdeen.

Zac Efron and Dave Franco: Because recycling jokes from your movie in an acceptance speech never gets old.