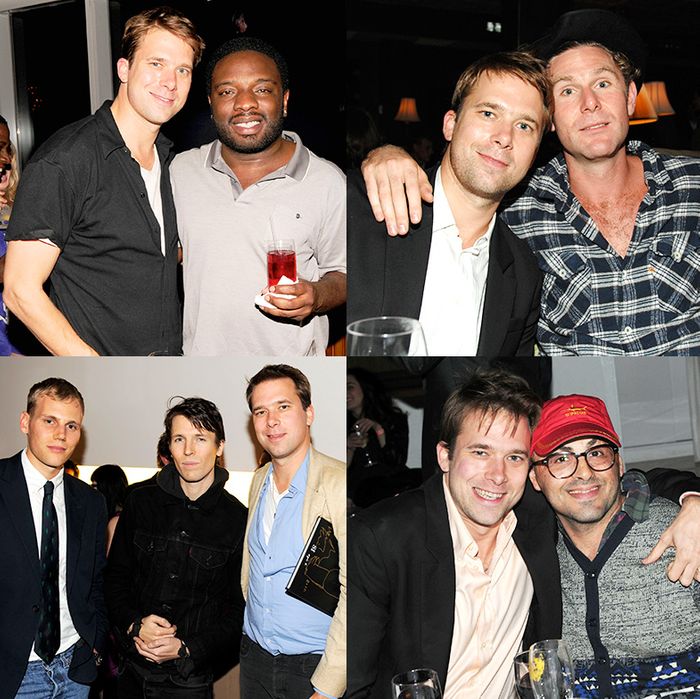 Clockwise from top left: Christopher Bollen with Kalup Linzy; with Dan Colen; with Lizzi Bougatsos; with Erin Falls, Alexander Hertling, Sam Falls, and Rob Pruitt; with Elad Lassry; and with George Miscamble and Ryan McGinley.
Photo: Patrick McMullan
Lately people have been asking me which artists I've killed. It's not an unfair question, although I do wonder if anyone's overheard when an artist has walked up to me at an opening and said, "Be honest, did you murder me?" or "Am I the one who did it?"
What they are asking is if I've used them as fodder for my novel. Strangely, in my years covering the New York art world for magazines and newspapers, I've rarely received so much inquiry about a piece of writing from the denizens of that fertile, slightly hostile planet whose fragile ecosystem depends upon the twin suns of creative freedom and money. I understand their concern. As public operators, visual artists are accustomed to being on the receiving end of raves and tanks in reviews (the critic as villain is an old conceit). But fiction is a different beast, and no one wants to find their likeness on page 219 slumped over a studio trolley with 18 stab wounds in their back, or potentially worse, a character with their haircut and career cast as a slightly hipper Professor Moriarty. Well, almost no one. That said, a few artists have told me they'd love to be the subject of an extended, violent death scene. And others have volunteered those they'd like me, at least fictionally, to do away with — "there are several collectors and gallerists I'd like to kill …"
Perhaps this is the moment to point out that while we all fear the knife-wielding stranger, most murders are committed by those who know their victims.
The truth is, when I was searching for the subject of my second novel, I decided I wanted to try my hand at a murder-mystery, and I wanted to explore the subtle ins and outs of the art community I've been following for most of my adult life. They were almost like two separate weather events that converged in the course of writing Orient. I might not have chosen the art world. It could have been high-stakes finance or stamp-collecting or marine biology, but I'm not an intimate of those particular fields. Also, it has always irked me what few credible portrayals of contemporary art exist in fiction. There have been exceptions (Siri Hustvedt's What I Loved and Will Chancellor's A Brave Man Seven Storeys Tall come to mind, as does Rachel Kushner's The Flamethrowers, although that book tackles art in the 1970s, a very distant and romantic era compared to today's art-as-trophy class system). Mostly, by the time the 1990s rolled around, artists suffered a far worse fate than murder in novels: They became parodies. It seems almost impossible to describe the chilly, white-walled gallery space with an assistant asphyxiated in black at a glass desk and not end up falling into the trap of pantomiming stereotypes. Some recent books have set their sights on the art fair (take Tom Wolfe's Back to Blood), with the end result being a similar form of satire. My feeling on art fairs is this: If you love animals, you don't visit a hunting lodge; and if you want to portray the art world with any degree of empathy and respect, you steer clear of Miami Beach in the first week of December.
My solution came rather naturally. I had been going out on weekends to the village of Orient on the far North Fork of Long Island as a guest-room freeloader in the rented or recently purchased houses of various artist friends. An extraordinary group of New York artists had claimed Orient as a sort of refuge and satellite community, both those I've been close to and those I don't know at all: Wade Guyton, Kelley Walker, T.J. Wilcox, Elizabeth Peyton (until a few years ago), Rob Pruitt and Jonathan Horowitz, Laura Owens, Ryan Sullivan, Richard Serra, Lisa Yuskavage, Yvonne Force and Leo Villareal, and (a long time ago) Gavin Brown, to name a few. Orient as a setting offered the opportunity to take the art world out of the predictable and overly determined backdrop of Manhattan and place artists in a contrasting environment. It was a bit like (forgive one last animal metaphor) removing leopards from the camouflage of the Serengeti so you can observe their spots in a more neutral light.
And then, of course, there was the innate murder-mystery attraction of Orient's geography. Connected to the rest of Long Island only by a thin causeway, the village proved the perfect isolated location to set a series of horrible crimes.
As it turns out, writing convincing fiction about artists and their work is no easy enterprise. This difficulty might explain why so many writers have decided to depict bad artists. (I'm thinking of Patricia Highsmith's hilarious description of Dickie Greenleaf's painting in The Talented Mr. Ripley: "Tom winced with almost personal shame. It was Marge again, undoubtedly, though with long snakelike hair, and worst of all two horizons in her eyes with a miniature landscape of Mongibello's houses and mountains in one eye, and the beach in the other full of little red people. 'Yes, I like that,' Tom said." In today's evaluation, Dickie's painting might be an opus of outsiderdom.) To create convincing artists as characters, I not only had to tackle the pressures and provocations of their careers — gallerists have cameos in Orient, as do foreign collectors and liege adherents and museum curators, and a special thanks to New York Times critic Roberta Smith and New York's own Jerry Saltz for allowing me to fabricate reviews in their names — but I also had to actually conceive artwork for them that, hopefully, the reader wouldn't immediately disregard as a writer's clownish approximation of "art." It was important for me that my artists believed in their work, took it seriously, and committed themselves to it as a calling and not merely a clever means of making money. Of the four main artist characters in the novel, two are figurative painters (with very different approaches), one is a sculptor/installation artist, and one is a sort of trickster conceptualist. Did I succeed? Do their works exist beyond the convenience of the page? I think there are moments where every critic wonders, Could I have been an artist? (The answer is probably no.) Well, for my part, I tried.
As I was writing Orient, I kept thinking about the similarities between the aesthetics of art and the aesthetics of murder. They are natural dance partners. Both upend the stable order, both insist upon the physicality of the scene — the artwork and the warm corpse are sites of transgression and discovery, and there is a clear fetishism to the luridness of a place where something extreme went down. Of course, there is a rich tradition of casting the artist as criminal, the outlier pushing against the boundaries and chains of civilization (even though, in Orient as well as in real life today, successful artists have quite comfortable lives — as do many successful criminals). If artists make for perfect murderers, perhaps the critic is thrown into the role of detective, assessing the work for credible answers, collecting the clues left in the artist's wake, and, by a leap of inductive reasoning, formulating the who, how, and why of the event. Detectives and critics both get a bad rep: They close the open questions, they impose a moral order on a universe in crisis, they end the fun. But that is only if you fail to see them as being part of the dance from the start.
So now for the sensational question: Did I model my characters on real-life figures from the art world? Will Nate Lowman be found floating face-down in a swimming pool? Will Jeff Koons's immaculate fingerprints be detected on the gun? Probably some insiders, reading the book, will catch a fleeting detail, a trait or a trajectory or even a way of speaking that might feel recognizable. I did, after all, model Orient's art world on the real art world. But for a fictional character to exist with any dimension within a novel, they must have their own lives, and like us, be free to develop as they progress. And so no specific artists, I swear, were harmed in the writing of this book. For me, there were no facsimiles, no exact reproductions, or even blurry lithographs when it came to creating my characters. We writers have learned from Truman Capote not to pull too heavily from our personal address book and still expect to be invited to the party next week.
I've been thinking lately about a party I went to in the early 2000s at an artist friend's apartment in midtown. Most of us were in our mid-20s, and some of the art careers around me were just starting to take off. I was writing gallery reviews for Time Out New York and Artforum, in the days before fully loaded websites when every inch of magazine paper was a fight for a byline and an exact word count. I got into a conversation with a successful artist about the difficulties of writing reviews and managing to pay my rent. The artist turned to me and said, "Difficulties? It's an honor to be writing about art. You should feel honored to be a part of this world." Honored? I glared at her, resentful, really almost ready to plunge a steak knife in her neck. (No, this isn't a spoiler for my book: Underpaid art writers are far more likely to have pieces killed than murder anybody.) But whether time or less dire straits or career fulfillment has tempered me, I've come to realize that she was right. It is an honor. It's good to be here. I couldn't have written this book without my time on their clock.