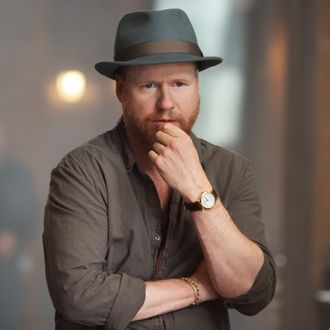 Joss Whedon.
Photo: Jay Maidment/Walt Marvel Studios
Joss Whedon, Drew Goddard, Lionsgate, and Whedon's Mutant Enemy production company are all defendants in a copyright lawsuit tied to 2012's The Cabin in the Woods. Self-publishing author Peter Joseph Gallagher claims in his complaint, filed this week in California federal court, that Whedon and Goddard's script is eerily similar to his 2006 novel The Little White Trip: A Night in the Pines. Gallagher wants $10 million in damages. [Spoilers follow for those who haven't seen Cabin in the Woods.]
Gallagher reportedly started writing his story in 2004. After self-publishing the resulting novel, he began hawking copies at such popular SoCal areas as Venice Beach and the Hollywood Walk of Fame. (Whedon and Goddard both live in Santa Monica, near these spots.) Gallagher adds that he was approached by a slew of producers who expressed interest in turning the book into a movie, but nothing ever came of it. Until 2012, that is, when, without his knowledge or consultation, Cabin in the Woods happened:
Like the Book, the Film tells the story of five friends (three males and two females) between the ages of 17 and 22 who take a take a trip to a remote cabin in the woods. The cabin's previous inhabitants were murdered by the father of the family, who returns to terrorize the group of friends. Throughout, the friends are being filmed and manipulated by persons behind the scenes, inadvertently playing characters in a real-life horror show. The similarities between the two works are striking. Even the names of the lead characters are similar. In the Book, the lead female blonde and brunette characters are named Julie and Dura respectively, whereas in the Film they are named Jules and Dana. Similarly, the cabin in the Book is called the "Brinkley Cabin," whereas it is the "Buckner Cabin" in the Film.
The complaint goes on to list nearly 30 of Cabin's scenes, including bits of dialogue, plot details and development, and character traits that are allegedly identical to Gallagher's. Why this is happening nearly three years after the movie's release is unclear, as all parties involved have so far remained tight-lipped about the complaint. (It's rough considering Whedon's Avengers: Age of Ultron is so close to its release date and imminent box-office success.) Gallagher and his team, however, have made it clear they want remuneration as well as a jury trial.